Museum of European Art in Clarence
---
Current Exhibition
ART OF OUR TIME
(June 4 to August 31, 2018)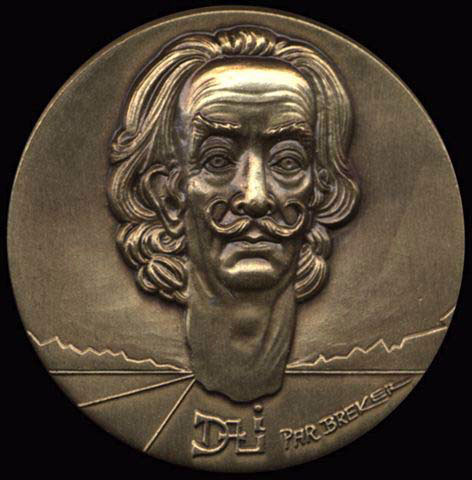 Small bronze sculptures and art objects by Kurt Arentz, Salvador Dalí, Paul Belmondo, Pat Roberts and Montserrat Barenys. Color lithographs by Dalí, Pablo Picasso, Hundertwasser, Jean Carzou, Helga Tiemann, Jan Künster and Vivi Ann Rose.
The ALEXANDER SCULPTURE GARDEN
is now also open to the public with unique portrait-busts of Ronald Reagan, Herbert von Karajan, Wilson Greatbatch, Swami Rama of the Himalayas, Salvador and Gala Dalí, and others. Also several sculptures by Renate Stendar-Feuerbaum.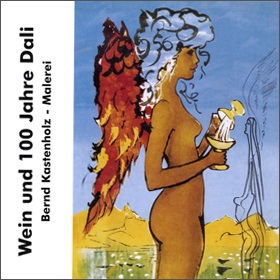 Hours open:
Museum of European Art, 10545 Main Street, Clarence, NY 14031
Monday through Thursday, 8-12 and 1-4
Other times can be arranged by appointment.
Please contact John Zavrel at john.zavrel@gmail.com or cell (716) 290-3796.
Web site www.meaus.com
Free admission.
*****
***** BOOKS available from the Museum of European Art
GENERAL INFORMATION about the Museum of European Art
---
GERMAN CLUB SCHLARAFFIA in Buffalo, New York
Buffalo German Club SCHLARAFFIA
**** Schlaraffia Bisonia Club--Schedule of Weekly Meetings in 2018/2019
Knights meet in Buffalo for friendship, art and humor, by B. John Zavrel
"Schlaraffia" turned 150 years. Keeping up tradition, language and friendship, by B. John Zavrel
---
P R O M E T H E U S
Internet Bulletin for Art, News, Politics & Science
Recent issues of the PROMETHEUS Journal:
PROMETHEUS 244 (May/June, 2018)
PROMETHEUS 243 (March/April, 2018)
PROMETHEUS 242 (January/February, 2018)
* * * * *
BOULEVARD NEWS & EYEWITNESS REPORTS ...
**** Arno Breker: Relief bei Grabschändung gestohlen
**** Arno Breker Grab: Blumen aus Spanien. Pilgerreise zum Grabmal des Bildhauers in Europa
**** Presse-Schau West-Europa: politisches Chaos und Machtkämpfe, von B. John Zavrel
---
Arno Breker: Relief bei Grabschändung gestohlen
Polizei sucht Bronze-Relief "Der Engel mit der Fackel"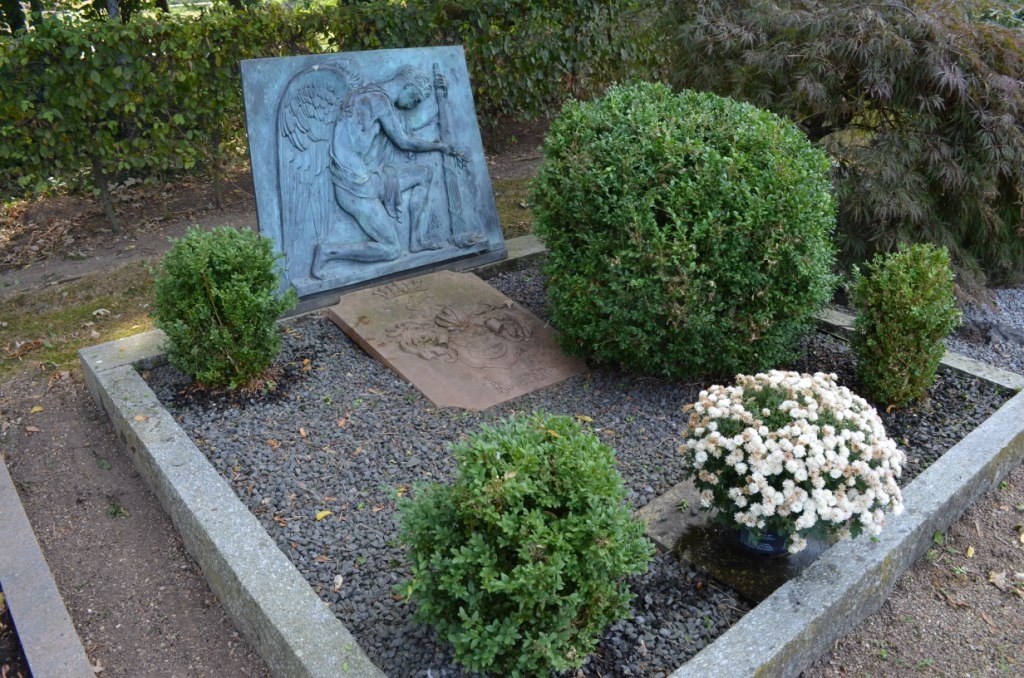 Dieses Foto der Grabstätte auf dem christlichen deutschen Friedhof im Bundesland Nordrhein-Westfalen (NRW) zeigt die Familiengrabstätte von Schloss Bodenstein (Nörvenich) vor der Grabschändung und des Diebstahls. Polizei-Fahnder haben ausländische Banden in Verdacht, die ohne Grenzkontrollen im EU-Raum bei Tag und Nacht mit Autos fahren können. Die Chances, die Kriminellen zu finden, gelten als sehr gering.
Foto: Police-Picture
---
Arno Breker's Grave: Flowers from Spain
Pilgrimage to the grave of the sculptor in Europe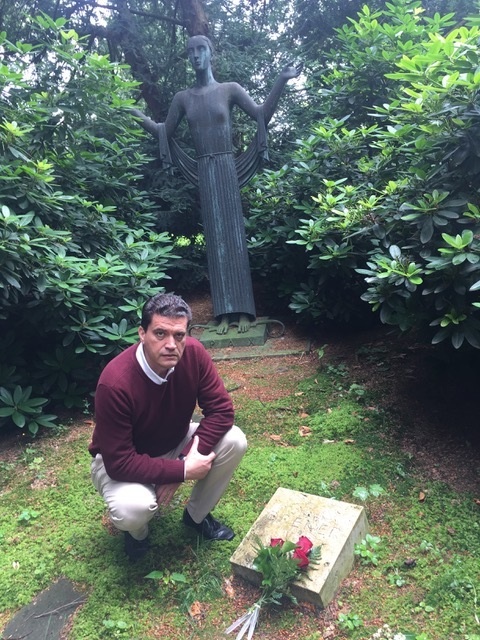 Frische Blumen für Arno Breker! Der Spanische Jurist Santiago Prado (Madrid) legte sie am Grabstein des "Jahrhundert-Bildhauers" in Düsseldorf nieder. Diese Ehrung bekräftigt die traditionelle Wertschätzung von Spaniern für den Bildhauer. Brekers Beziehungen waren durch die Künstlerfreundschaft mit Salvador Dalí und Ernst Fuchs (Wien) gestärkt worden. Der heutige spanische König Felipe VI. war als Kronprinz 1991 im Arno-Breker-Museum in NRW, um auf einer großen Dalí-Ausstellung die von Breker geschaffene Monumentalbüste des Surrealisten zu enthüllen. An dem glanzvollen Empfang auf Schloss Nörvenich bei Köln nahmen Bundesaußenminister Genscher sowie 750 Gäste aus Politik, Diplomatie und Gesellschaft teil.
Foto: bpb-presse es.
For our article, see Arno Breker Grab: Blumen aus Spanien. Pilgerreise zum Grabmal des Bildhauers in Europa ...
---
Press review of Western Europe: political chaos and battles for power
Asylum quarrels because of mass migration from Africa and Asia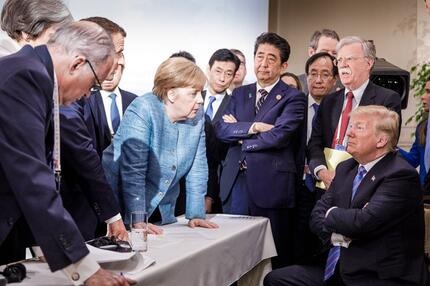 Die deutsche Bundeskanzlerin Angela Merkel steht gerne im Mittepunkt auf internationalen Konferenzen. Auf dem Foto vom Gipfel-Treffen der führenden Industrienationen in Kanada 2018 mit US-Präsident Donald Trump scheint sie das Wort zu führen, während die anderen Staatenlenker der Kanzlerin den Vortritt lassen. Präsident Trump scheint dies weniger zu beeindrucken. Er hörte geduldig und zugleich gelassen zu, ohne seine politische Meinung in dem sich anbahnenden Handelskrieg zu ändern. Dann reiste er vorzeitig weiter zu einer nächsten Konferenz.
Foto: Press-Pool USA
For our article, see Presse-Schau West-Europa: politisches Chaos und Machtkämpfe ...
---
Elke Seimetz: Impressions of China from the Orchidei Pavillion
Illustrations of collection of stories by the China expert Beate von Kessel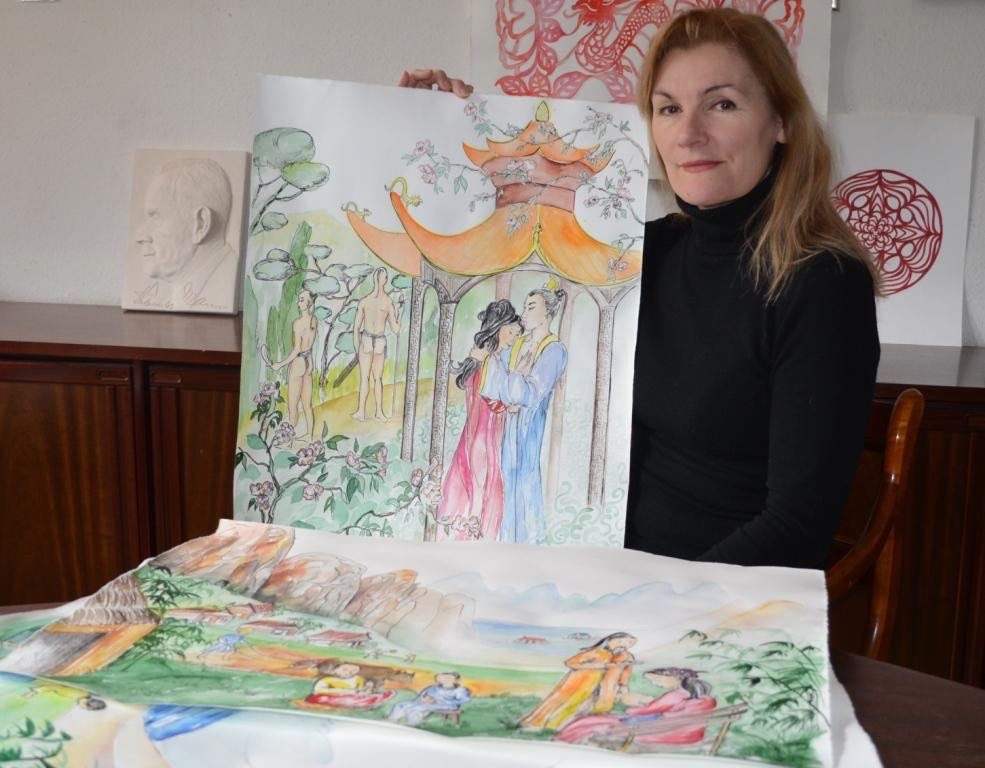 "Der Kaiser und seine Konkubine" ist ein China-Märchen mit allen Aspekten menschlicher Dramatik: von der Treue über die Liebe bis zu Intrige, Verrat und Tod. Die Malerin Elke Seimetz (Mitte) schuf eigens dazu einen China-Bilderzyklus von 20 repräsentativen unterschiedlichen Szenen. Auf dem Foto zu sehen ist der Entwurf "Der Kaiser und seine Konkubine" beim Liebes-Stelldichein im See-Pavillon.
Im Hintergrund links: Zwei Palastwachen schützen das Paar.
© Foto: Marco Bodenstein, Marco-VG Bonn
For our article, see Elke Seimetz: China-Impressionen vom Orchideen-Pavillon ...
---
Art Galery & Gift Shop
COLLECTED LECTURES BY SWAMI VEDA ON YOGA PHILOSOPHY
ART OBJECTS, ART POSTERS and COLLECTIBLES
---