---
Andy Warhol would now be 80 years old
Remembering a great American-European multi-talent
By B. John Zavrel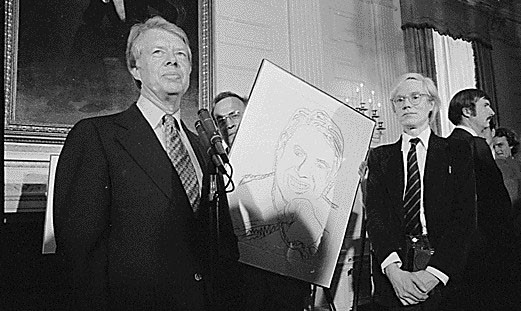 The US President Jimmy Carter and Andy Warhol at the White House in Washington. American presidents always had contacts with famous artists. Also Elvis Presley and many Hollywood stars were guests in Washington.
Foto: W-Archive/Marco-VG
New York/Berlin (meaus) Andy Warhol wouldhave celebrated his 80th birthday in August 2008. Unfortunately, this American-European multi-talent died already on February 22, 1987, at the age of 58. But the artist is not forgotten in the United States and in Europe. The famous German Magazine BUNTE dedicated in its issue No. 34 a full page about the "colorful life" of the artist.
Born as Andrew Warhola on August 6, 1928 in Pittsburgh (Pennsylvania), he never forgot his roots going back to the former Czechoslovakia. The German playboy, art-collector and photographer Gunter Sachs brought the artist Warhol to Europe. He had special relationships to Germany. Warhol did the portraits of Chancellor Willy Brandt and the "First Lady" Mildred Scheel, the founder of the Deutsche Krebshilfe (German Cancer Aid).
Warhol is first of all an American artist, and a central figure in the movement known as 'pop-art.' He started his career as a commercial illustrator. Then he became worldwide famous for his work as a painter, avant-garde filmmaker, record producer, author and public figure. The media considered him as an object of art. The silent and shy-looking person was an attraction at event--whenever he came to Hollywood, Paris, London to Berlin and elsewhere.
Media attention in Germany: the magazine BUNTE reports about the occasion of the 80th birthday of Andy Warhol on a full page about the "colorful life" of the artist.
Foto: Bunte, Germany
The Magazine "Bunte" wrote that Andy Warhol was also an admirer of the classical art of Arno Breker. He was a friend of Breker's art-director and publisher, Joe F. Bodenstein. "Warhol admired the sculptures of Arno Breker, the nowadays criticised favorite sculptor of the Nazis", the magazine reports.
Warhol was highly respected in political circles. The US President Jimmy Carter invited him to the White House, accepting a hand-drawing portrait by the artist. It was not one of the best works Warhol has done. But, if an artist becomes popular, then what counts first for most of the people is his signature counts, not how good or bad the motive has turned out.
No doubt: Andy Warhol remains not only one of the most glamorous VIPs of the 20th century, but first of all he is an important figure in the history of art. On the occasion of the 80th birthday of the late artist, let us say: "Happy birthday, Andy Warhol! Your admirers keep you in their memories, and your artworks keep this memories alive."
© PROMETHEUS 136/2008
PROMETHEUS, Internet Bulletin - News, Politics, Art and Science. Nr. 136, October 2008