---
Kalhor to Perform in Honor of Molana Rumi
Performance in Boston to commemorate the mystic poet
By B. John Zavrel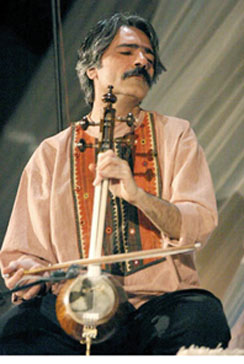 The Iranian musician Keyhan Kalhor will perform in Boston on October 4, 2008
Teheran/New York (meaus) The acclaimed Iranian musician and instrumentalist, Keyhan Kalhor, will perform a concert on September 27, 2008 at Hollywood Bowl, USA to commemorate the Iranian mystic poet Molana Rumi.
Kalhor, who plays the Kamancheh, a traditional Iranian string musical instrument, will be accompanied by the Iranian vocalist Hamid Reza Nourbakhsh, whirling dervishes of Syria and the US Silk Road ensemble.
The prominent Iranian calligrapher Yadollah Kaboli will transcribe Rumi poems in calligraphy live at the event. Commenting on the reasons for holding the concert, he said, "I intended to produce a performance which befits Rumi's dignity."
The musician regretted that although many countries have held programs to honor Rumi, a number of them had evil intentions to distort the nationality of the great Iranian poet.
Kalhor also said that he plans to perform a concert in Boston on October 4, 2008. An Iranian band will accompany the artist. They include Nourbakhsh, Siamak Jahangiri on the reed, Behnam Jamali on the tonbak (Persian goblet drum) and Siamak Aqaei on the santour (dulcimer).
Kalkor further said that he will perform his latest album 'Silent City' in the United States in Octoeber 2009. He has composed many works for famous Iranian vocalists, such as Mohammad Reza Shajarian and Shahram Nazeri. 'Night, Silence, Desert', 'In the Mirror of the Sky' and 'The Wind' are among the compositions in his albums.
© PROMETHEUS 136/2008
PROMETHEUS, Internet Bulletin - News, Politics, Art and Science. Nr. 136, October 2008