Home | Alexander Order | Latest News
---
Aristide Maillol's "art dealer and muse" died in Paris
She was his beloved model for the last ten years of his life
By B. John Zavrel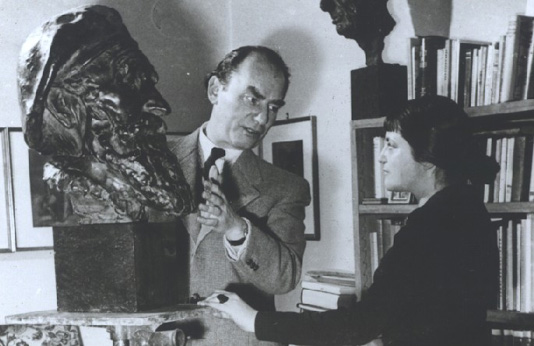 The young Dina Vierny (right) in 1948 with Arno Breker and the bronze bust of Aristide Maillol. The French artist called Breker "the German Michelangelo". The photograph is published in the Book "Arno Breker, A Life for the Beautiful". The book contains over 500 photographs. You can order the book at info@meaus.com
© Grabert/Marco
Paris/New York (bpb) Aristide Maillol's art dealer and beloved model for many sculptures of the famous artist, Dina Vierny, died in Paris on January 20, 2009. This was announced in the French capital by the family of Madame Vierny. She passed away few days before her 90th birthday on 25th of January.
Dina Vierny (25.1.1919-20.1.2009) became after World War II. an art dealer, a collector and the founder of the Museum Maillol. Her great accomplishment is that she has successfully promoted the artistic work of Maillol during all the periods of her life. She had purchased a foundry in Paris, in order to get Maillol sculptures produced there; otherwise, these sculptures could never have been produced during the lifetime of the sculptor. Vierny donated a number of bronze sculptures to the French government. These sculptures can be seen on display in various public places in Paris.
How did it all begin? Vierny was born into a Jewish family in Aibinder in Kishinev, Bessarabia (now Chisinau, Moldavia). At the age of only 15 years, she became a model for the 73-year-old married sculptor Aristide Maillol. It is reported that Maillol felt in love with the girl. She become his "muse", and inspired him for many new works. From the day Maillol met her, he had been sculpting only her body. She was the sculptor's source of inspiration for the last ten years of his life, until his mysterious death in a car crash in 1944. Long before that, Maillol recommended Vierny also to his artist friends Henry Matisse und Pierre Bonnard, to pose for paintings.
Despite all her merits, Dina Vierny was also a controversial personality. During the German occupation of France, she sympathised with Communist groups, as did also Pablo Picasso. Vierny worked for a group of the French Resistance during World War II. Eventually, she was arrested by the Nazis in Paris, because of her political activities against the Germans. She was in great danger of getting transported to a German concentration camp (KZ). Maillol felt into a deep depression. He appealed to his German artist friend, the sculptor Arno Breker in Berlin, to help. Breker, the favorite sculptor of Adolf Hitler, had a great influence in this political era. At the end, he personally went to the jail where Dina was kept, and got her released from the prison cell. The very same day, Breker brought Dina Vierny to Maillol. He was waiting for her in a restaurant in Paris.
Arno Breker created in 1942 a bust of Maillol. The bronze is a precious reminder about the friendship between the French and the German sculptors. Maillol also visited Breker's Art Exhibition during the German occupation of Paris. For this, Maillol was criticized as a "colaborateur" with the Nazi Germany. Now, more than 60 years later, all this belongs to the European art history.
© PROMETHEUS 139/2008
PROMETHEUS, Internet Bulletin - News, Politics, Art and Science. Nr. 139, January, 2009