Home | Alexander Order | Latest News
---
Birthplace of Iranian poet Ferdowsi renamed to Shahnameh Town
By B. John Zavrel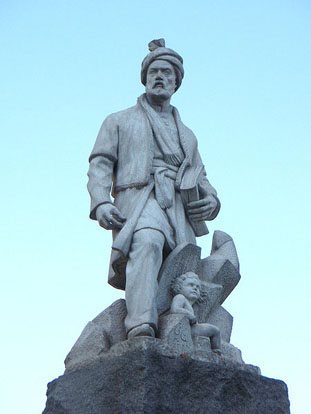 Monumenal memorial to the great Iranian poet Ferdowsi, the author of the 'Shahnameh' trilogy in his birthplace, now renamed to Shahnamed Town.
Tehran/New York (meaus) The birthplace of the Iranian poet Ferdowsi, 'Dieh Paj' in Tous, in the Khorasan Razavi province will be renamed Shahnameh Town on the national day of Ferdowsi on May 15, 2009.
The project includes renovation of the place, Ferdowsi Foundation director Mohammad Hossein Tousivand told Mehr News Agency. "Several workshops will also be set up in Ferdowsi Park, where visitors can read Ferdowsi's great epic 'Shahnameh' via 3D images," he said, adding that a sport complex will be set up in the town.
Tousivand also announced that the foundation is opening its branch in Tous located in Khorasan Razavi Province. "We hope that we can open several other branches in other cities with the help of their citizens. This way we will support the ancient roots of Dari Persian in the Middle East, with the help of the foundation", he said.
"The Middle Eastern states of Tajikistan, Afghanistan, Turkmenistan, Uzbekistan, Pakistan and Kyrgyzstan were home to the Dari Persian language and were the birthplace of great masters such Rudaki, Avicenna, Jami, Rumi, and Nezami," he explained.
He further noted that the foundation has also arranged a commemoration ceremony for Ferdowsi in Berlin, Germany from September 11-12, 2009.
The Ferdowsi Foundation is a private organization established in 2003 by Tousivand. Mir Jalaleddin Kazzazi, Hassan Anousheh, Jalal Khaleqi-Motlaq, Fereidoun Joneidi and Qadamali Sarami are members of the foundation.
© PROMETHEUS 142/2009
PROMETHEUS, Internet Bulletin - News, Politics, Art and Science. Nr. 142, April, 2009