Home | Alexander Order | Latest News
---
Nancy Reagan: Happy birthday, dear First Lady!
Ronald Reagan's extraordinary wife turns 88 years in July 2009
By B. John Zavrel, New York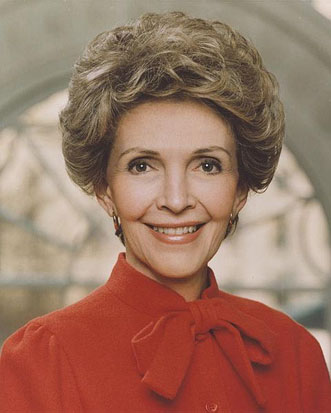 Nancy Reagan at the time of being the First Lady of the United States of America.
(Photograph: whitehouse)
Washington/New York (mea) Nancy Reagan, former First Lady of the United States, celebrates her 88th birthday on July 6th. The outstanding wife of Ronald Reagan has remained as one of the most popular wives of an American President. During the last week, the charming lady was seen several times in public: President Barack Obama received her in the White House before leaving for an official visit to Germany, to meet German Chancellor Angela Merkel. Nancy Reagan took part at the inauguration of a life-size bronze sculpture of the late president at the Capitol in Washington.
One of the first birthday congratulations that Nancy Reagan received came from the Alexander-Order pour le Mérite for Arts and Science. Her husband himself was a Knight of the Order. This international society wrote in its homage to Mrs. Reagan: "The Order honors you as a citizen and the former First Lady of the United States for your lifelong engagement in the society and politics for a world in peace and freedom. You and your husband were idols for uncounted people around the world. And you still are an idol for all of us, who are grateful for the good political achievements of the late president." There is much to say and write about Nancy Reagan. Let us listen to her own words. "My life really began when I married my husband," says Nancy Reagan, who in the 1950's gave up an acting career for a permanent role as the wife of Ronald Reagan and mother to their children. Her story actually begins in New York City, her birthplace. She was born on July 6, 1921.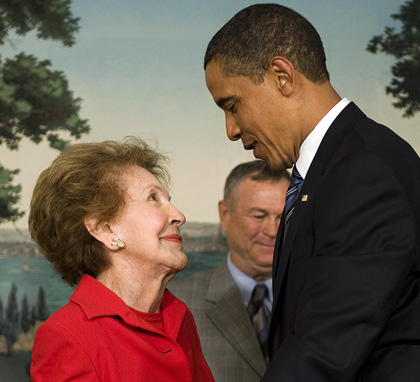 President Barack Obama honors the former First Lady Nancy Reagan. He received her in the White House in Washington, shortly before her birthday. Observers had the impression: The Grandmother America met the young generation.
(Photo: press-pool)
This is reported: When the future First Lady was six, her mother, Edith (a stage actress) married Dr. Loyal Davis, a neurosurgeon. Davis adopted Nancy, and she grew up in Chicago. It was a happy time: summer camp, tennis, swimming, dancing. She received her formal education at Girls' Latin School and at Smith College in Massachusetts, where she majored in theater. After graduation she became a professional actress. She toured with a road company, then landed a role on Broadway in the hit musical Lute Song. More parts followed. One performance drew an offer from Hollywood. Billed as Nancy Davis, she performed in 11 films from 1949 to 1956. Her first screen role was in Shadow on the Wall. Other releases included The Next Voice Your Hear and East Side, West Side. In her last movie, Hellcats of the Navy, she played opposite her husband.
She had met Ronald Reagan in 1951, when he was president of the Screen Actors Guild. The following year they were married in a simple ceremony in Los Angeles in the Little Brown Church in the Valley. Mrs. Reagan soon retired from making movies so she "could be the wife I wanted to be...A woman's real happiness and real fulfillment come from within the home with her husband and children," she says. President and Mrs. Reagan have a daughter, Patricia Ann, and a son, Ronald Prescott.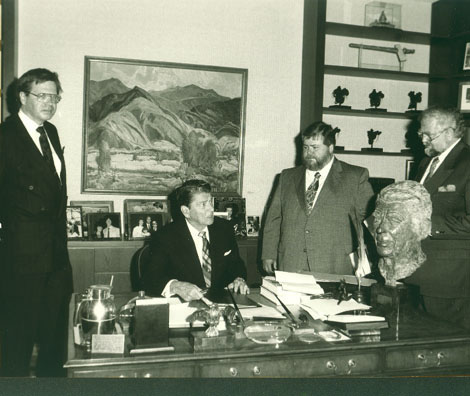 US President Ronald Reagan with a delegation of the Alexander Order. OAG Chancellor B. John Zavrel (left) with curator Ron C. Voth and the sculptor Kurt Arentz. He did a bust of the president. This bronze is on display during 2009 in the Museum of European Art at Noervenich Castle (NRW, Germany), together with a bust of George Bush and Bill Clinton.
Photograph mea-press
While her husband was Governor of California from 1967 to 1975, Nancy Reagan worked with many charitable groups. She spent hours visiting veterans, the elderly, and the emotionally and physically handicapped. These people continued to interest her as First Lady. She gave her support to the Foster Grandparent Program, the subject of her 1982 book, To Love a Child. Increasingly, she has concentrated on the fight against drug and alcohol abuse among young people. She visited prevention and rehabilitation centers, and in 1985 she held a conference at the White House for First Ladies of 17 nations to focus international attention on this problem.
Talks with the late president at night
Mrs. Reagan shared her lifelong interest in the arts with the nation by using the Executive Mansion as a showcase for talented young performers in the PBS television series "In Performance at the White House." In her retirement in California, she continues to work on her campaign to teach children to "just say no" to drugs. She published her memoirs with the title "My Turn" (1989) and gives her own account of her life in the White House. Through the joys and sorrows of those days, including the assassination attempt on her husband, Nancy Reagan held fast to her belief in love, honesty, and selflessness. "The ideals have endured because they are right and are no less right today than yesterday", she says.
The love of Ronald Reagan never ended. She misses him very much. In an interview with Vanity Fair, she confessed that she talks nearly every night with the late president. "It may sound funny, but I can see Ronnie", said Mrs. Reagan. "At night I wake up and have the feeling, Ronnie is there. Then I talk to him. It is not so important what I say. But I really believe my husband is present in this very moment."
With these heartfelt words, I would like to say: Happy birthday, Nancy Reagan! Remain as you are for many, many, many years to come. Your friends and admirers love you!
© PROMETHEUS 145/2009
PROMETHEUS, Internet Bulletin - News, Politics, Art and Science. Nr. 145, July 2009