---
Exhibition "Princess Diana & Art"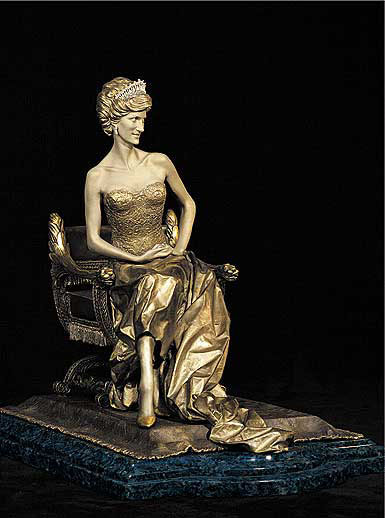 PRINCESS DIANA, a sculpture by Yuri Firsov from Toronto. On exhibition at the Museum of European Art in Clarence, New York in October, 2007.
Clarence/New York (meaus) Recently, many people around the world honored the memory of the late Princess Diana, who died ten years ago in a tragic car accident in Paris.
Her life and engagement for various humanitarian causes had considerable influence on the people that she came into contact with. Even after her untimely death, her personality inspired a number of artists to write poems, music or create works of art in her honor. Among them is the Canadian sculptor Yuri Firsov.
His sculpture of Diana has attracted much attention in Canada and in Europe. An exemplaire of the sculpture can now be seen also in the Buffalo area. The Museum of European Art in Clarence will have this unique artwork on display in October, 2007, along with an interesting collection of other bronzes by Salvador Dalí, Pat Roberts, Kurt Arentz and other European artists. The exhibition is enriched by fine lithographs by Marc Chagall, Pablo Picasso, and Andy Warhol.
The exhibition PRINCESS DIANA & ART will run from October 2 to 26, 2007. Museum of European Art, 10545 Main Street, Clarence, NY 14031. Tel. 759-6078. Free admission. Open Tue-Fri, 1-5 pm.
© PROMETHEUS 123/2007
PROMETHEUS, Internet Bulletin - News, Politics, Art and Science. Nr. 123, September 2007