---
Luciano Pavarotti is dead
By B. John Zavrel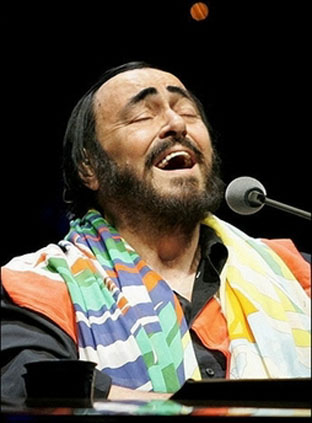 The famous Italian singer Luciano Pavarotti
The legendary Italian tenor Luciano Pavarotti died in his home in Modena at the age of 71. He fought a hard battle against the panceatic cancer, for which he was operated a year ago in New York. But even the following five cycles of chemotherapy did not succeed in overcoming the disease.
Pavarotti gave the last opera performance of his life at the New York Metropolitan Opera on March 13, 2004. His fans gave him a 12-minute standing ovation on his performance in Puccini's Tosca.
"I hope to be remembered as an opera singer. In other words, as a representative of an art form which has found its maximum expression in my country. And I also hope that my love of opera will always remain at the center of my life", said Pavarotti during his farewell tour.
The Himalayan sage Swami Veda made the following comment on hearing the news of the great singer's death:
On September 7, 2007 night I watched a BBC documentary on late Luciano Pavarotti, a legend in his own life time. The documentary contained few excerpts from past interviews with him. As part of the secret of his success as a singer he several times mentioned diaphragmatic breathing and even demonstrated how NOT to breathe from the chest.
At one point this dialogue (paraphrased here) occurred :
Interviewer: Many singers have failed in their singing career because of nervousness; you seem to have overcome that problem.
Pavarotti: Yes, that is true. Relaxation is important. "One has to practise relaxation; one has to be a Yogi ".
Who would have thought of Luciano Pavarotti as a teacher of diaphragmatic breathing and yoga relaxation methods ?
© PROMETHEUS 123/2007
PROMETHEUS, Internet Bulletin - News, Politics, Art and Science. Nr. 123, September 2007