---
Rumi and Dialogue Among Civilizations
By B. John Zavrel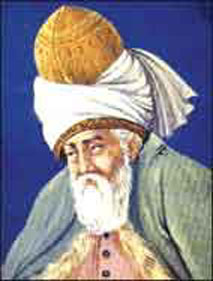 Rumi, a well-known Iranian mystic and poet.
Dushanbe, Tajikistan/New York (meaus) Some 90 intellectuals and leading scholars from 28 countries have been invited to a 3-day international seminar 'Rumi and Dialogue Among Civilizations', which will be held in the first week of October, 2007 in Dushanbe, Tajikistan.
The seminar is part of a series of programs to commemorate the 800th birth anniversary of Rumi, a well-known Iranian mystic and poet.
Thinkers from Turkey, Iran, Afghanistan, the United States, Germany, Britain, France, Pakistan, South Korea, Taiwan, India, Indonesia, Russia, Georgia, Azerbaijan and Kyrgyzstan will present papers at the event.
The seminar 'Molana and Dialogue Among Civilizations' will be organized in four categories of panel discussions dealing with
a) Human Values in Molana's Philosophy,

b) Molana's Influence in Today's World,

c) Peace and Compromise in Sufism,

d) Idea of Dialogue in Molana's Philosophy and Works.
A statue of Rumi will be unveiled, and music programs based on Rumi's poems will be performed alongside the seminar.
Afghanistan, Iran and Turkey will hold additional programs in 2007 to mark Rumi's 800th birth anniversary. The year 2007 has been designated as 'Rumi Year' by the UNESCO, the United Nations Educational Scientific and Cultural Organization.
© PROMETHEUS 124/2007
PROMETHEUS, Internet Bulletin - News, Politics, Art and Science. Nr. 124, October 2007