---
Bridges Gallery opens in Owen Sound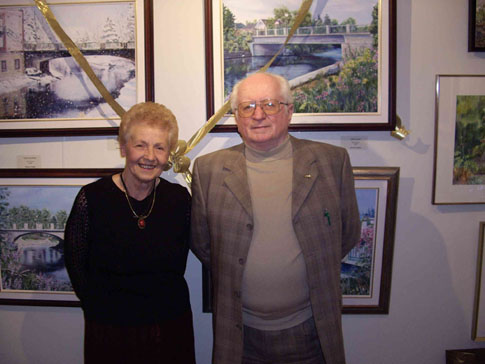 The artists Eleanor Pauling and James Culligan at the opening of the Bridges Gallery in Owen Sound, Ontario, Canada.
Photo: meaus
Owen Sound/Canada (meaus) The picturesque town of Owen Sound in Ontario, Canada has a new art gallery. Eleanor Pauling and the Irish-born James Culligan opened the Bridges Gallery in the downtown of the city. The opening ceremony was attended by the Mayor, Ruth Lowell and Consul B. John Zavrel from Clarence, New York and several local artists. Among them were Ken Wilkens, Jim McGill, Sandra Walton-Ball, Judy Gray and Carol-Ann Barrett.
The gallery is located at 712, 9th Avenue East, Owen Sound, Ontario N4K 6Y4, Canada. Tel. 519-370-2099.
---
Remarks by Consul B. John Zavrel, Director of the US Museum of European Art, on the occasion of the Grand Opening of the Bridges Gallery in Owen Sound, Canada on December 7, 2007:
Ladies and Gentlemen,
it is a pleasure and honor to be here today at the opening of the Bridges Gallery. On the behalf of the US Museum of European Art I bring you our congratulations and the best wishes for success. No doubt, Owen Sound is the right place for this gallery: several artists from this town are known to the visitors of our Museum, located near Buffalo, New York: Jim McGill, Eleanor Pauling and James Culligan. Their works have found a positive response among our visitors.
In our congratulations we are joined by the European Art Foundation Berlin, with which we have cooperated for many years. Our joint efforts to promote cultural ties between Europe and America have introduced some prominent European artists to art lovers in the United States. Also, we helped some American artists to become more known in Europe. Among them was for example the painter Binyamin Shalumov. In co-sponsorship with the Russian government, in 2007 we arranged a large exhibition of some 120 paintings of this artist at the Noervenich Castle in Germany.
Maybe some day, a similar exhibition of a small group of accomplished Canadian artists could be also arranged at this castle, if business and government sponsors could be found. It would not only be good publicity for these Canadian artists, but would also inspire European travelers to visit Ontario, and especially the cosmopolitan, cultural city of Toronto.
The Museum of European Art is in the process of establishing the SCULPTURE GARDEN ALEXANDER THE GREAT. The opening will take place in September, and a several of our long-time artist-friends from Europe will come for this event. We will also have an art exhibition in the Museum at the same time, and I would like to invite the artists whose works you see here tonight to take part in our exhibition in September 2008 by showing one of their best works.
In closing, I like to quote the great 20th century painter Salvador Dalí. When a young admirer visited him once at the St. Regis hotel in New York, Dalí said to him: "It is not enough to like an artist. One must also possess him. One must buy a painting, a sculpture or even only a small drawing". And we know this: even the great art collectors like Paul Getty or Professor Ludwig started in the same way: by purchasing their first drawing, their first painting. So, I like to say: support these fine artists tonight by buying a painting, an art poster or even a postcard. It will bring you pleasure in the future, and you will become a supporter of art. Thank you.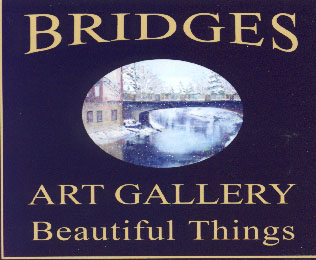 © PROMETHEUS 127/2008
PROMETHEUS, Internet Bulletin - News, Politics, Art and Science. Nr. 127, January 2008