---
Florence Honors Swami Veda Bharati
By B. John Zavrel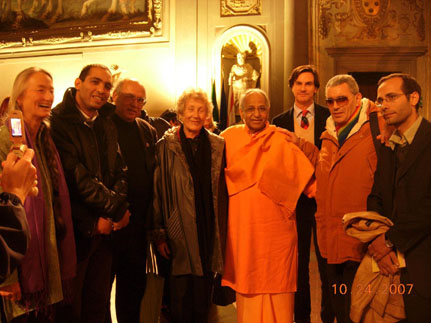 Swami Veda at the famous palace, once the residence of the Medicis. From left: Lucia Vigiani, Mohamed Zgar, Marco Romoli, Teresa Vogel, Swami Veda (in orange robes), Attila Tanzi, Eros Cruccolini, and El Zhir Izedin.
Rome/New York (meaus) On October 24, 2007, the Municipality of Florence, Italy, gave Swami Veda Bharati a special recognition by inviting him to speak on "The Interior Path of Peace--Meditation: Meeting Among Different Spiritual Traditions."
Swami Veda spoke in the "Salone dei Cinquecento" (Hall of the 1,500) in the Palazzo Vecchio, now the historical seat of the Municipality of Florence. Only rarely are some highly distinguished personalities invited to the Palazzo Vecchio, which was formerly the residence of the Medicis, who historically shaped so much of the Florentine culture.
Mr. Eros Cruccolini, Chairman of the City Council of Florence; Mr. Marco Romoli, President of Tempio per la Pace (Temple for Peace); and Mr. Attila Tanzi, Vice-President of the Club di Budapest, in association with the Himalayan Yoga Institute of Italy represented by Ms. Lucia Vigiani, introduced Swamiji as a man whose original ideas are sure to bring peace. Florence is the only city that is known to have a Department of Peace.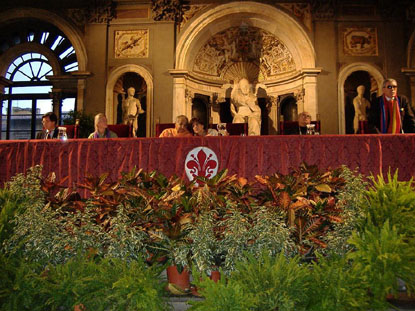 The ancient city of Florence honored the Himalayan sage Swami Veda at the Palazzo Vecchio in October, 2007.
At this time, Swami Veda was also given honorary membership in the prestigious Club di Budapest--Italy.
To honor the occasion, the Giunti Editore published for free distribution the book titled Quando l'Uomo Fa La Pace (When Man Makes Peace), the Italian translation of Swami Veda's forthcoming English title 'What Is Right With the World'.
Swami Veda Bharati first addressed the public by reading one of his poems in Italian, and then led those present, about 300 people, through an experience of silence and inner peace.
In his talk, Swami Veda gave us visions and tools to work with for true transformation--meditation, silence, cleaning and understanding our mind--are the steps for the "interior path of peace". As usual, Swami Veda has given his answer of peace, the food everyone needs.
After the lecture, the audience came forward and surrounded him. They showered him with questions, which he patiently answered. Many wanted their copies of Quando l'Uomo Fa La Pace signed by Swamiji. Others just wanted to talk with him, and some wanted to share their life stories. Also Swami Veda was congratulated by the Chief Imam of the Florence Mosque, who was one of the many learned people who were present on this occasion.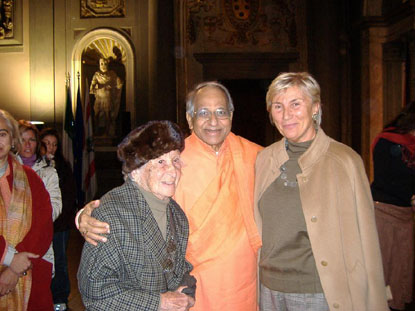 After the program, Swami Veda meets old friends.
The conference has been made possible by:
Himalayan Yoga Institute--Italy
Un Tempio per la Pace (Temple for Peace)
Club di Budapest--Italy
University of Florence--Interfaculty Degree course: Peace operations, management and mediation of conflicts.
Municipality of Florence
Giunti Editore (the largest publishers of Italy; Mrs. Giunti has been an initiate for a decade).
The Himalayan Yoga Institute is an AHYMSIN affiliate based in Florence, and has been working since 1992 for the diffusion in Italy of the Himalayan Tradition of Yoga and Meditation, as taught by Swami Rama of the Himalayas and Swami Veda Bharati.
The Un Tempio per la Pace is an organization that has been working for many years in the attempt to create peace paths among different cultures and religions, organizing many events in Florence. Various meetings have been organized on peace issues related to spirituality, science, politics, philosophy and art, with the direct participation of many international and relevant personalities. Swami Veda has attended these meetings several times with his invaluable contribution to bring seeds of hope to our minds.
The Club of Budapest is an international organization founded by Ervin Laszlo, a philosopher of science and musician, which is based on the "Manifesto of Planetary Conscience" to which many important people such as Mikhail Gorbachev, Vaclav Havel, H.H. Dalai Lama, Desmond Tutu, Mohammed Yunus and many other Nobel Peace Prize winners belong. The Global Project 2012 is a very important project the Club di Budapest has undertaken and involves the creation of a Holistic Network among different areas such as spirituality, natural health, education, art, ecology and self-transformation in order to create a new culture based on ethical and spiritual values which bring along the cure for human beings and the planet itself.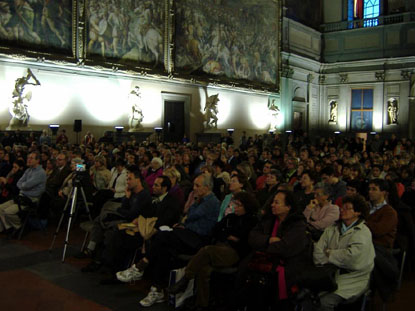 The audience listening to Swami Veda's talk in Florence, Italy.
© PROMETHEUS 127/2008
PROMETHEUS, Internet Bulletin - News, Politics, Art and Science. Nr. 127, January 2008