Home
|
Prometheus Nr. 201
|
Alexander Order
---
Salvador Dalí: Who is Dalí
The 120th birthday of a Genius: Interview with an eyewitness
By B. John Zavrel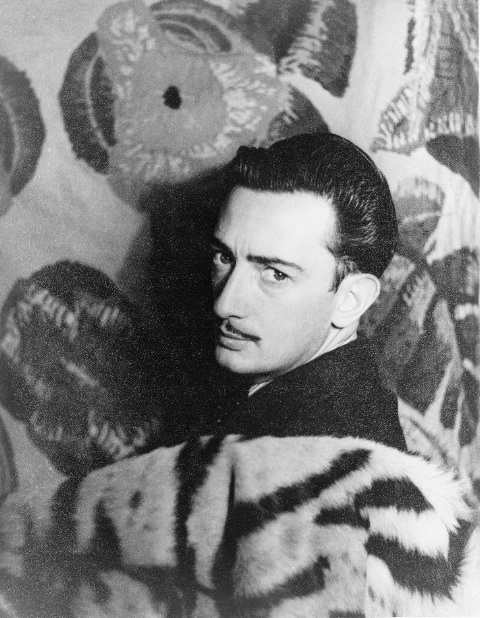 From the toy-boy of Gala to the world-famous surrealistic painter: Salvador Dalí. In 2014, the late artist is better known around the world than his countryman Pablo Picasso. This artistic photograph of the smart young Spaniard was taken in Paris.
Photograph: Wikipedia
Cadaques/New York (bpb) Admirers of Salvador Dalí can celebrate his 110th birthday on May 11, 2014. On this occasion "Prometheus" did an interview with Joe F. Bodenstein. He was for decades an Associated Press correspondent in Germany, he personally knew the surrealist painter and is thus an eyewitness himself. The interview was done by Consul B. John Zavrel. He is the founder of the US-Museum of European Art (Meaus) in Clarence, New York, and the honorary director of Foreign Affairs of the non-profit organization "European Art Foundation Germany". In this mission he supports the transatlantic cultural relations between USA and Western Europe.
Question: We would like to know from you--as an eyewitness: How was Dalí really ?
Answer: This question cannot be answered in a definitive and total way. I am sure that Dalí himself did not know, what and how he was. From my experience I can only say: This Spanish painter had a great knowledge of historical developments, of religion and of art history. On this basis he developed his surrealistic visions for the future. We all could not understand everything he did and follow what he meant. But everybody, who become an art-loving follower of this personality had the great feeling of being part of this emotional Dalí-World.
Question: Articles during his lifetime and in the past reported that, the Spanish painter was "funny, crazy" and "far away from a realistic life".
Answer: The eccentric behavior was a part of his marketing strategy. He liked the show, he liked to shock people in different ways. He dressed up like a movie star, sometime as "King of his own universe" or as a High Priest and a Prophet. This was for the public. But as soon the crowds were gone, and he sat together with a few people, he was quite calm and "talking in a normal way".
Question: When did this happen, and how often ?
Answer: I like to mention the friendship among the painter Ernst Fuchs (Wien), the German-French sculptor Arno Breker (1900-1991) and Salvador Dalí. He has proclaimed in 1975: "We are the Golden Triangle in Art. Where we are it is the top". These three artist-friends had great admiration for one another. Salvador Dalí was the outstanding "divine painter" (according to himself). Ernst Fuchs, son of a Jewish father and an Austrian beauty, is the last "Maler-Fürst" (Painter-Prince) in Europe, and Arno Breker is the leading sculptor of the Classical tradition in Art of the 20th century. The artistic achievements of these three giants were on the same high level. Therefore, it was not so difficult for them to become friends. All of them had their own collectors.
Question: What made Dalí so famous in the history of art ?
Answer: I like to say: The basis of his success was his unique ability to paint the things as he could see them. Further: his whole life he had people by his side to push him up and to support most of his ideas and actions. The young fellow got a fundamental impulse from Gala, who later became his wife. One of the best things what has happened was the cooperation with his secretary, manager and real friend: Captain Peter Moore. It is said he was an officer of the British Secret Service. But when I met him as a journalist and as an art-collector, "the Capitano" (as Dalí used to call him respectfully) was for me a trustful gentleman. I was impressed how he and his intelligent wife Catherine served the "maitre". But Dalí's wife and so-called muse Gala was "not amused" by this close friendship. She became very jealous.
Question: How could it happen that Gala got so much influence over Salvador Dalí?
Answer: Let me remind you of an old European saying: 'Love makes blind !' Born Elena Ivanovna Diakonova in Russia, usually known as Gala, she was first the wife of Paul Éluard, the French poet who was one of the founders of the surrealist movement. On his journey to Spain with Gala she met Dalí. He was ten years younger than her. In 1929 Eluard had another bout of tuberculosis. He separated from Gala when she left him for Salvador Dalí, with whom she remained for the rest of her life. When their affair started, the painter was young, healthy, sexy and already well off.
Question: And that is all--how a woman can get influence over a man and an artist ?
Answer: No no ! Gala was not a simple, ordinary person. She was an experienced, intellectual woman with fine manners. . And she was ten years older than Dalí. In the society of Paris it was not long a secret that Gala taught the 25 years young "sailor of Cadaques" how to make love. Until meeting with Gala, the painter was a virgin, it is told. After falling in love with Gala and their romances in the caves of the beach around Cadaques, Dalí slowed down his contacts with his comrades. His former life with frequent parties in a kind of "beach-boy-group" and friendship with only men had no longer importance for him.
Question: That means, Dalí became more mature ? But what was his goal with Gala ?
Answer: Looking back to the life of Dali we can see how Gala introduced him to the high society of Paris. She was proud of her ten years younger lover. In our days such a person is called in the Hollywood society "toy-boy". But Dali became very soon a master of society life. Gala opened for him also the doors to the collectors. And art collectors are of eminent importance to an artist and for developing of art.
Portrait of Salvador Dalí by Arno Breker. This world-wide largest bust of the painter was photographed in a Dalí Exhibition at the Art-Museum of Noervenich Castle (near Cologne) in Germany. On show were the Dalí-Parfumes. Catalogue "Die göttlichen Düfte" on request Schloss-noervenich@gmx.de
Photograph: Wikipedia
Question: How rich was Dalí ?
Answer: This I cannot say. By observing his lifestyle I like to say: Dalí had at all times enough money to maintain a very good life. And he found rich admirers who were on his side. Dalí needed more and more money after 1945. In Paris he used to stay in his residence, the noble "Hotel Meurice" in the center of the French capital. In New York he used to live in the famous St. "Regis Hotel". Dalí was very generous, and on the other hand also very miserly.
Question: What does it mean ?
Answer: Only one case I like to mention in connection with the art collectors Eleanor Reese Morse und Albert Morse. From the present point of view it is to say: a great couple, an idol for US-Americans. Thanks to them the now famous Salvador Dalí-Museum in St. Petersburg was founded. These collectors became also a kind of lottery winnings for the Spanish painter. They brought him lot of income.
When I visited the business couple Morse in Florida during lifetime of Dalí, they told me about how they became art collectors. A few weeks after the marriage on March 21, 1942 in their hometown Cleveland (Ohio), they bought the first Dalí painting. Before they had first seen the works of the artist in an Art Exhibition at the Cleveland Museum of Art. "We both were fascinated", Eleanor said to me. In our days in 2014 we must ask: Where can one find such good role models, where can we find an equal harmony and trust between a married couple, like we find with these art lovers.
About one year later after the first buying a painting, Mr.and Mrs. Morse met in April 1943 Dalí and his wife Gala in New York. "This was the beginning of a friendship, lasting over decades", remembered Eleanor Morse. In our long nostalgic conversation about our "beloved maitre Dalí", Mr. Morse also mentioned what he found disappointing in Dalí's behaviour. Whenever they met in New York in Hotel St. Regis or elswhere, Dalí would also invite other people for dinner or lunch. At the end, "the charming Spaniard" asked: "My very dear friend, could you please take care of the bill? I have forgotten my wallet". This behavior confirms Dalí's philosophy: Friendship is, or can be expensive. Some people called these manners "shameless". But others, who could afford to be cheated this way, ment: It is an honor to pay for the millionaire Dalí's dinner.
Question: How much was Dalí involved in the politics of the 20th century ?
Answer: No clear answer can be given. Politics was a tabu for Dalí. But one can say: after his marriage to Gala, he was always on the site of the mighty and the rich. He also was acquainted with the dictator of Spain, Generalissimo Francisco Franco (1892-1975). Under his regime, also Dalí had many privileges.
Question: Does it mean in this case that he was opportunistic?
Answer: Not at all. Because: nobody can choose the period of his life on earth. We all are born in a certain time, and in certain circumstances. Most of us cannot escape such a situation. This we have to accept as our destiny.
(5.5.2014)
Disclaimer: The contents of this article are of sole responsibility of the author(s). The journal PROMETHEUS will not be responsible for any inaccurate or incorrect statement in this article.
www.meaus.com contains copyrighted material the use of which has not always been specifically authorized by the copyright owner. We are making such material available to our readers under the provisions of "fair use" in an effort to advance a better understanding of political, economic and social issues. The material on this site is distributed without profit to those who have expressed a prior interest in receiving it for research and educational purposes. If you wish to use copyrighted material for purposes other than "fair use" you must request permission from the copyright owner.
For media enquiries: info@meaus.com
Copyright 2014 Prometheus
PROMETHEUS, Internet Bulletin for Art, News, Politics and Science, Nr. 201, May 2014