Home
|
Prometheus Nr. 215
---
Swami Veda Bharati takes his leave
(March 24, 1933-July 14, 2015)
By Consul B. John Zavrel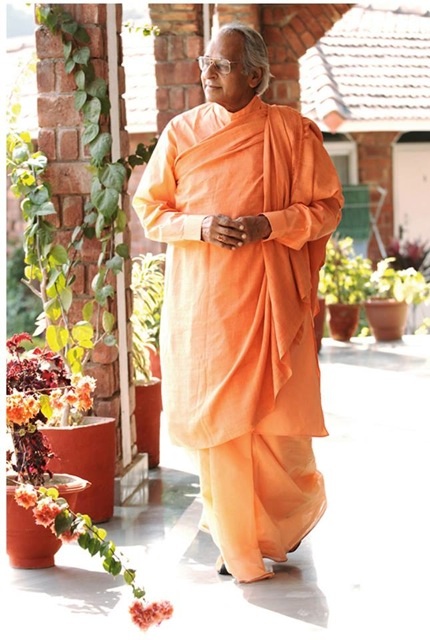 The Himalayan sage Swami Veda Bharati took his Mahasamadhi at Rishikesh, India on July 14, 2015
Rishikesh/New York (mea) In Rishikesh, India, at 3:00 a.m. on July 14, 2015 the Himalayan sage, Swami Veda Bharati, left his physical body at the age of 82. By the end of the day, the news had spread from his ashram to reach thousands of his initiates and disciples, students and devotees around the world. They are the fortunate ones, those who came into personal contact with this rare, loving, wise and noble soul. He was highly respected by some of the best thinkers in modern times and adored by those whose lives were touched by him. He was the embodiment of love, and his life was truly an example of his Bodhisattva vow: to work tirelessly through myriad lifetimes to relieve the suffering of all living beings.
The Leading Disciple of H.H. Swami Rama of the Himalayas
His spiritual master was Swami Rama of the Himalayas, one of the greatest yogis of the 20th century. Under his guru's guidance and grace, Swami Veda was initiated into the highest path of meditation and received much rare and profound knowledge. His love and devotion to his Gurudev and his life-long dedication to support the work of Swami Rama and the lineage of the Himalayan masters were visible to all around him in his daily life. Swami Veda was a living example to all around him of the sacred guru-disciple relationship.
From Child Prodigy to Maha-mandaleshvara
Prior to taking monastic vows, Swami Veda was known as Dr. Usharbudh Arya. He was born on March 24, 1933, in Dehradun, India, and was schooled at home by his father, where he memorized the Vedas and Panini's Sanskrit grammar at the age of 7. Recognized as a child-sage, at the age of 11 he was speaking to thousands about the Yoga Sutras, the Bhagavad Gita and the Upanishads. At the age of 19 he left his native India to serve Hindu communities in Africa and South America as a pandit. In the 1960's, he traveled to Europe and, having never had any formal schooling, received his Bachelor's and Master's degrees from the University of London and a D.Litt. from the University of Utrecht in the Netherlands in consecutive years.
Married to Lalita Arya in 1961, the couple established the charitable organization KHEL ("Kindness, Health, Education and Laughter") in 1983 through which many children of leprosy patients and other indigent populations received nutrition, medical care and education.
In 1967, he traveled to the USA and took an Assistant Professorship of South Asian Studies at the University of Minnesota, living in Minneapolis with his wife, three daughters and son. In 1969 he received the Distinguished Teacher Award from the University, and in the same year on Divali, he met his spiritual master, Swami Rama of the Himalayas, who initiated him into Surya-vijnana-diksha, one of the highest paths of meditative yoga &endash; seldom given outside the Himalayan caves and rarely given to householders. Shortly thereafter, in 1972 he founded The Meditation Center, where he taught tirelessly for over 25 years and which, under his continued guidance, is flourishing today.
In the 1980s, he began traveling twice around the globe each year to teach in numerous countries. In all parts of the world, spiritual seekers who came to him were not satisfied with only attending his lectures on yoga and meditation; they would invite him to come back the following year, and in the meantime they would form meditation and study groups under his guidance. Over the years, he established many centers of yoga and meditation and taught sadhakas in many countries, including the United States and Canada, Australia, Indonesia, Malaysia, Singapore, Japan, China, Hong Kong, Taiwan, Thailand, South Korea, India, Mauritius, South Africa, Burkina Faso, Benin, Russia, Hungary, Italy, Spain, Germany, the Netherlands, the United Kingdom, Costa Rica, Trinidad & Tobago, Ecuador, Guyana, and Curacao.
In 1992 Swami Rama initiated him into sanyasa in the Shankaracharya order of swamis (renunciate monks), naming him Swami Veda Bharati.
In 1999, he was awarded the high honorific title of Maha-mandaleshvara of the Niranjani- Akhada order of swamis, making him one of the top 30 swamis in all of India.
In his later years, Swami Veda served as President and preceptor of Swami Rama's Sadhana Mandir Ashram in Rishikesh and was the spiritual guide of the Himalayan Institute Hospital Trust near Dehradun. He was also the Chancellor of the Swami Rama Himalayan University.
World Religious Leader and Humanitarian
In 1999, he was an invited speaker at the Council for The Parliament of World Religions in Cape Town, South Africa, and in 2001, he and the Dalai Lama collaborated to bring the Buddhist and Hindu communities together at the Kumbha Mela, the largest gathering of people ever seen on the planet. Throughout his life he honored the religious views of all people, and while attending The Parliament of World Religions he met with leaders of many faiths to work towards interfaith understanding.
In 2000 he was invited to the Millennium Global Peace Summit at the United Nations and proposed a resolution to be adopted by the World Council of Religious Leaders as a recommendation to the Secretary General on May 21, 2003. In 2004 he submitted a proposal for UNESCO titled "Education and Parenting for World Peace," which can be found his book, The Human Urge for Peace: What's Right with the World.
Swami Rama Sadhaka Grama--Ashram and School for Spiritual Seekers
In 1994, with the blessing of Swami Rama, Swami Veda envisioned founding an ashram in Rishikesh, based on principles of the ancient gurukulams of ancient India. In homage to his beloved guru, Swami Veda named it Swami Rama Sadhaka Grama (SRSG). Land was acquired, architectural plans were drawn up, and many discussions with his close disciples and devotees followed. Later, in 2001, the new ashram was constructed, only a few minutes' walk from Swami Rama's ashram (Sadhana Mandir) on the Ganges. Since that time, SRSG has continued to grow. Its gurukulam, Swami Rama Dhyana Gurukulam, now serves as a school for future generations, and the site has become a retreat center for yogic learning and meditative silence. It also houses the Himalayan Yoga Tradition Teachers Training Program (HYT-TTP), the Meditation Research Institute, and Himalayan Yoga Publications Trust.
SRSG serves as the world headquarters of AHYMSIN (the Association of Himalayan Yoga Meditation Societies International), which is the nucleus for the global network of yoga centers and students, inspired by Swami Rama and Swami Veda. Swami Veda provided the impetus for the founding of AHYMSIN in 2007, and there are now 56 affiliated centers in 24 countries.
An Eminent Scholar, Prolific Author, Poet
Swami Veda was a prolific author and lecturer who wrote over 30 books and 30 booklets. Under his pre-monastic name, Dr. Usharbudh Arya, he wrote Superconscious Meditation, The Philosophy of Hatha Yoga, God, Meditation and the Art of Dying, Mantra and Meditation and the first volume of his commentary on the Yoga-sutras of Patanjali. The second volume of his commentary on the Yoga-sutras of Patanjali was published under his monastic name of Swami Veda Bharati. These commentaries on Patanjali's teaching are considered definitive, and scholars of yoga philosophy hold them in high esteem. A few of his other books are Kundalini Stilled or Stirred, Subtler Than the Subtle, Song of the Lord, and Song of Silence: Subtleties in Sadhana. He also composed several books of inspirational poetry, among which is The Light of Ten Thousand Suns.
His Scientific Experiments
Following on the footsteps of his guru, Swami Veda Bharati maintained a keen interest in the scientific, medical and therapeutic studies of yoga meditation. He demonstrated his capability for changing brain wave patterns in various meditation states as well as the power of mind over external matter; for example, through his concentration he made a random-numbers-producing machine to produce coherent numbers. Such experiments have taken place in the laboratories like the Institute of Noetic Sciences (founded by the astronaut Edgar Mitchell) in California and at Bremen University in Germany. (See the publication Yogi in the Lab.) He also founded the Meditation Research Institute at SRSG. This lab continues scientific studies of yoga meditation and silence.
His Unique Lectures on Yoga Science and Philosophy
Many of his followers first met him at one of the countless lectures he gave over some 60 years of traveling around the globe on the subject of yoga science, philosophy and superconscious meditation. Prior to his lectures, he generally gave a deep, guided meditations, most of which were recorded. During his six decades of lecturing, over 4,000 hours have been preserved in English. They are a priceless fountain of the 5,000-year-old knowledge and wisdom of yoga science. His remarkable lectures had great influence on the listeners, and many of them became his life-long students and devotees. In the early years, his profoundly unique lectures contained ideas that were new to the audience; those recordings were saved for future generations, and today are available to spiritual aspirants through Himalayan Yoga Publications Trust in Rishikesh. And some of his most inspiring talks can be downloaded .
Full Moon Meditations Around the World
How to keep all these yoga and meditation groups around the world connected and inspired? One answer presented itself in the form of full moon meditations. Every month on the full moon, at the same time of day, Swamiji's initiates and students now meditate for an hour. This idea, started many years ago, has taken root and today, thousands of people look forward to participating on full moon nights. In the USA, this meditation time is from 10:00 to 11:00 p.m. EST. For India, Asia and Europe, different times are used, and will continue into the future.
Swami Veda's Funeral Ceremonies and Commemoration
Commemoration services honoring him were held at The Meditation Center in Minneapolis on July 16.
In India, Swami Veda's body was put into the Ganges on July 17th, and special prayers, which had begun when he left his body on July 14th, concluded on July 29th with a memorial service and a huge banquet with over 7,000 people attending.
(July 31, 2015, Guru Purinima)
Copyright 2015 Prometheus
PROMETHEUS, Internet Bulletin for Art, News, Politics and Science, Nr. 215, July 2015