Art Gallery
|
Friends of Gurukulam
---
Clinton much liked in Germany
Ex-President presents his memoir "My Life"--Millions of TV viewers
By Consul B. John Zavrel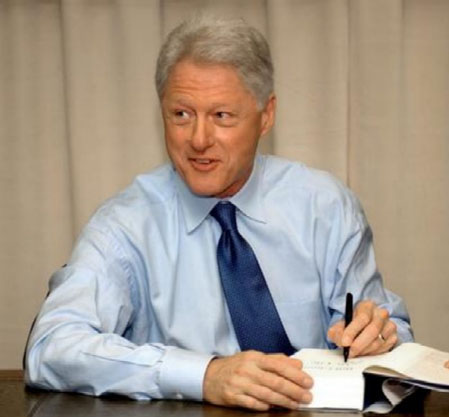 The former US President Bill Clinton at the signing of his book. The good-humored statesman is left-handed.
Foto: press-pool
Berlin / Washington (bpb) The former US President Bill Clinton has introduced his memoirs "My Life" with great success in Germany. The book has about 1,500 pages. The high point of the promotion tour was a TV appearance in the most important political talk-show "Sabine Christiansen". The journalist Christianses had on July 11, 2004 only Clinton as her guest. Normally, it is mostly six persons, who appear in this program, which is broadcast nationwide in Germany.
Clinton appeared calm, self-assured and comfortable. Also he was not disturbed from his calmness, as he was again questioned about his affair with the former intern in the White House, Monika Lewinsky. Yes, he made mistakes and is ashamed of them, said Clinton on TV. And he asked, if he should have volunteered to give up and just let his Republican enemies drive him out of office? No, said the democrat Clinton. "I was right to fight them. And I am proud of it."
Clinton reacted harshly against the hints that many people bought his book only to find our new details about the affair. At book signings across the USA, many people have told him that they were much more interested in the man, father, and politician. He sees himself as a "world citizen" who has much to say about the joining of his life with the history of America. Also for that reason is the book in German language so extensive.
With that, the Lewinsky matter was dismissed. Clinton was then able to address serious questions about the German-American relations, about the international terror and about the war in Iraq. During his visit to Germany, Clinton appeared also in the ZDF television show «Johannes B. Kerner».
In the cultural shopping center Dussman in Berlin, Clinton signed many copies of his memoirs. The 57-year old has, according to his spokesman, signed over 25,000 copies of his book about his political and private life. Also in Germany the sales of the memoirs are going "great", according to the publishing company Econ. After the first edition of 150,000 copies, the second will be coming on the market soon. And the third edition is also planned.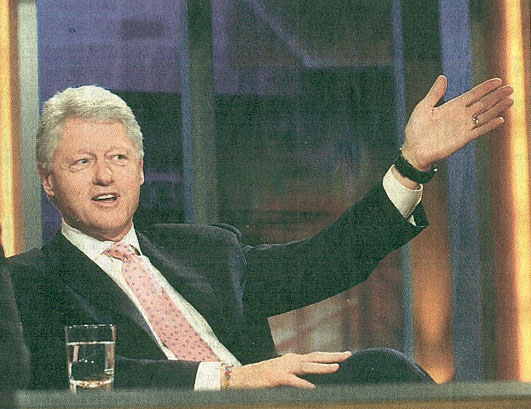 Photograph: TV-press
Bill Clinton on German television: the elder statesman with a great gesture. This was the right way to impress the German public. Like the late US President Ronald Reagan, Clinton is also considered "a great friend of Germany".
Clinton in original quotes from the German TV program:
"I like Berlin vey much. I have enjoyed a wonderful reception. My friendship with Germany is blooming again. It first started when I was president. I have felt here truly at home."
"I am a citizen of the world. I am a citizen of my country. And furthermore: I have written this book and have seen the history of America in the past 15 years, actually the last 50 years, and about the things I had done as president. Now I work world-wide and fight against AIDS and rassismus, and for improvement of the economical situation of citizens. I am a citizen of the world, and I like that."
"I don't think that I had good luck. Also I do not believe that the times were peaceful. After September 11th something happened. That was just a continuation of that what preceeded it. As I was president, we first had to bring to conslusion the unfinished matters from the Cold War. Today people take it for granted. But when I was president, it was not yet clear if democracy and free economy would be established in Russia. With Germany, with Helmut Kohl on two important occasions I have became engaged for freedom for the Russians and free economy. We had to do much. After that we began to address the problems related to terrorism. There was much terrorism, before I left office."
"After the ship "Cole" was blown up, I would have marched at once into Afghanistan, with or without the support of the world, if the CIA and FBI had determined that it was actually bin Laden who was responsible. We thought so, but it was never officially established. If we had firm proof, I would have attacked Afghanistan, with or without the approval of the international world."
"We should have had there more troops, I think. We should have made a greater effort to capture bin Laden, since the al Qaida is the terrorist threat number one. The whole world supported the first actions of USA agains Iraq. It concerned at that time only saying to Saddam Hussein: Let the weapons inspectors back into the country. That I supported. And I also supported that the president should have the power to use force against Iraq if Saddan did not let the inspectors back, or if he hindered their work. But I believe that it was a mistake to invade Iraq, before Hans Blix, the chief UN weapons inspector, finished his work."
"I believe that success in Afghanistan is the most important. But I would welcome to see a stronger NATO presence in Iraq, with the approval of the United Nations. And more civilians from other countries should become active in Iraq. The world should see that it is not purely an American, imperialistic undertaking. That should be shown. As I said before, I did not believe that one had to attack Iraq, but it has happened, and now it would be better for the Germans and Americans if a successful, stable government could arise there.
Scandal in the prison
Clinton said on the TV among other things the following about the horrible tortures by Americans in the Iraqui prisons:
"The prison scandal is inexcusable. It was not only wrong toward the people, who were hurt, but also since it gives a negative picture about the American men and women soldiers, most of whom would normally would not do such things. Besides, these activities in prisons put the American soldiers in Iraq into more danger. That was horrible."
"After what has happened in the prisons: it horrible, and a thorough investigation must be undertaken, but one has to go all the way to the top, in order to discover who is responsible. I can only say to you: the overwhelming majority of the men and women who are in the military are shocked by what they have seen. They would not have done it, and they would have never supported it. And they know, that since that happened, they are in more danger. It was deplorable, it was horrible. It must be investigated."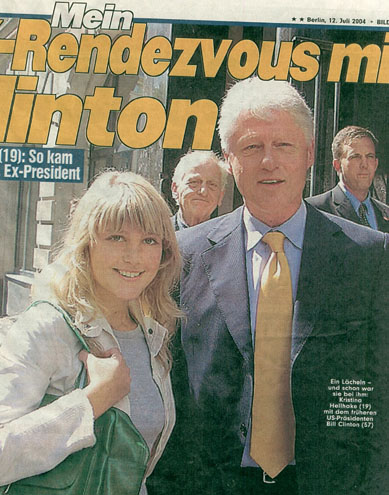 Photograph: Bodyguard
Germany's largest newspaper Bild-Zeitung proudly presented a large photograph of its reporter Kristina Hellhake (left) with Bill Clinton. The charming 19-year old girl is one of many young Germans who admire the fromer US President for his political vision to strengthen peace in the world. The report was read by more than 5 million people in Germany.
Clinton supports his wife Hillary
On the questions, whether one day he would be "the first man" by the side of a US President Hillary Clinton, Bill Clinton replied that he himself had no high political ambitions. But he would support his wife in her political career.
"I do not know if she (Hillary) plans to become President one day. If she did, she could have been a candidate this time already. According to polls, she was far ahead in popularity in front of the other Democrats. But she had promised the citizens of New York that she would finish her term of office as their Senator. They gave her a great opportunity to enter into politics as their Senator, and she respects them for it."
"Now we will support Senator Kerry with all our resources. If he wins--and the chances are not bad--then we will help in again in four years. Who knows what will happen in eight years. Then I will be 65, and she 64. And she still looks great. Who knows: maybe she will be a candidate then? If she was, I would support her. And if she were elected, that would be phantastic. She is the best woman public servant that I know of. But I really do not know, if she will ever be a candidate. But if she does, I will support her: that's for sure."
Copyright 2004 West-Art, Prometheus 92/2004
Keep informed - join our newsletter:
Copyright 2004 West-Art
PROMETHEUS, Internet Bulletin for Art, News, Politics and Science.
Nr. 92, Summer 2004