Art Gallery
|
Friends of Gurukulam
---
The Royal Wedding of Prince Frederik at the Fredensborg Castle in Denmark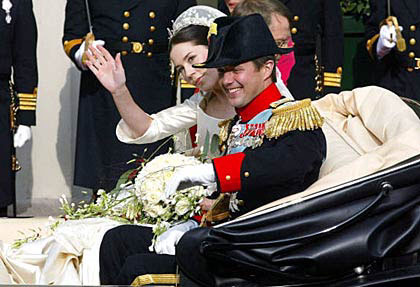 The Danish Crown Prince Frederik and his bride, Princess Mary after the wedding ceremony on the way to the Royal Castle Fredensborg.
The 35-year old Crown Prince Frederik of Denmark married Princess Mary on Saturday, May 15, 2004 at the Royal Castle Fredensborg, north of Copenhagen.
The wedding feast at the Royal Castle with over 400 guests included many of the European royal families from Great Britain, Norway, Sweden, Spain and other prominent personalities.
The Queen Margrethe II of Denmark, said to the guests at the ball that the marriage of the young couple is "a happy day for all of Denmark". The four-hour banquet was followed by dancing, and a great fireworks display. Then, the Prince said to his Australian-born wife, "I love you, Mary. Come, let us go. Let us go see the thousand worlds, where weightless love is waiting for us".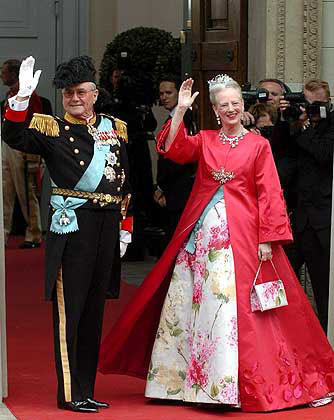 The proud parents of the Crown Prince Frederik of Denmark: Queen Margrethe and the Roayal Consort Henri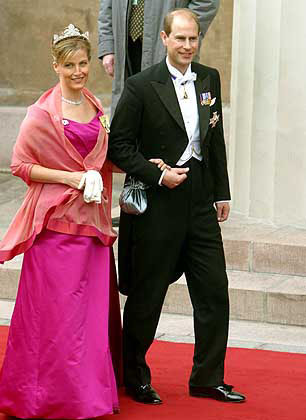 Great Britain's Prince Edward and Sophie of Wessex.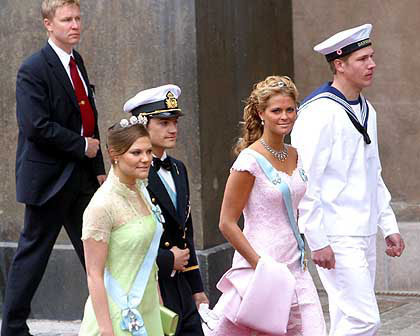 Princesses Victoria and Madeleine (right) of Sweden, with their brother, Crown Prince Carl Philip.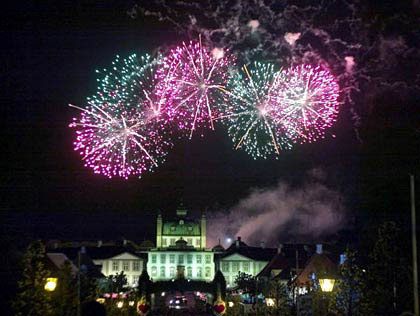 Great fireworks at the Fredebourg Castle at the conclusion of the roayal wedding celebrations.
Copyright 2004 West-Art, Prometheus 92/2004
Keep informed - join our newsletter:
Copyright 2004 West-Art
PROMETHEUS, Internet Bulletin for Art, News, Politics and Science.
Nr. 92, Summer 2004