---
ARNO BREKER IN 1938 IN POLAND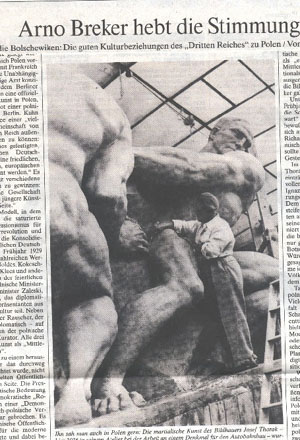 The leading German newspaper FAZ has illustrated their interesting article with a photo of the sculptor Josef Thorak (1936). It shows the sculptor from Austria at work on a monument for the German autobahn. This modern transportation system was first developed in Germany, and since then has been adopted as "thruways" in USA, as well as in other countries all around the world.
© Foto Thorak-Archiv/Marco-VG
Frankfurt/Main (bpb) "Arno Breker raises the atmosphere" is the title of an article in the Frankfurter Allgemeine Zeitung (FAZ) by Christian Saehrendt, published on Thursday, November 17, 2005. The article of the leading German daily newspaper reports in a large article on page 42 about the "good cultural relations" between the so-called Third Reich and Poland in the 1930s.
For the article, the author Saehrendt has researched among others also a successful, official exhibition project, which the 'sculptor of the century' Arno Breker was able to realize. Arno Breker included in this exhibition titled "German Sculptors of the Present" also his older colleagues Georg Kolbe and Richard Scheibe, who at the time were also in favor with the Hitler's Reich.
The FAZ reports about that exhibition: "In the first exhibition room, the visitors saw Thorak's busts of Pilsudski and Hitler, harmoniously next to each other. In a magnificent ceremony, the Polish President Ignaz Moscicki opened the exhibition in the Instytut Propagandy Sztuki, located near the seat of the government.
The FAZ further reports: The Francophile Breker was able to ease the stiff atmosphere by stories about artists from the time of his stay in Paris. In his memoires, he easily played the part of an ambassador of peace: "I brought home with me the best press reports, and saw all around only happy faces, from the Polish ambassador Lipski to the German dignitaries." According to Breker, Lipski said:" With a man like Breker, I could in the shortest time get out of the way all the differences that are burdening both our people".
(17.11.05)
© PROMETHEUS 102/2005
Keep informed - join our newsletter:
Copyright 2005 Museum of European Art
PROMETHEUS, Internet Bulletin for Art, News, Politics and Science.
Nr. 102, DECEMBER 2005