---
The Sculptor Kurt Arentz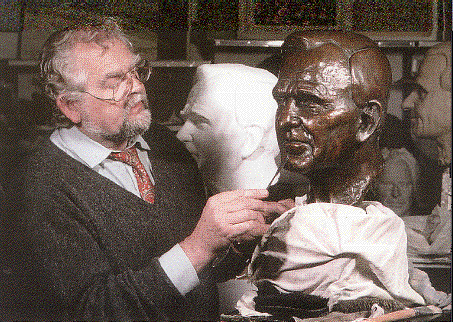 The sculptor Kurt Arentz at work in his studio on the larger-than-life portrait "President George Bush."
Clarence/New York (meap)The current art exhibition at the Museum of European Art will show selected works by the prominent European artist Kurt Arentz.
The German artist is a long-time friend and supporter of the Museum, and took part in a number of our international activities and cultural events with Ronald Reagan, George Bush, former German President Roman Herzog and others. Shown will be several bronze portraits, including Presidents Bill Clinton, Swami Rama of the Himalayas and Mstislav Rostropovich. His other sculptures will include the pair of bronze eagles PEACE and LIBERTY, which are also in the collection of President Ronald Reagan.
The exhibition runs from December 4 to 23, 2005 at Museum of European Art, 10545 Main Street, Clarence, New York. Admission $5. The museum is open Tuesdays thru Fridays, 10-5 and Saturdays, 1-4. Tel. (716) 759-6078, e-mail: zavrel@meaus.com
© PROMETHEUS 102/2005
Keep informed - join our newsletter:
Copyright 2005 Museum of European Art
PROMETHEUS, Internet Bulletin for Art, News, Politics and Science.
Nr. 102, DECEMBER 2005