---
Bambi Award for Bill Clinton and a check for his foundation
Germany's prominent people honor the former US President
By B. John Zavrel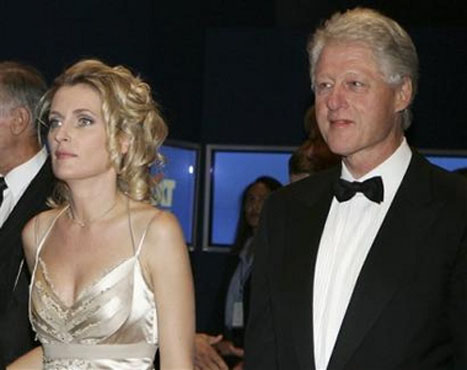 Bill Clinton honored in Germany: The former US President was awarded the 2005 'BAMBI' prize for his charitable work related to his engagement to help thevictims of the 2004 tsunami distaster. He is shown with the German actress Maria Furtwaengler, wife of the publisher Hubert Burda, whose organization awarded the prize.
München (bpb) The coveted German 'Bambi Award' for prominent personalities in Europe and the western world has brought together about 1,000 prominent personalities in Munich. The small, gold-plated sculpture of a fawn from the Burda Publishing House was awarded also to the former US President Bill Clinton. The guests from politics, business and show-business have come to the splendid award ceremony. The founder of the Bambi Award, Hubert Burda intended it to be a sign for more optimism in Germany in 2005.
Bill Clinton received the "Charity Bambi" for his engagement in the fight against Aids and for the victims of the recent tsunami catastrophe. Burda's wife, the actress Maria Furtwängler handed over the award, which was met with enthusiastic applause. She had another surprise for Clinton: eight million dollars.
The check for Bill Clinton's foundation was donated by the racing car world champion Michael Schumacher. During his acceptance speech, the former US President urged the Germans to show more optimism and said with firm conviction: "Germany is a great country."
Standing Ovations for the actress Caterina Valente
There were standing ovations for the actress and singer Caterina Valente, who received the "Honorary Bambi". She was the most famous female entertainer in West Germany after 1945. Her great career in cinema, shows and theater began during the time of the German Chancellor Konrad Adenauer, and his follower Lidwig Erhard. These days, the old lady lives withdrawn from the public view.
In the sports category, the "Millennium Bambi" was awarded jointly to two soccer legends, the German Franz Beckenbauer and Pelé from Brazil. With this award, founded by the publisher Hubert Burda, were honored exceptional personalities who have especially enchanted the German public. Other prominent award recipients were among others Veronica Ferres (theater), the teen pop-group Tokio Hotel (pop music), the designer Karl Lagerfeld (creativity) and the Nobel prize winner for physics, Theodor Hänsch (science).
© PROMETHEUS 103/2006
Keep informed - join our newsletter:
Copyright 2006 Museum of European Art
PROMETHEUS, Internet Bulletin for Art, News, Politics and Science.
Nr. 103, JANUARY 2006