---
Heart to Heart
A program to prevent and reverse heart disease--30 years of success of Dr. Dean Ornish--four main components include practice of yoga and meditation
By B. John Zavrel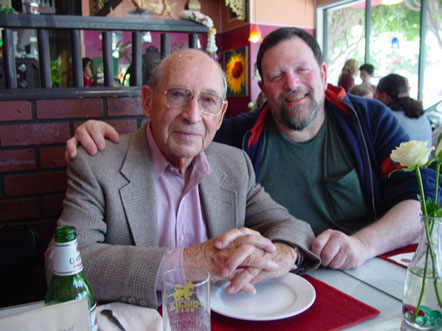 Werner Hebenstreit (left) and Victor Gilbert, the eldest and the youngest Ornish Research Participants (RPs). Werner is 91, Victor just turned 65. Twenty years ago they became pioneers in coronary artery disease (CAD) research, and proved that life style changes alone, not only can reverse, but can also prevent CAD, the number one cause of death in America. They were among 25 participants, who had volunteered to participate in the unusual protocol, which is now common knowledge and practice for health conscious people. The RPs are vegetables, exercised, did Yoga practices, and talked in a circle about feelings--developing empathy and understanding in the group. And in the process, they discovered that choices they made had consequences which have chnged the way many people live their lives. Their stories as RPs are detailed in "Dr. Dean Ornish's Program to Reverse Heart Disease", published in 1991.
San Franicso/New York (meap) "Heart disease is the # 1 killer of Americans-- it kills about as many people each year as the next five leading causes of death combined, including cancer and accidents. More than 70 million Americans suffer one or more types of heart disease. 65 million have high blood pressure. 107 million have high cholesterol. More than 1,200,000 heart attacks occur every year. Yet much of this is nearly completely preventable for most people, simply by changing their diet and lifestyle," says Dr. Dean Ornish.
For nearly 30 years, Dr. Ornish and his colleagues in the San Francisco area have been conducting research that shows how comprehensive lifestyle changes can often halt, and even reverse, heart disease. Instead of getting worse and worse, most of his patients who followed his program got better and better--without drugs and surgery. The March 2006 issue of the Yoga Journal magazine has a 20-page section describing the work and findings of Dr. Ornish and his group.
In his popular book, "Dr. Dean Ornish's Program for Reversing Heart Disease", he also pays attention to the emotional and spiritual aspects of healing. His program can inspire and empower one to live a healthier, more joyful life. Its main components are:
1) MINDFUL EATING. His recommended diet provides a wide range of choices, and focuses on fruits, vegetables, whole grains, legumes, and soy products.
2) EXERCISE. Even 30 minutes of moderate walking a day can reduce premature death by 50 % or more.
3) STRESS MANAGEMENT. Since emotional stress can constrict our arteries and contribute to unhealthy behavior such as smoking, alcohol, overeating, etc., he recommends yoga, breathing practices and meditation as very powerful tools for improving heart function and transforming our lives.
4) SOCIAL SUPPORT. Isolation--from ourselves and others can also lead to stress and ultimately, illness. By improving our communication skills and cultivating compassion, forgiveness, and group support, we can transcend our sense of separatedness and feel more connected to others.
In the beginning, his critics thought that reversal of heart disease by such methods would not be possible, and that patients wouldn't make the lifestyle changes necessary to accomplish it. But his experiments with heart patients proved the opposite. His work was the first to document that heart disease could be halted or even reversed--without drugs or surgery. Expensive, surgical procedures such as bypass surgery and angioplasty were considered routine. But after only one year, 82 percent of the patients demonstrated some overall reversal of their arterial blockages.
The write-up in Yoga Journal includes some practical examples and basics of the different components of the program: not only what foods are most nourishing, foods which reduce cholesterol, sources of the important omega-3 and omega-6 acids, different kinds of soy products, sources of antioxidants, helpful and tasty spices, dietary supplements such as Solgar Selenium, Solgar Omnium Multivitamins, Nordic Naturals Fish Oils, and a few practical and tasty recepies, but also suggested some yoga postures that have proved helpful over the decades in reducing blood pressure and risk of heart disease, basic relaxation techniques, breath awareness and meditation.
More information and materials about his program can be found on his website at www.ornish.com
"Awareness is the first step in healing", says Dr. Ornish. "How we understand the connection between what we do and how we feel, between how we live and how long we live, it becomes easier to make different choices. Rediscovering the wisdom of love and compassion may help us survive at a time when an increasingly divided world so badly needs it."
© PROMETHEUS 104/2006
PROMETHEUS, Internet Bulletin for Art, News, Politics and Science. Nr. 104, FEBRUARY 2006