---
Author Chitra Divakaruni: Sister of My Heart
Indian-born author published in 50 magazines--fascinating novels and books of poetry--translated into 11 languages
By B. John Zavrel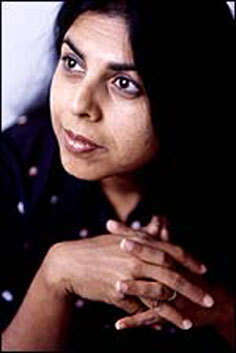 The author and poet Chitra Banerjee Divakaruni lives in the San Francisco Bay area.
San Francisco/New York (meap) "As I walk out of the room, lurching under the weight of the lesson I've learned less than one hour into wifehood: how quickly the sweetest love turns rancid when it isn't returned. When the one you love loves someone else"... thus ends the first part of the novel 'Sister of my Heart', an extraordinary and tragic tale of two young girls growing up in India: Anju and Sudha.
Anju is the daughter of an upper-caste Calcutta family, while her cousin Sudha is the daughter of the black sheep of that family. Sudha is beautiful, tenderhearted and serious. Anju is her opposite: plain, smart, and defiant. Since the day they were born, Sundha and Anju have been bonded in special ways.
But their bond is shattered when Sudna learns a dark family secret. Urged into arranged marriages, the lives of the girls take sudden and opposite turns: Sudha becomes the dutiful daughter-in-law of a rigid small-town household, while Anju goes to America with her new husband and learns to live her own life of secrets.
Then tragedy strikes them both, and the women discover that despite the distance that has gwown between them, they have only each other to turn to. Set in the two worlds of India and America, this is an exceptionally moving novel of love, friendship and courage.
Chitra Banerjee Divakaruni is a bestselling author of several novels: The Mistress of Spices, The Conch Bearer, Queen of Dreams, and The Vine of Desire, which continues the story of Anju and Sudha.
Her latest novel, Queen of Dreams, is the life story of Rakhi, and artist and divorced mother living in Berkeley, California. When her mother, an interpreter of dreams, passes away, Rakhi must confront a forgotten past and the increasingly complex live in present-day America.
Her short stories have been published in numerous magazines, and published as Arranged Marriage and The Unknown Errors of Our Lives. Chitra Divakaruni is also an accomplished poet, who has published four collections of prize-winning poetry.
Born in India, she now lives and writes in the San Francisco Bay area. Her website is at www.chitradivakaruni.com
© PROMETHEUS 107/2006
PROMETHEUS, Internet Bulletin for Art, News, Politics and Science. Nr. 107, MAY 2006