---
John of God: The Miracle Healer from Brazil
11 million people treated in 30 years--he makes the blind see and the lame walk--performs daily more operations than a large hospital in a month
By B. John Zavrel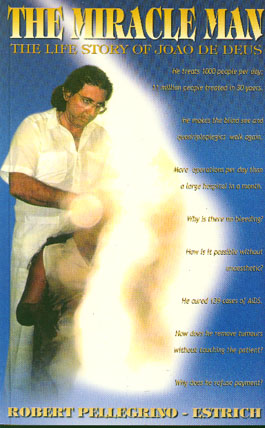 Joao Teixeira da Faria, popularly known as 'John of God', is probably the most powerful medium alive at this time, and must rank among the greatest mediums of the past 2,000 years. He says, "It is not me who cures. God is the healer--I am simply the vessel".
Brasilia/New York (meap) The young, attractive woman I met three years ago was full of youthful energy and vitality. She was a successful professioanal, working for the Canadian government in Toronto as a tax auditor. She had a boyfriend and they planned to get married in the near future.
Then came a shocking news when I met her a year ago: yes, she was just married, but shortly before the wedding she was diagnosed with cancer. Rather than joining her husband in another state, she stayed in her town to undergo the recommended medical treatments. She had a long series of radiation and other treatments ahead of her. A very stressful and depressing situation for anybody, especially a just-married young woman.
For a year I have not seen her, until several weeks ago. She appeared in much better spirits, and--unexpectedly, had an air of confidence and enthusiasm. How was she doing with her treatments, was she improving? This is her story.
While she was seeing medical doctors and going for the various treatments, her brother decided to look for information about alternative methods of treating this horrible disease, cancer. Eventually, in internet he came across some intriguing information about a miracle healer in Brazil. He has cured hundreds of thousands of the people over several decades, and the people gave him a new name: "John of God".
So, the young woman's brother gathered as much information about this healer as he could, told his sister about the discovery and took her to Brazil, to meet this intriguing man in person, and see if there is anything he could do to help her recover her health.
Actually, his name is Joao Teixeira da Faria, and is probably the most powerful medium alive at this time, and must rank among the greatest mediums of the past 2,000 years. His "gift' is not hereditary, nor learned from books. At the age of 16 he accepted the responsibility of devoting his life to spirit incorporations in order to heal the sick. He not only communicates with the spirits, he is literally taken over by a spirit and loses consciousness, while the spirit entity uses his body to perform physical surgery and seemingly miraculous healing of the sick.
His hospital is located in the small town of Abadiania, on the Goias plateau of central Brazil, some 120 kilometers from the country's capital Brasilia. It is open three days a week--Wednesdays, Thursdays and Fridays, promptly at 7:30 a.m.
People came in thousands, on long international flights or by busses from all over Brazil, often undertaling gruelling 20-35-hour bus trips. The hospital is called Casa de Dom Inacio (The House of St. Ignazius Loyola). It is located out in the country, surrounded by peace and quiet. Built on land rich in natural quartz, which is also a powerful energy source.
Joao Teixeira da Faria is an extraordinary medium. He is able to tak on, or 'incorporaate', 33 different spirit entities, all of whom were remarkable people during their own physical lives. These entities are spirits of deceased doctors, surgeons, healers, psychologists and theologians who are of such high soul elevation that they need no longer reincarnate on our physical plane. However, they continue to elevate in the spirit plane. Using his body as a vessel, they are able to perform miraculous operations and cure the sick and the crippled. Thousands come to Abadiania for treatment each week, and the number of people who have been treated and now lead healthy lives are in the millions.
Joao is capable of incorporating only one entity at a time, although he can change entity at any time as the need arises, and it also does not preclude all the other entities from performing simultaneously operations at the same time outside his body. These are called 'simultaneous operations' and occur without notice during the physical operations in public view. Patients in the crowd are operated on by the accompanying spirits without warning. They simply faint from the spirit anaesthesia and are carried away to the recovery room by assistants.
'Invisible operations' are those that leave no external sign of entry into the body. The operation occurs internally. Subsequent x-rays frequently show the internal incision and sutures, but there are no external marks.
Most of the healings performed by Joao are invisible or instantaneous, but each day there are two public demonstrations of physical surgery, 'visible operations', specifically performed to enable people to "see' the entities at work. This is done to fulfil the center's mission of not only healing the sick, but also of providing irrefutable proof that there is another dimension--a spirit world, where we all eventually go when this physical life expires.
There are over 250 volunteers running the hospital, up to 5,000 bottles of herbs are distributed a day in long, 10-hour shifts. Other mediums sit in meditation for four hours or more each session, and the cooks prepare up to 3,000 bowls of soup daily.
The treatment of the patients is done free of charge, although donations are now accepted. Although most of those who come to Joao for help are poor or with little material wealth, there are of course many persons of high social position, the famous and the wealthy. They include politicians, lawyers, priests, American and Russian government officials, doctors, scientists, singers, millionaires and busines people.
One of his former patients is the former businessman Robert Pellegrino-Estrich, who wrote the life story of the miracle worker in his book 'The Miracle Man: The Life Story of Joao de Deus". Based on his book, also a video has been produced, which shows John of God at work on the physical operations. A fascinating 60-minute visual story, although sometimes a bit hard to understand through the Brasilian accents.
This fall, John of God will come to Germany on a healing tour. He is scheduled to visit the following cities: BERLIN, September 3-5, ALSFELD, September 8-10, and ULM, September 15-17, 2006.
More information on the hospital, books, videos and foreign tours can be found on their web site at John of God
© PROMETHEUS 110/2006
PROMETHEUS, Internet Bulletin - News, Politics, Art and Science. Nr. 110, AUGUST 2006