---
Artist of the Month: Pierre Yves Trémois
A great master of drawings and graphic works
By B. John Zavrel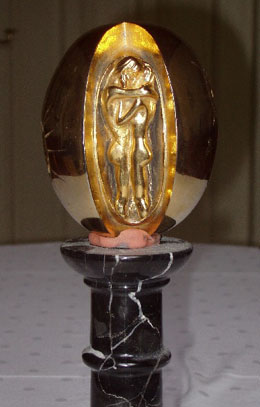 Pierre Yves Trémois: Genesis. The fine bronze in form of an egg contains a loving couple, shown in the exhibition at the Museum of European Art. Noervenich Castle. Total edition 1,000 exemplairs. (www.europaeische-kultur-stiftung.org)
© Photograph Marco-VG.
Paris/New York/Berlin (bpb) The Artist of the Month in August, 2006 is Pierre Yves Trémois, a great master of drawings and graphic works. His oeuvre includes also sculptures and bronze objects, oriented to his remarkable style of work. The prominent feature of the work of Trémois, member of the French Institute (Académie des Beaux-Arts, Paris) is the strength of his line.
He was selected as Artist of the Month by the US Museum of European Art, the Alexander Order Pour le Mérite for Art and Science and the European Art Foundation Berlin.
Trémois' work is distinguished by the clean decisive line, and the contrast between the rigour of graphic art and the freedom of imagination. The line is a challenge between violence and sensuality. His original art-form overrides the technique, to the point at which technique is forgotten. Paintings, drawings, engravings, sculptures, ceramics and jewellery are appreciated very much by art collectors.
Trémois was born in 1921 in Paris. He studied at the Ecole Nationale Supérieure des Beaux-Arts of Paris. His first Prize was the Grand Prix de Rome (1942). He is a Member of the Institute, Académie des Beaux-Arts (1978), Membre of the Accademia Fiorentina delle Arti de Disegno (1963) and of the National Committee of Contemporary Books, as well Member of the Flemish Royal Academy of Belgium (1971)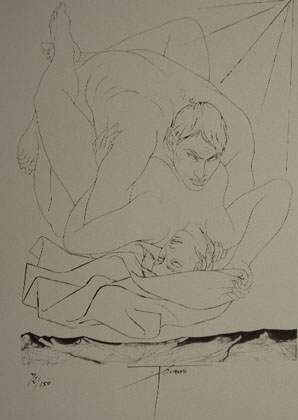 Pierre Yves Trémois: Young Lovers. Lithograph on arches paper, limited edition. On sale at the art exhibition at the museum. (To order, contact: Museum@europaeische-kultur-stiftung.org)
Illustrated books are one of his "Trademarks"
Trémois also became very famous by illustrating books. In 1974, he did a lithograph for the Hommage a Arno Breker. This publication by Joe F. Bodenstein (Editeur d'Arno Breker) was published in the Marco-Edition Bonn-Paris-New York and printed by Mourlot-Press in Paris on the occasion of the 75th birthday of Arno Breker. . It contains contributions by Breker's friends Salvador Dali, Ernst Fuchs, Jean Cocteau, Fernand Mourlot, Aristide Maillol, Charles Despiau, Andre Dunoyer de Segonzac, Ezra Pound, Wilhelm Kempff, Serge Lifar, Roger Peyrefitte and Jacques de Riccaumont.
Already since 1948, Trémois started to illustrate works of thenwriters Stephanie Malarkey, Paul Claude, Henry de Motherland, Marcel Jouhandeau, Jean de la Fontaine, Adonis, Paul Valéry, Jean Rostand, Le bestiaire d'amour, 1958. Along with this book, Trémois painted 100 large format monotypes printed at the Ateliers Lacourière-Frélaut. He worked on the project L'Apocalypse de Saint-Jean, (1961). With the participation of Bernard. Buffet, Salvador Dali, Léonor Fini, Foujita, Georges Mathieu et Zadkine.
Many other projects were realized until 1999
Unfortunately, Trémois is a very reserved person, and keeps his private life secret. It is difficult or impossible to make new exhibitions with this charming, well educated and sensitive artist. The Museum of European Art at Noervenich Castle (near Cologne) in Germany has honored the Artist with an exhibition in 2006 on the occasion of his 85 birthday. "We admire this great artist of our time very much", said curator Joe F. Bodenstein. He met Tremois several times in the past. The Order of Alexander the Great has nominated Pierre Yves Tremois as an honorary member of the Knights of the Order. He will be among a distinguished circle. The late writer Ernst Jünger, Sir Peter Ustinov, space travel scientist Hermann Oberth, Salvador Dali and Ernst Fuchs are Knights of the Order.
© PROMETHEUS 110/2006
PROMETHEUS, Internet Bulletin - News, Politics, Art and Science. Nr. 110, AUGUST 2006