---
Salvador Dalí Signature in Art
This is the question: what is right and what is wrong?
By B.John Zavrel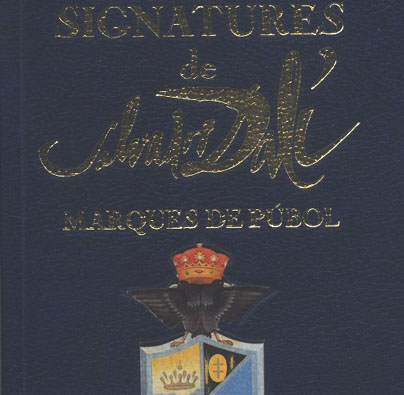 New York (bpb) In the art of Salvador Dalí (1904-1989), the signature of the painter plays a most important role: it definitely multiplies the value of the graphic works of the master. Many questions come up regarding a right or a wrong signature-a fake. Captain John Peter Moore, the manager and secretary of Salvador Dalí, has published already during Dalí's lifetime a "Guide to the Genuine and Original Signatures of Salvador Dali". In this catalogue, 678 different signatures and autographs are published, plus one signature with a dedication to the Captain.
This signature dated in 1968 does not typically look like Dali's handwriting. Now we come to the point. The collected signatures from paintings, drawings, graphic works and dedications are all different. This makes Dalí magic in the eyes of his collectors. The American museum founder A. Reynolds Morse and his wife Eleanor have collected over several decades about 100 unique Dalí works, signed quite differently. About some of the signatures he said: "If I would have not seen myself Dalí signing, I hardly could believe it is his handwriting."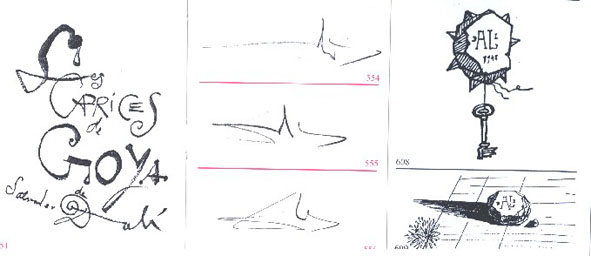 Samples of signatures. The most wanted are small drawings, combined with signatures. Several copies of the catalogs "Les 678 Tres riches Signatures de Salvador Dali" are still available for sale. For more details, contact Museum@europaeische-kultur-stiftung.org
What is a signature ?
A signature is a handwritten, and sometimes stylized depiction of someone's name.
It can be also some other identifying mark that a person writes on documents as a proof of identity and will. It acts as a seal. The word comes from Latin "signare" (sign). The traditional function of a signature is evidential: it is to give evidence of (a) the provenance of the document. In same cases, Dalí was celebrating his signature when he wrote dedications to friends and collectors. In the booklet we find little drawings and signatures on a stone drawing. It is known: Dalí sometimes presented visitors to his house at Port Lligat a stone of the Garden, signed by him in front of his guests. These are special souvenirs by the great Master, kept in collections such as of Dr. Giuseppe Albaretto from Italy.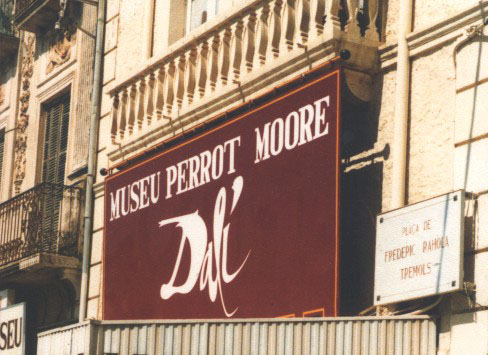 Signature as a trademark. Captain Moore had this idea to signal his own Dalí Museum. It was inaugurated by Gala and Dalí in 1978.
© Photo Dali-Archive EKS, Marco-VG.
Already during Salvador Dalí's lifetime, the signature Dalí become a trademark. The Dalí Museums in USA and in Spain use a special signature to signal their collection. The idea for this came from Peter Moore. He used himself a Signature for the Museo Perrot-Moore, which he established with his wife Catherine already in 1978. The museum was inaugurated by Gala and Salvador Dalí the same year. John Peter Moore, born 1919 in London, met Dalí first in 1951. He joined Dali in 1962 in New York as his business manager. In 1974, he was appointed the Curator of the Dalí Museum in Figueras. In 1976, Moore left Dalí by mutual consent in order to fully dedicate himself to the creation of the Perrot-Moore Museum in Cadaqués. Moore has great merit for the works of Dalí. They have become art history.
© PROMETHEUS 112/2006
PROMETHEUS, Internet Bulletin - News, Politics, Art and Science. Nr. 112, October 2006