---
A rare photograph of Elvis Presley
In 1954, the handsome singer wanted to look a bit older
By B.John Zavrel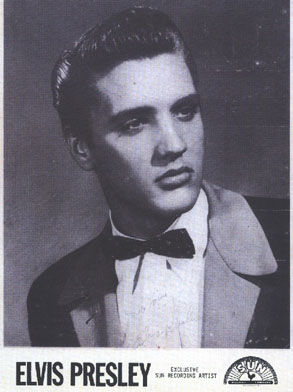 Elvis Presley, Sun Recording artist in 1954. Later he said: "At the age of 19, I always wanted to look more adult".
© Presley-Archive EKS, Sun Records
Berlin/New York (bpb) A rare photograph of Elvis Presley was discovered in the Presley-Archive of the European Art Foundation Berlin. It shows the 19-year old guy in 1954. "At this age, I wanted to look always a bit older", Presley commented about this later. He believed that his "milky face" looked too soft. And because of this, people would not take him seriously.
The photograph was used in 1955 by his label SUN Records-Studios in Memphis, USA in a promotion campaign. The stylist gave Elvis a dreamy make-up, with dark eyelashes... The makeup artist further worked out his erotic lips by slight dash of dark red lipstick. The PR-photograph was distributed in black and white only. On a colored version he looked--according to what is known--to girlish.
Anyhow: the photograph presented Elvis Presley as an "Exclusive Sun Recording Artist." In our present time in 2006, more than 50 years later, this motive is of a great importance to the vita of this outstanding and unforgettable person. The photo reminds us about his career.
It is reported: on July 18, 1953 Presley paid from his own pocket $ 3.25 to record the first of two double-sided demo acetates at Sun Studios. The titles were "My Happiness" and "That's When Your Heartaches Begin", which were popular ballads already at that time. It is said that Presley gave it to his mother as a much belated birthday present. About five month later, Presley returned to Sun Studios (706 Union Avenue, Memphis, Tennessee) on January 4, 1954. This time he paid $8.25 to record the second demo, "I'll Never Stand in Your Way" and "It Wouldn't Be the Same Without You".
Sun Records founder Sam Phillips and assistant Marion Keisker heard the Presley discs. They called him on June 26, 1954 to fill in for a missing ballad singer. It was not so successful. In July, Elvis was singing a blues song, written by Arthur Crudup called "That's All Right". Phillips liked the result. He released the record in the same month as a 78-rpm single, backed with Presley's hopped-up version of Bill Monroe's bluegrass song "Blue Moon of Kentucky". And only two days later, Memphis radio station WHBQ began playing it. The record became a local hit, and Presley began a regular touring schedule, hoping to expand his fame beyond Tennessee. His success due to his hard work began. Some years later, he joined the US Army, and served in Germany from 1958 to 1960.
© PROMETHEUS 112/2006
PROMETHEUS, Internet Bulletin - News, Politics, Art and Science. Nr. 112, October 2006