---
Arno Breker: Graphic Masterworks
Color lithographs were produced by Fernand Mourlot in Paris
By B.John Zavrel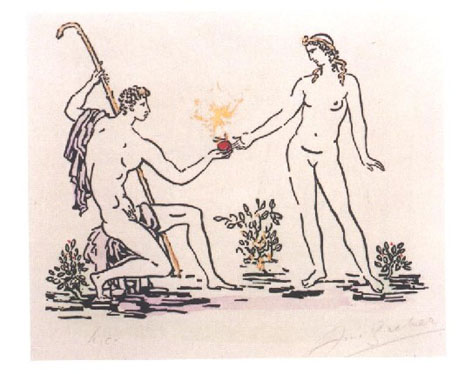 Arno Breker: Judgment of Paris (You and I). Classical Scene. Original graphic on heavy paper, limited edition and hand-signed, 24x30 cm
© Marco-VG, Bonn
Paris/Berlin (bpb) Arno Breker, the great sculptor of the 20th century, was also a master of graphic works. Fernand Mourlot in Paris produced the color lithographs, which the artist created after 1970. Already in 1920s he did etchings, using several different techniques. But the graphic work reached its highest point in cooperation with Fernand Moulot. This leading and best lithographer of the 20th century was also the master printer for Marc Chagall, Pablo Picasso, Salvador Dali, Jean Miro, Jean Cocteau, Alexander Calder and Henry Matisse.
Brekers publisher Joe F. Bodenstein had a large part of this cooperation. With the young publisher Marco Bodenstein in the 1970s and 1980s, they would go in and out of the litgraphic studio, and through the master lithographer Mourlot they got to meet many artists of the classical modern style. Mourlot wrote in 1972: "Our atelier has waited a long time to include into the circle of family and friends Arno Breker. With great attention and appreciation I will personally take care of his graphic oeuvre, together with Charles Sorlier. We sincerely welcome you, dear Arno and esteemed master!"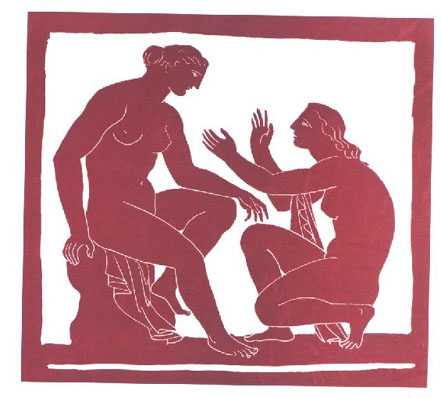 Arno Breker: Dialog of the Girls. Original graphik on heavy paper, limited edition and signed. Size 24x31cm. Prints exist in several colors.
© Marco-VG, Bonn
His style of selection of colors puts the graphic works of Arno Breker (1900-1991) into the successful tradition of Chagall, Picasso, and Miro. These artists are not comparable to one another. But each of them is clearly recognizable. A portfolio of graphics titled "Atelier Mourlot" reminds us about this good cooperation. One day, Breker spontaneously drew on a lithographic stone, and dedicated this leaf to Fernand Mourlot. Mourlot also did the lithographs for the HOMMAGE A BREKER, on the occasion of the artist's 75th birthday. Salvador Dalí, Ernst Fuchs, Pierre Yves Tremois and Andre Dunoyer de Segonzac contributed their lithographs. In addition the portfolio contains earlier graphics which were dedicated to Breker by Charles Despiau, Aristide Maillol and Jean Cocteau. A unique item in the graphic works is the illustration of a novel of the Japanese author Yukio Mishima (1925-1970) with the title: "The Boy Who Writes Poetry". It is lithographs done in drawing ink, in a far-eastern atmosphere. One complete collection is in the Breker Museum www.museum-arno-breker.org
The lithographs by Arno Breker are sought after by art collectors. The reasonable price of the smaller-format graphics makes it possible also for the young people who love art, to start their own art collection. A rich selection of graphics (and sculptures) is available in the catalog "Arno Breker: Form und Schönheit". The price is 18 Euro. To order, contact Museum@europaeische-kultur-stiftung.org , or in USA zavrel@meaus.com
© PROMETHEUS 113/2006
PROMETHEUS, Internet Bulletin - News, Politics, Art and Science. Nr. 113, November 2006