Home | Alexander Order | Latest News
---
Homage to Goethe to the 175th anniversary of his death
Arno Breker honored him with a bronze medal
By B. John Zavrel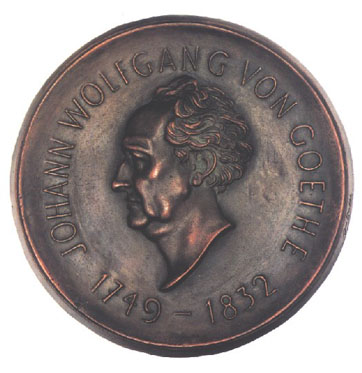 Portrait Wolfgang von Goethe by Arno Breker, 1982. Limited edition of 150 Exemplaires. Diameter 14 cm. For more details on availability, contact info@europaeische-kultur-stiftung.org
© Photograph Marco Bodenstein
Berlin/New York (bpb) The 175th anniversary of the death of Johann Wolfgang von Goethe (1749-1832) is another good reason to remember this universal genius. Johann Wolfgang Goethe is widely recognized as the greatest writer of the German tradition. The Romantic period in Germany (the late eighteenth and early nineteenth centuries) is known as the age of Goethe. The great European sculptor Arno Breker honored Goethe in 1982 with a fine bronze medal.
I remember very well my personal meeting with the sculptor in his studio in Germany in those days. Breker gave me both sides of this medal: the portrait of the poet and the second side: Ganymed with the eagle of Zeus. Breker refers in this work to Goethe's poem "Ganymed", written about this mythological story as a love-poem in young years. Both medals of this limited edition belong now to the Collection of the Museum of European Art in USA ( www.meaus.com ).
Goethe's stature derives not only from his literary achievements as a lyric poet, novelist, and dramatist but also from his often significant contributions as a scientist (geologist, botanist, anatomist, physicist, historian of science) and as a critic and theorist of literature and of art.
He was, finally, such an imposing personality that for the last thirty years of his life he was Germany's greatest cultural monument. No doubt: he was serving as an object of pilgrimage from all over Europe and even from the United States and leaving the small town of Weimar a major cultural centre for decades after his death. Out of this extraordinary personal presence, out of his overwhelming, almost threatening, literary stature, and out of the rejection of his political position in the turbulence of nineteenth-century German politics, a tradition developed that Goethe's greatness lay in his wisdom rather than in his literary achievement. Nevertheless, the continuing fascination with his works, especially with Faust (1808, 1832; translated, 1823, 1838) confirms his position as one of the most important writers of the European tradition.
Salvador Dalí, a friend of Arno Breker, has illustrated Goethe's Faust with a suite of etchings as he has illustrated the "Divina Comedia" by Dante. As a Homage a Goethe, the Europäische Kultur Stiftung will host an exhibition of these original graphics at the Museum Europäische Kunst Schloss Noervenich in Germany ( www.europaeische-kultur-stiftung.org ). The actor Wolfgang Stendar will give a lecture on Faust by Goethe in June 2007 at the Noervenich Castle, under the patronage of Alexander Order for Art and Science.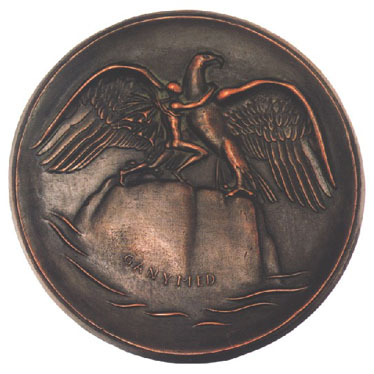 'Ganymed and the Eagle of Zeus', a bronze-medal in Honor of Johann Wolfgang Goethe by Arno Breker, 1982. Limited Edition of 150. For sale at info@europaeische-kultur-stiftung.org
© www.museum-arno-breker.org &endash; Foto Marco Bodenstein
Fascinating Faust with a happy end
Faust is an alchemical drama from beginning to end. Goethe worked for most of his life on this masterpiece. He started to compose Faust about the age of twenty-three, and finished the second part in 1832, just before his death. The original figure in the Faust legend was Gregorius Faustus, a seeker of forbidden knowledge. His true identity is not known, but he claimed to be an astrologer, expert in magic, and an alchemist. Goethe's story created a new persona for the Devil - Mephistopheles: he was a gentleman, who had adopted the manners of a courtier. Faust's lust for knowledge is limitless and he makes a contract with Mephistopheles: he will die at the moment he declares himself satisfied, if he should exclaim, "Stay, thou art so fair." When Werther believed that his passion for beauty is fulfilled in afterlife, Faust wants to enjoy his highest moment in this life.
In the first part, published in 1808, Faust seduces and loses Margaret (in German, Margarete, or its diminutive, Gretchen), an innocent girl, who is condemned to death for murdering her illegitimate child by Faust. When she asks Faust, "Do you believe in God?", he answers:
"Is not the heavens' great vault up there on high,
And here below, does not the earth stand fast?
Do everlasting stars, gleaming with love,
Not rise above us through the sky?
Are we not here and gazing eye to eye?
Does all this not besiege
Your mind and heart,
And weave in unseen visibility
All round you its eternal mystery?"
At the end of this fascinating story, the blind Faust is finally satisfied. However, Mephistopheles loses his victory, when angels take Faust to heaven. This article on Goethe should make the readers curious to learn more about this genius. Therefore, I will end quoting an advise of the great Goethe, written in The Divine, 1783:
Noble be man, helpful and good!

For that alone sets him apart

From every other creature on earth.
© PROMETHEUS 115/2007
PROMETHEUS, Internet Bulletin - News, Politics, Art and Science. Nr. 115, January 2007