---
Dagestan: The Land of Mountains
By Consul B. John Zavrel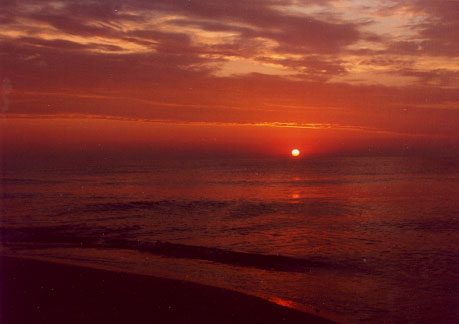 Red dawn at the ancient city of Derbent, Dagestan.
Photo: B. Shalumov
The distant and mysterious land of Dagestan connects Europe and Asia since antiquity.
In the times of the ancient Persian Empire, Dagestan--the Land of Mountains--was a part of it. When Alexander the Great started his conquest of Asia, his army passed through this land, and to this day there are still a few proud descendants of Alexander's warriors.
At the dawn of the 21st century, Dagestan is still virtually an unknown land to most West-Europeans and Americans.
Thanks to the Dagestan-born scientist and artist Binyamin Shalumov, Dagestan is beginning to lose some of its anonymity and isolation.
When Binyamin Shalumov started to approach 70 years of age, he became again keenly interested in and inspired by the land of his youth: the ancient, 5,000 years old city of Derbent on the Caspian Sea and Dagestan.
In the summer of 2006 he made a journey all over Dagestan to gather new impressions for his artistic work. The result is a breathtaking series of paintings, drawings and photographs depicting the mountain ranges and rivers, ancient cities and historical places, and images of the men and women of Dagestan.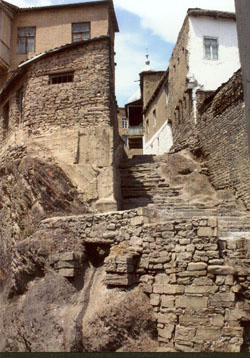 Dwellings in the 5,000 year-old city of Derbent, Dagestan: the gate between Europe and Asia.
Photo: B. Shalumov
These paintings--in their remarkable variety of themes, subjects, moods and colors--show the genius of the artist. And more than that: they also give the viewer a comprehensive and at the same time intimate view of this ancient land and its people.No doubt that many museum visitors and art lovers will become enchanted by the strange beauty of Binyamin Shalumov's paintings of this far-away land. They stir up in us an urge to find out more about this mysterious Dagestan: its people, history and culture. And also to learn about its present, and about its hopes and aspirations for the future. One who has traveled all over Europe may become intrigued and inspired to see this 'unknown paradise' with his own eyes. The paintings and photographs from the hand and heart of Binyamin Shalumov are the first step on this journey of adventure and discovery.
Shalumov became a diplomat in art. That means: by his own oeuvre and his international cultural engagement he supports the dialog between the Russian Federation and the Western World. Exhibitions, arranged in the future by the European Art Foundation and its president John G. Bodenstein in Germany, and by the US Museum of European Art in America will serve the goal of understanding, cooperation and friendship.
© PROMETHEUS 117/2007
PROMETHEUS, Internet Bulletin - News, Politics, Art and Science. Nr. 117, March 2007