---
Indian Dancers at University at Buffalo
'Nritya Sangam' presents four styles of Indian classical dance
By B. John Zavrel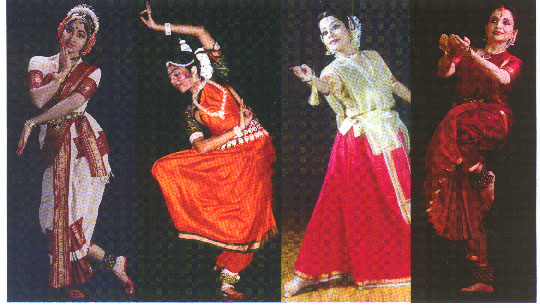 Indian classical dance in Buffalo: the charming dancers Kamala Reddy will present the 'Kuchipudi' style, Niharika Monhanty will dance in the 'Odissi' style, and Sudesha Maulik in the 'Kathak' style. The most powerful performance is by Lala Pada, who will present the ancient 'Bharata Natyam' style.
Buffalo/Amherst (meaus) Art lovers in the Buffalo area have a special treat for the eyes and ears coming up: a performance of Indian classical dance. 'Nritya Sangam' will be a performance demonstrating four different styles: Bharata Natyam, Kuchipudi, Odissi and Kathak.
The event has been organized by Triveni, a not-for-profit cultural organization dedicated to promoting classical Indian music and dance in Western New York. One of its long-time members is the Indian-born lady Tejaswini Rao (716-639-0902), a dance teacher in Amherst, who has taught Indian classical dance to many students over more than 20 years.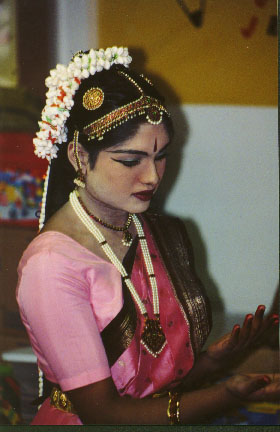 One of the many past students of Mrs. Tejaswini Rao: the 16-year old Suhasini Sumitra performed at the Museum of European Art in 2002. Today, the talented young lady is studying psychology and drama at the University of California at Berkeley.
"The typical student starts at the age or 7 or younger, and continues up to the age of 18", says the 'dance guru' Tejasaswini Rao. The study of classical Indian dance requires a big committment on the part of the girls, perseverance and a lot of practice. But the girls taking part in her program find it much rewarding. Several years ago, Tejas brought several of her students to give a presentation at the US Museum of European Art in Clarence. Among them was her top student at the time, 16-year old Suhasini Sumithra, daughter of the audiologist Dr. Radha Simhadri.
The Nritya Sangam performance will take place at the Center for the Arts, at the University at Buffalo in Amherst, New York on Saturday, April 28, 2007 at 7:30 pm. Admission is $ 25, and can be obtained from: Super Bazaar, 835-4770, Teja, 639-0902, Center for the Arts, 645-2787, or Ticketmaster, 852-5000 and at ticketmaster.com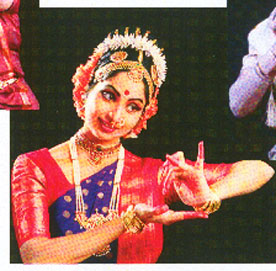 Kamala Reddy demonstrates one of the many hand gestures she uses in her dance.
Seminar and Luncheon with the artists
Those who would like to get a better understanding of the four styles of Indian classical dance presented in the Saturday evening performance, are invited to attend a Seminar and Luncheon with the artists, on Saturday, April 28, 2007 from 9:30 am to 1:30 pm. Admission to the seminar and lunch is free, but a rehistration is required to attend. Please send your request by e-mail to triveni@gmail.com
© PROMETHEUS 118/2007
PROMETHEUS, Internet Bulletin - News, Politics, Art and Science. Nr. 118, April 2007