Art Gallery
|
Friends of Gurukulam
---
Art Olympia: Gods becoming Men
Frissiras Museum Athens shows Genia Chef
By B. John Zavrel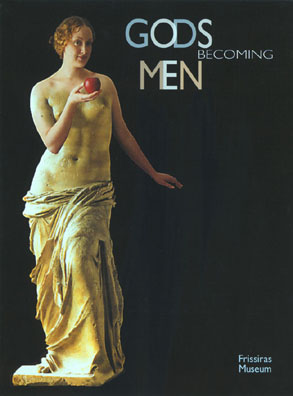 The Russian artist Genia Chef combines the Venus de Milo and Eve in his work, seen during the 2004 Olympic Games in Athens.
© Olympia-Archive/Marco-VG, Bonn
Athens/Berlin (bpb) "Gods Becoming Men" is the title of an international art exhibition during the Olympic Games 2004 in Athens. The Frissiras Museum in the Greek capital is using as the main motive the work of the Russian artist Genia Chef. He has been living and working in Berlin for many years, and is a representative of the new generation of European Art.
Genia Chef is using for his digital print on canvas the classical Venus de Milo (Louvre, Paris) and the motive of the Biblical Eve, combining both into a new work. Already Salvador Dalí was inspired years ago by the Venus and created the multiple Venus a la Giraffe and Venus with Drawers.
"The canvas of size 240 x 140 cm will stay in the centre of the exhibition space, with a basket of red apples in front of it", said Genia Chef in an interview with the Art Bulletin Prometheus. The visitors are invited: "Please taste it!"
The young lady, whose head is on this image, is an American talented cello player. She is a friend of the artist, and studies at the Art University of Berlin. She is a scholar of the Konrad-Adenauer-Stiftung, named after the first Chancellor of the Federal Republic of Germany after World War II.
Genia Chef is a friend of the US Museum of European Art and of the European Art Foundation Berlin. Both organizations are proud that the Frissiras Museum used his work for the official Poster and for the invitation cards.
Copyright 2004 West-Art, Prometheus 92/2004
Keep informed - join our newsletter:
Copyright 2004 West-Art
PROMETHEUS, Internet Bulletin for Art, News, Politics and Science.
Nr. 92, Summer 2004