Home | Alexander Order | Coats-of-Arms | Articles | Latest News | Art Gallery | Friends of Gurukulam
---
In Remembrance of Ronald Reagan
A great personality and an American Hero
By Consul B. John Zavrel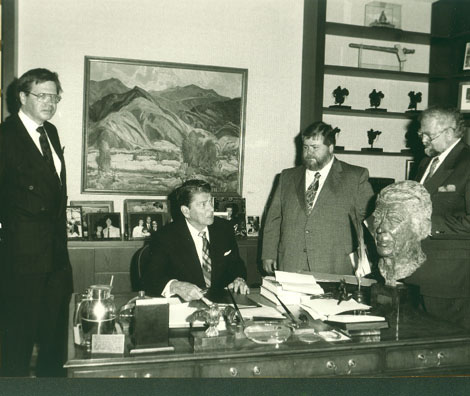 Ronald Reagan at his desk with Consul John Zavrel, Ron Voth and Kurt Arentz in Ronald Reagan's office in 1991.
Photograph: Europaeische Kultur Stiftung/Marco-VG,Bonn
New York (bpb) Ronald Reagan is dead. When the news arrived, suddenly good memories came into my mind. Memories of a great personality, an outstanding politician and an American Hero.
The last time I personally met President Ronald Reagan was in 1991. The occasion of the meeting was the handing over of his portrait bust, created by the European sculptor Kurt Arentz
I had the honor to be a part of the ceremony on behalf of the European Art Foundation (Europaeische Kultur Stiftung). European admirers of Ronald Reagan, and mainly Germans, have supported the Foundation's commission of a portrait of the President of the United States. The project started already when Reagan was in office in the White House in Washington. After Kurt Arentz completed the portrait, the presentation ceremony took place. It was the wish of Ronald Reagan to hand it over in an informal and intimate atmosphere. He had invited the sculptor and his wife Therese to come for the presentation. The meeting in his office in Los Angeles on April 29, 1991 remains in my memories as an unforgettable event.
We met a kind, charming and intelligent President, who--as the most powerful man in the world for many years--has influenced the course of history. We met a statesman who led the free world during the so-called Cold War conscientiously and safely towards the main goal: the end of international Communism. The 'satellite countries' of the Soviet Union such as Poland, Czechoslovakia, East Germany, Hungary and others finally got their freedom thanks to the leadership of Ronald Reagan.
The death of Ronald Reagan did not come suddenly. Many years ago, he already said good-bye to the world in a written message, before his Alzheimer's disease confused his mind and memory. The way he said good-bye shows his greatness &endash; a greatness that one would expect from an American Hero.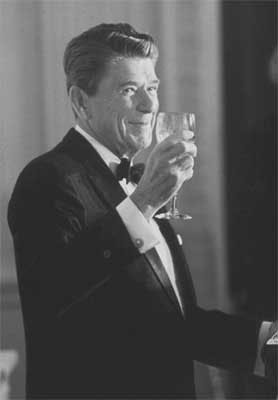 Farewell to a great man: Ronald Reagan.
Ronald Reagan is also an example of the American dream. He went his way from Mr. Nobody to a model and actor, a politician, becoming the governor of California and finally, from 1981 to 1989, the President of the United States of America. This life journey he traveled with his wonderful and extraordinary wife, the First Lady Nancy Reagan. They were married for decades without any scandals. His success was also due to the merits of his wife Nancy. No wonder that their friends consider Ronald Reagan one of the greatest personalities of the 20th century. And I would like to add from my own experience that the late president will remain not only in the memories, but also in the hearts of uncounted millions of men and women of his time, who recognized the human genius of Ronald Reagan already during his lifetime.
Clarence, New York
June 5, 2004
Copyright 2004 West-Art
PROMETHEUS, Internet Bulletin for Art, News, Politics and Science, Nr. 92, Summer 2004