Home | Alexander Order | Coats-of-Arms | Articles | Latest News
---
The Royal Wedding of 2005: Charles & Camilla
Alexander Order congratuates the happy couple--Crown Prince Charles finally marries Camilla
By B. John Zavrel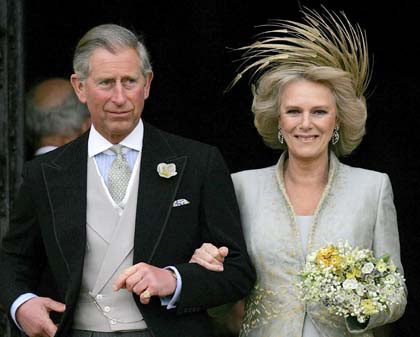 Charles, the Prince of Wales and the future King of Great Britain, with his new wife Camilla, after they have taken vows in the St. George Chapel at the Windson Palace.
A fairy-tale love story of Charles and Camilla: after 35 years, the not-so-young couple has married on Saturday, April 9, 2005. After the civil ceremony, the couple was blessed by the church in a ceremony at the St. George Chapel of the Windsor Palace.
Over 800 guests attended the ceremony. The parents of the Prince, Queen Elisabeth II and Prince Phillip, his sons, princes Harry and William, Norway's Crown Prince Haakon and his wife Mette-Marit, and many others. On the streets outside, 15,000 people gathered to get a glimpse of the newlyweds.
The international Alexander Order for Art and Science has sent congratulations to the Prince of Wales and his new wife, with wishes for a long, happy future and with appreciation for the long engagement of Prince Charles for important social, ecological and cultural issues.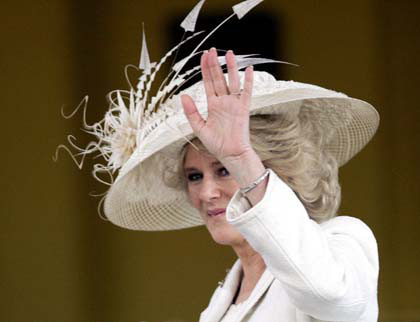 Camilla, the Dutchess of Cornwall on her wedding day.
Charles and Camilla have known each other since 1970s. Both married someone else, and both eventually got divorced in 1990s. The scandalous behavior of the late Princess Diana, caused much public embarrassment to the Birtish royal family, both before and after the divorce. Eventually, despite some criticism by the British media, their relationship became more and more public and their engagement was announced earlier this year. Camilla, the Princess of Wales and the future Queen of Great Britain, is at this time using only the title Dutchess of Cornwall, as a gesture of respect towards late Princess Diana.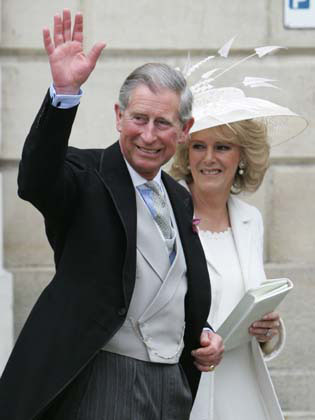 A light moment after the big event: Charles and Camilla.
Copyright 2005 West Art, Prometheus 95/2005
Keep informed - join our newsletter:
Copyright 2005 West-Art

PROMETHEUS, Internet Bulletin for Art, News, Politics and Science.

Nr. 95, Spring 2005