Art Gallery
|
Yoga Science and Philosophy
---
King David and the Golden Bible
Painter Ernst Fuchs turns 75 in Vienna
By B. John Zavrel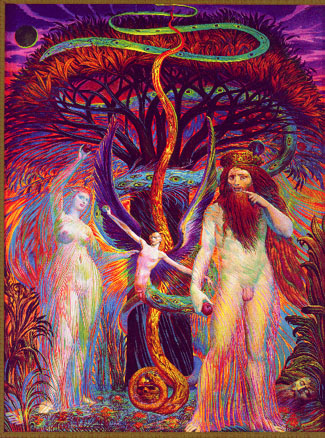 'Adam and Eve in front of the Tree of Knowledge'. One of 80 color illustrations in the 'Golden Bible' of Ernst Fuchs, which he called the 'high point' of his artistic work.
For the ordinary Americans, when it comes to famous European painters, the names that most often come up are Salvador Dalí, Pablo Picasso and Marc Chagall. But there is another fascinating artist who should be included in this group--the painter Ernst Fuchs. He has had an eventful life and his artistic work spanning the decades is remarkable.
Born on February 13, 1930, in Vienna, Ernst Fuchs is the best-known representative of the Viennese school of 'Phantastic realism'. He is admired for his recognizable, vibrant color paintings, watercolors, pastels, etchings, and masterful graphic works.
His father Maximilian was a chamber singer and a specialist on the music of Franz Schubert. Because he was Jewish, the escaped the Nazis in 1939 to Shanghai. He lived till 1949, when he returned back to Austria. When I met him in Germany in 1990, his mother Leopoldine--then 80 years old--was still living with him in his villa in Vienna. Both parents have influenced his artistic development.
After studies at the art academy in Vienna, Fuchs continued his education abroad. For four years he lives in a Benedictine monastery in Jerusalem, to which he has been returning from time to time. After that he studied in Paris and in USA. He is now married to his third wife, the painter Eva-Christina, who stood model for him on many occasions for great paintings and impressive lithographs and etchings. He has eight children.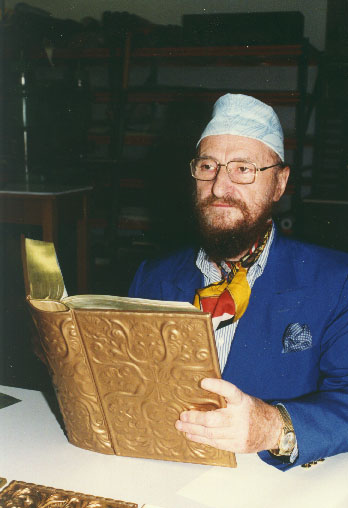 Ernst Fuchs in 1996 with his 'Golden Bible'. The work is one of the great achievements of his artistic life.
He is the only surviving member of the legendary 'Golden Triangle'--the three artist friends Salvador Dalí, Arno Breker and Ernst Fuchs. On the occasion of Arno Breker's 90th birthday celebration at the Nörvenich Castle on July 19, 1990, among the 800 guests was also Ernst Fuchs.
The connection between the two artist friends goes back a long way. As a young boy in 1940's in Vienna, Fuchs was a great admirer of Arno Breker, and collected postcards of his sculptures. Eventually, years later, the two met and became life-long friends. In the 1970s Breker did a striking bronze bust of the Viennese 'Painter prince' Ernst Fuchs, who later painted a large portrait of his sculptor friend. And it was by coincidence that Arno Breker passed away on March 13, 1991--the birthday of Ernst Fuchs.
Following the example of his other artist friend Salvador Dalí, Ernst Fuchs has been a great promoter of his art, bringing it to the wide public. So, he designed not only furniture, carpets and fabrics, but also fine china and unique tiles in white-red-gold for bathrooms and living rooms. Like the great French poet Jean Cocteau, also Ernst Fuchs is a multi-talent. He has designed stage sets for Wagner operas in Germany, as well as for the Metropolitan Opera in New York. He also made sculptures, medals, and reliefs and published rare, high quality art books.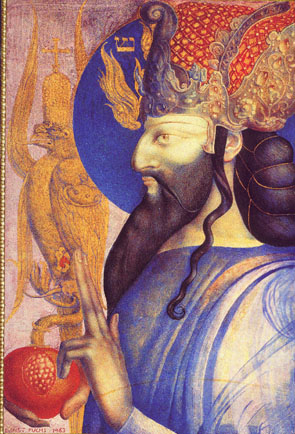 'SOLOMON', an illustration from the Old Testament section of the Golden Bible.
To mark the 75th birthday of Ernst Fuchs, the Museum of European Art has arranged an exhibition 'King David and the Golden Bible'. The central point of the exhibition is his magnificent, leather-bound and gilded Bible, which is richly illustrated by over 80 color plates of his paintings. Published in 1996 in an edition of only 20,000 copies it promptly sold out, and has now become treasured collectors' item.
The exhibition also includes his gold-plated sculpture 'King David' and limited edition lithographs, including 'Tree of Aphrodite', 'Flora', 'Nymph of the Spring', ''Queen of Hearts', 'Freedom', 'Angel', 'The Young Moses' and "Alexander the Great'.
Visitors to the exhibition can purchase a 50 page full-color catalog 'Ernst Fuchs and Wine' and three fine color art-posters: the mysterious and fascinating 'Eva-Christina', 'The Tree of Knowledge' and 'David and Bathsheba'. For ordering information, please contact zavrel@meaus.com
The exhibition continues to March 31, 2005. The Museum is located at 10545 Main Street, Clarence, New York and is open Tuesday to Friday, 10-5 and Saturdays, 1-4. Tel. (716) 759-6078, web site: www.meaus.com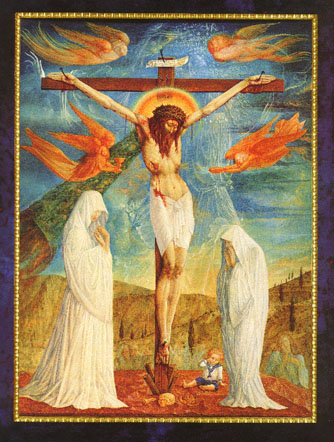 'CRUCIFICTION' from the New Testament section of the Golden Bible.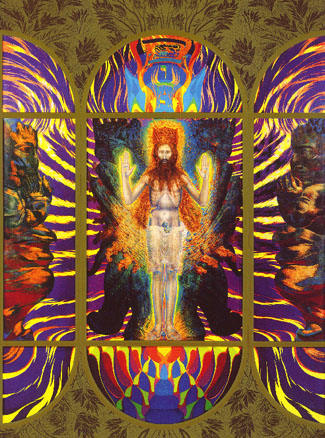 'THE TRANSFIGURATION OF JESUS UPON RESURRECTION' by the European 'Painter prince' Ernst Fuch.
Copyright 2005 West Art, Prometheus 94/2005
Photos Copyright Erst Fuchs/Austria
Keep informed - join our newsletter:
Copyright 2005 West-Art
PROMETHEUS, Internet Bulletin for Art, News, Politics and Science.
Nr. 95, Spring 2005