Art Gallery
|
Yoga Science and Philosophy
---
Western Biennale of Art 2005
Edward Lucie-Smith from London and Genia Chef from Berlin take part
By B. John Zavrel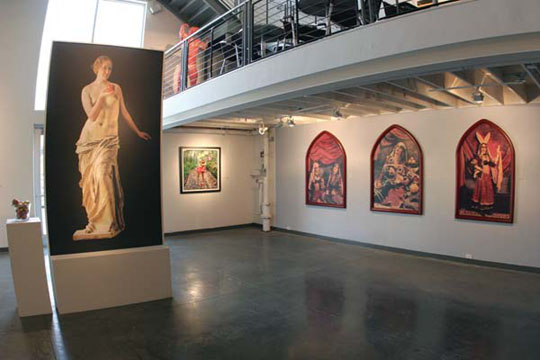 Genia Chef's large paintings of Aphrodite-Eve offering an apple dominates one of the exhibition halls of the Natsoulas Gallery in Davis, California.
The first Western Biennale of Art (February 2 to Marrch 27, 2005) opened at the John Natsoulas Center for the Arts in Davis, California. The exhibition includes paintings, sculpture, installation, video and digital art displayed on three floors of the gallery. Shown will be works by some of the most cutting-edge artists in California: John Roloff, whose Holocene Passage was displayed in the 2002 Venice Architectural Bienale, Julia Couzens, Lynn Hershman, Gerald Heffernon, George Grani, Chris Daubert and Lucy Puls.
International artists are represented by the digital work of Genia Chef from Berlin, photographs by the Israel-born Michael Chelbin and Oleg Kulik of Russia, an installation by the artistic duo Maslen & mehre from Australia and London, video installations by Lars Siltberg of Sweden and Iranian Afshan Ketabchi, digital work by the Greek artist Victor Koen, and photographs by the Ukrainian Boris Mikhailov.
The curator of the Western Biennale is Edward Lucie-Smith, a widely published art critic and freelance writer. His expertise in contemporary art trends and his authority on sexuality in art make him one of the most acclained art historians worldwide. Lucie-Smith's concerns are social relevance, sexuality and the movements of art. As a leading critic in his field, he has published over one hundred books, including the widely popular 'Art Today', a survey of movements in art since 1960. His follow-up publication, 'Art Tomorrow', narrows in on art produced since the early 1990s, with special attention to sexuality and technology in art.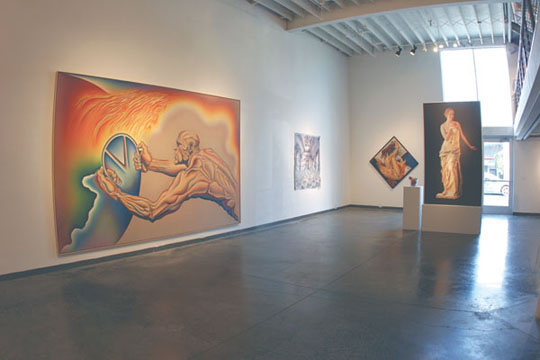 Western Biennale 2005--the first in a series of exhibitions of contemporary art by American and European artists.
The exhibiton is located in the JOHN NATSOULAS GALLERY, 521 First Street, Davis, CA 95616, telephone (530) 756-3938.
Copyright 2005 West Art, Prometheus 95/2005
Keep informed - join our newsletter:
Copyright 2005 West-Art
PROMETHEUS, Internet Bulletin for Art, News, Politics and Science.
Nr. 95, Spring 2005