---
The Painter Binyamin Shalumov
Artist honored in Moscow on his 70th birthday
By Consul B. John Zavrel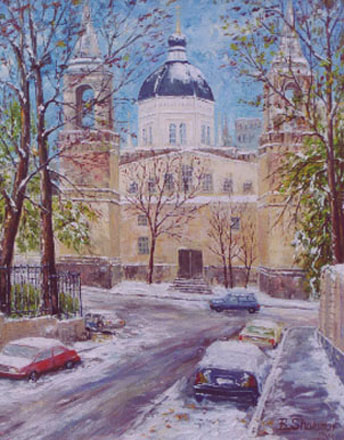 'MOSCOW IN WINTER', an oil painting by the Russian-born artist Binyamin Shalumov. A number of his works are in the 'Eleanor & Wilson Greatbatch Collection' of the Museum of European Art in Clarence, New York.
The opening of the exhibition of the works of Binyamin Shalumov at the GALERIA NA SALYANKE in Moscow takes place as the artist celebrates his 70th birthday on June 1, 2005. The US Museum of European Art and the National Artists' Union of Russia are the co-sponsors of this first joint cultural event, intended to exhibit in Russia the works of Russian-born artists now living in the United States.
Binyamin Shalumov is a rare and remarkable personality. He started to paint relatively late in life, having spent some 35 years working as a scientist, business manager, and professor. He managed large companies, traveled on business all over the world, attended international meetings with top scientists and businessmen, participated in international scientific conferences and guided dozens of graduate students.
After retiring from the scientific and business world, Mr. Shalumov turned his attention to painting. Within a few years, he achieved a phenomenal success as a very creative, prolific and original painter of landscapes and portraits.
To emigrate from one's homeland and start a new life in a foreign country is not easy at any age. For older people, who had already achieved a high level of professional success in their native country, it is so much more difficult to adjust to the new circumstances. Severe trials, broken hearts, and the fight for the preservation of one's ego and self-respect--all these and more place a person under incredible stress.
And it was so also with Binyamin Shalumov, who managed to re-discover himself in such a trying situation, and developed into an original, respected and admired artist.
The central theme of the work of Binyamin Shalumov is the Nature. His striking oil paintings of landscapes with trees, parks, forests and streams make deep and lasting impressions. The Russian-born artist, now living in the United States, is a true cosmopolitan. He is equally at ease at painting the brilliant autumn foliage in North America, a sunset in Tel-Aviv, the mountain peaks of the Swiss Alps, or a winter landscape in his town.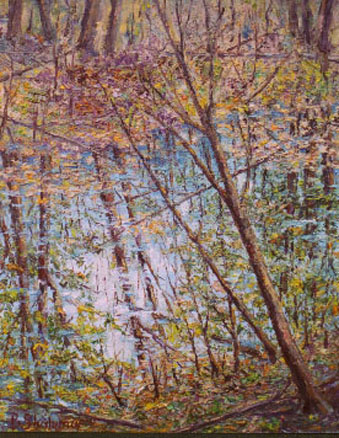 "ENIGMA', oil painting by Binyamin Shalumov.
His paintings of ancient, narrow streets in the Caucasus or a boulevard in Moscow impress us with their subtle colors and interesting compositions. His works reflect the artist's spirituality and quiet self-confidence, and we feel the atmosphere of love, peace, friendship and hope for the future.
These qualities are especially noticeable in those of his paintings that depict the highest miracle of Creation--the human being. His portraits of a pensive woman, a mysterious old rabbi, or figures from mythology reveal to us yet another aspect of the artistic ability and rich creativity of the painter Binyamin Shalumov.
For over two decades, the US Museum of European Art has worked to promote international friendship, mututal respect and understanding through art and culture. It is our hope that this exhibition of the works of the painter Binyamin Shalumov in our first joint exhibition in Moscow will form a foundation for our future cultural and artistic cooperation.
'MONASTERY', one of the early paintings of Binyamin Shalumov, which brought the talented artist to the public attention.
© PROMETHEUS 96/2005
Keep informed - join our newsletter:
Copyright 2005 West-Art
PROMETHEUS, Internet Bulletin for Art, News, Politics and Science.
Nr. 96, JUNE 2005