---
Photographs of Salvador Dalí on auction in Paris
Collection Marc Lacroix consisting of 171 works Dalí with Gala, Amanda Lear, Joseph Foret and a rhinoceros
By B. John Zavrel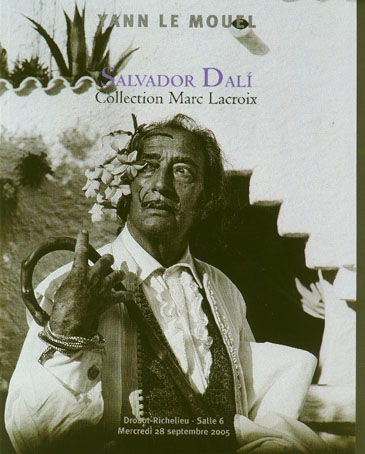 The catalog 'Marc Lacroix Collection' for the upcoming art auction in Paris. Another event for Dalí afficionados around the world.
Photo Copyright Marc LACROIX
Paris/New York (meap) Another Salvador Dalí related event will take place in Paris next week, on SEPTEMBER 28, 2005 at Drouot-Richelieu, Salle 6. Long awaited auction of the 'Collection Marc Lacroix', a French photographer, friend and neighbor of Gala and Dalí in Port Lligat for many years.
"Marc Lacroix and his wife Therese have been neighbors and friends of Dalí and Gala for many years, and he took many fascinationg photographs of not only Dalí, but also of Gala in her Chateau de Pubol", said their painter-friend Genia Chef from Berlin.
There was an auction catalog 'SALVADOR DALI--Collection Marc Lacroix' prepared for the upcoming auction. Fascinating color and black and white photographs covering decades of Dalí's life have been arranged and described by experts Viviane Esders and Marc Ottavi. In all, over 185 items to be auctioned off are included in the catalog.
In addition to photographs by Marc Lacroix, the auction will include some graphics by Salvador Dalí, and works by Cesar, Philippe Halsman, Brassai, Denise Bellon, Werner Bokelberg, Edouard Boubat, Jean Clemmer, Lucien Clerque, Jean Dieuzaide, Luc Fournol, Alain Gaveau, Michel Ginies, Oriol Maspons, Jean-Marie Perrier and Andre Villers.
The private preview of the works is on September 24-25, 2005 from 11 a.m. to 6 p.m., and Monday, September 26, 2005 from 11 a.m. to 1 p.m.
Public viewing is on September 27, 2005 from 11 a.m. to 6 p.m., and September 28, 2005 from 11 a.m. to 12 a.m.
The auction takes place at 2:30 p.m. on September 28, 2005 at Drouot Richelieu, Salle 6, Paris.
© PROMETHEUS 99/2005
Keep informed - join our newsletter:
Copyright 2005 Museum of European Art
PROMETHEUS, Internet Bulletin for Art, News, Politics and Science.
Nr. 99, SEPTEMBER 2005