---
Elvis Presley: Money makes sexy
How rich was the King of Rock?
By B.John Zavrel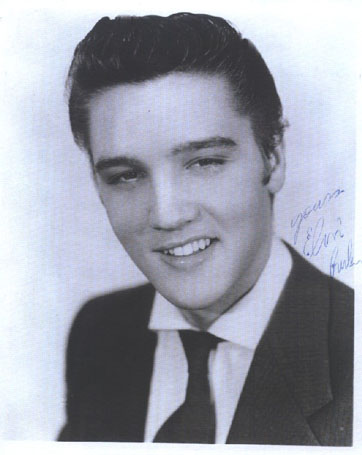 Elvis at the age of 20 years. The big earning started. The good-looking singer found out soon: Money makes you sexy.
© Photograph SUN/Marco-VG
New York / Berlin (bpb) Elvis Presley used to joke in his young years: "Money makes you sexy". This was at the time when he was already earning well, but not extremely much. During his service in the Army in Europe, Elvis refused in interviews questions regarding his wealth. "You are really rich only if you are happy in your family, and have true friends", Presley once said the reporter Joe Bodenstein in 1958.
Elvis Presley was born into a financially poor family, but his surroundings in the childhood years were full of spirituality and religious life. His good earning began when Colonel Tom Parker started to manage the boy. Elvis absolutely dependend on him, and most of the time he did what he was told. On the other hand, Parker was the best for the future superstar. At the end they depended on each other. The hard-working Elvis became very rich due to his talent and the commercial abilities of the Colonel. He always took 25 percent of what Elvis Presley received.
This is proven with a bill dated November 21, 1955. Elvis signed the receipt for $ 4,500. He was 20 years old, and very proud to be able to give financial support to his parents. In this case, the Colonel earned an additional 1,500 for himself. The document, written on the notepaper of Hotel Peabody in Memphis, Tennessee, was found in the Elvis Presley Archives.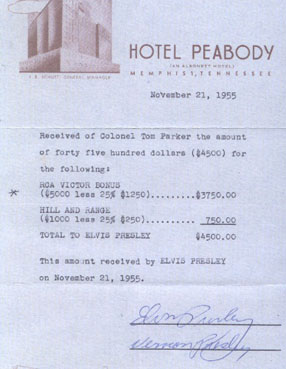 One example of a receipt that Elvis Presley signed at the age of 20 years.
© Presley-Archive / Marco-VG
No one should be jealous of Presley's earnings. One should consider that during his entire career he had to provide for his parents and family, for Colonel Parker and all the uncounted members of his crew. For a superstar, the daily living becomes also very expensive. And who knows about Presley's real life off the stage? He had private problems as all people have, felt many times lonely and his sex life was not as glamorous one would think. The Hollywood legend Zsa Zsa Gabor (Hungary) said, "It is better to cry in a Cadillac, than to cry about not having any money." Due to his religious education by his beloved mother Gladys Love Smith, Elvis Presley was thankful to God for his destiny. At the end, one must say: Elvis paid a high price for all what has happened in his life, in his career and in his own family, when his wife Priscilla asked for divorce. Until his death, he never found peace.
© PROMETHEUS 99/2005
Keep informed - join our newsletter:
Copyright 2005 Museum of European Art
PROMETHEUS, Internet Bulletin for Art, News, Politics and Science.
Nr. 99, SEPTEMBER 2005