---
GEORGE BUSH LIBRARY & MUSEUM OPENS
By Consul B. John Zavrel
Legacy of George Bush - $ 83 million complex - 40 million documents - Five mustangs jumping over the Berlin Wall - 20,000 spectators attend the ceremony - A lifetime of public service - Ideals of Liberty and Peace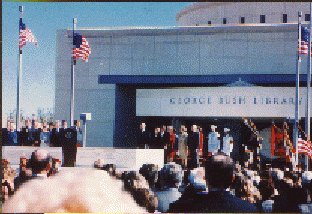 COLLEGE STATION, Texas. Four American presidents - Gerald Ford, Jimmy Carter, George Bush and Bill Clinton, accompanied by their wives and also joined by Lady Bird Johnson and Nancy Reagan, came together on November 6th to inaugurate the Nation's 12th Presidential Library: the George Bush Presidential Library and Museum on the campus of the Texas A & M University at College Station, some 100 miles north-west of Houston.
Among the invited guests at the special ceremony were a number of statesmen with whom George Bush had worked together in his days in the White House: from Poland, Lech Walesa; from Great Britain, the former prime minister John Major. Ambassadors of Kuwait, Japan, South Korea, and several other countries were also among the special guests, together with Brent Scowcroft, sculptor Kurt Aretnz from Germany, Julie Nixon Eisenhower, Caroline Kennedy Schlossberg, actors Kevin Costner and Arnold Schwarzenneger plus more than 20,000 friends, supporters and admirers of America's 41st president. "We have never had such a large gathering of dignitaries," said the director of the Secret Service in charge of security at the inauguration.
Not a cloud could be found in the clear blue Texas sky on this crisp fall morning, as the jubilant crowd filled the grounds in front the George Bush Presidential Library and Museum. Yet the atmosphere was very unusual for such a large gathering: happy, smiling faces everywhere, no rush, no pushing, no incidents. Perhaps like a gathering of a large family, coming together for a special reason.
We all came to this remote university town for one reason: to celebrate.
To celebrate and to honor a man who was at the head of our country at a very critical time, at a time which saw the crumbling of the Soviet empire, the world becoming free of the decades-long-nightmare of possible nuclear war, a time that saw millions of captive people of the countries of Central and Eastern Europe finally get a chance for a normal life in the years ahead.
George Bush, a man of integrity, unshakeable loyalty, broad vision and a champion of the ideals of liberty and peace through strength, was honored today as the $ 83 million library and museum was open to the public, after 5 years in preparation.
"The sun is shining on Texas A & M today," said President Clinton to the crowd sprinkled with members of A & M's Corps of Cadets. "And the sun is shining on America today. We have an interesting country, with a lot of religious, racial and political diversity. Once in a while, we all get together. This morning, I think it's fair to say that all Americans are united in tribute to President George Bush for his lifetime of service to America."
"No, I will not write any memoir," said the 73-year-old former president in a recent interview. "I am convinced the people who go to the library will be able to draw their own conclusions on the accomplishments or failures of the administration." But he has just completed writing a book on foreign policy with Brent Scowcroft, his former national security advisor.
George Bush is a man of family values. "Mother taught my siblings and me never to be what she called a braggadocio," said Bush. Mother always lectured us, in a kinder, gentler way, against using the big 'I'. Well, I'm afraid that some of the exhibits here might not pass her no bragging rule. I just hope we have given proper credit to all I worked with during every chapter of my life."
The family values espoused by Bush were confirmed by two of his sons, Texas Governor George W. Bush and Jeb Bush, who hopes to become the next governor of Florida. Both called their father "the world's greatest dad." The governor, who hasn't ruled himself out as a candidate for the White House in 2000, said history will find his father was a man who knew his priorities and never wavered from them. "President Bush was a man who entered the political arena and left with integrity intact, " he said. "He looked tyranny in the face and never blinked."
Yet, there was a small cloud at this magnificant event: the absence of the former President Ronald Reagan, due to the Alzheimer's disease which prevents him from appearing in public. Nancy Reagan's appearance was marked with wild applause. "I wish Ronnie could be here today to tell you in person what I know is true," she said. "I know he'd say, thank you, George, for your service, your steadfastness, but most of all, for being his good friend."
There is certainly enough materials available at the library for anyone interested in finding out about George Bush and his decades in public service: navy pilot, businessman, congressman, ambassador to the United Nations, envoy to China, head of the CIA, Vice-President to Ronald Reagan, and finally President.
To the left of the entrance to the imposing building designed in a classical style is a magnificent sculpture which symbolizes better than any words ever could the essence of George Bush - his pursuit of liberty and peace for all: five bronze mustangs jumping over a 4-by-12 fragment of the Berlin Wall.
We are among the first visitors to enter the beige Texas granite and limestone structure, accented by marble, through glass doors and into a fabulous rotunda. 50 feet tall, 100 feet across, the rotunda is surrounded by 5 pillars forming a circle. It is a magnificent structure.
As one enters the first exhibition room from the rotunda, the eyes fall on the parachute and gear which George Bush had used last spring to jump from a plane over the Arizona desert. Recalling this day, the former president says, "when I had originally planned to do this skydiving thing, I thought people would think 'this old guy has really lost it,' but I was wrong. I got letters from all over the world from people congratulating me for showing others that age is not a handicap, that one can still do many things, even at a high age."
Another exhibition hall shows a large, glass-encased model of the USS San Jacinto, and aircraft carrier from which George Bush flew during World War II. A silver, 9,000-pound Avenger torpedo bomber like the one he flew in the Pacific is hanging from the ceiling. Actually, this bomber has a special connection to Western New York. This is the plane that was "home" to the young rear gunner Wilson Greatbatch, who later invented the implantable heart pacemaker.
Further on we see the exact replicas of his presidential offices aboard the Air Force One and in Camp David. "Actually, I made more important decisions in these two places than in the Oval Office of the White House," recalls the president.
A 6,500-pound piece of the Berlin Wall was donated by the German people to President Bush in 1993. It is surrounded by photos on a wall that is symbolically painted from black to white. This reminder of the Cold War brought back memories of those years when people lived in the shadow of a possible nuclear annihilation. While the former Polish President Lech Walesa attended the inauguration, the absence the German Chancellor Helmut Kohl, the Czech President Vaclav Havel and the Hungarian President was puzzling.
Another section is devoted to the Operation Desert Storm, and the technology of war in 1990's. Suspended from the ceilings are replicas of Patriot, Scud and Tomahawk missiles, while around the room, are uniforms from each of the components of the U.S. Armed Forces that served in the war. A 25-foot diameter globe shows the exact location of the conflict, while large photographs along the walls depict the fires of Kuwait and the ecological impact these oil well fires had on the landscape. The night vision glasses, with which visitors can view the desert scenes, are likely to be popular with kids of all ages.
Part of the Museum is devoted to Barbara Bush's campaign for literacy, AIDS prevention and volunteerism. Another section displays some of the gifts the president received from heads of state: a hand-crafted leather saddle inlaid with silver from Mexico, a sword and dagger from Yemen, a tea-service from Vaclav Havel, a bronze sculpture from France, a carriage clock from Princess Diana.
Among the most recent gifts to the Bush Presidential Library is a larger-than-life bronze portrait of Barbara Bush. The Museum of European Art commissioned the European sculptor Kurt Arentz to create the portrait of America's favorite First Lady. Known in Europe as the "Presidential Sculptor," Kurt Arentz has created more than 100 bronze portraits of the leading personalities of the 1980's and 1990's in Europe and America. Among them are busts of Herbert von Karajan, Karl Carstens, Ronald Reagan, Helmut Kohl, George Bush, Sir Peter Ustinov, and many others. The bust of the First Lady is meant to be a companion to the bust of President Gerge Bush, presented to President Bush in Kennebunkport in 1994. "Throughout their whole lives, Barbara was a faithful and devoted wife, a loving mother and a trustworthy friend of George Bush," said Arentz about the bust. "They belong together, not only in this life, but also immortalized in bronze they belong together. That idea was my inspiration for the bust of Barbara Bush."
The Bush library will house over 40 million pages of official documents, 2 million photographs and thousands of hours of videotapes of his presidency and vice presidency. Starting on January 20, 1998 most of these documents will be open to the public.
According to David Alsobrook, the Museum's director, the Library and Museum utilizes more computer technology than any other presidential library. The archives will use an automated optical scanner for documents, and all museum artifacts will be catalogued in a database and loaded onto the Internet for easy access to people everywhere. The Museum's Internet address is: www.csdl.tamu.edu/bushlib.
Every great man leaves a legacy -- a pyramid or a Taj Mahal, an Acropolis or an immortal legend like Alexander the Great whose life and vision have inspired countless generations by the force of their ideas and their ideals. In our time, we do this "Presidential Library" thing. This one, under the blue skies of Texas will preserve the legacy of a truly great man of our time: President George Herbert Walker Bush.
May we recommend some books?
A World Transformed, by George Bush
Ronald Reagan: An American Story
Primer for Those Who Would Govern, by Hermann Oberth
Seven Years in Tibet, by Heinrich Harrer
Arno Breker: The Divine Beauty in Art, by B. John Zavrel
Alexander the Great, by Robin Lane Fox
Keep informed - join our newsletter:
Copyright 2001 West-Art
PROMETHEUS, Internet Bulletin for Art, Politics and Science.