---
THE MUSEUM OF EUROPEAN ART
10545 Main Street
Clarence, New York 14031 Tel.: 716 - 759 - 6078
Open Tuesdays to Fridays, 10 am to 5 pm and Saturdays, 1 to 4. Admission free.
---
A Special Exhibition
February 1 - May 31, 1999
Ernst Fuchs: The Golden Bible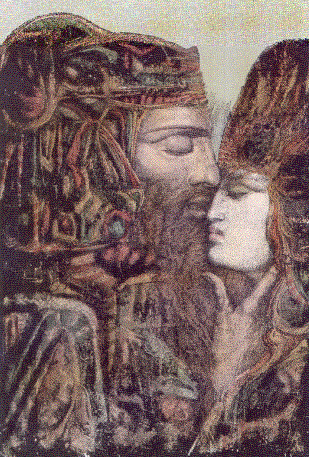 "DAVID AND BETHSHEBA", by Ernst Fuchs.
Exhibition of selected color illustrations from the Golden Bible by the Viennese Painter Ernst Fuchs. 80 full color reproductions of his finest paintings and etchings are included in this unique work of art which the 68-year old artist called "the crowning accomplishment of my creative work."
As a Master of the tradition hunderds of years old, the Viennese painter Ernst Fuchs commands the techniques of the old masters. Although the visions of his work have no equal, there is some parallel with Hieronymus Bosch.
Ernst Fuchs is the great artistic universal genius at the end of the 20th century - a painter, sculptor, architect, composer, theater set designer, writer and thinker all in one person. The leading representative of the "Viennese School of Fantastic Realismus" has already at a young age gained admission into the great art lexicons - a legend during his lifetime.
Since his youth, Ernst Fuchs has had a preference in his paintings and etchings for biblical themes. His style shows influences both of symbolism and art nouveau
In his visions, painted in the perfection of the old masters, Ernst Fuchs has in his unique position among the living artists. He belongs the those artists whose works are in the greatest demand by art collectors.
---
Color art-posters, signed by Ernst Fuchs, available during the exhibition:
1) Eva - Christina $ 90
2) David and Bathseba $ 90
3) The Tree of Knowlwdge - Adam and Eve $ 90
Also available:
4) GOLDEN BIBLE by Ernst Fuchs $ 675
A truly unique, collector's item, with 80 color pictures
5) Color Catalog FUCHS AND WINE $ 25
---
May we recommend some books?
Rigadoon, by Louis Ferdinand Celine
Eumeswil, by Ernst Jünger
Primer for Those Who Would Govern, by Hermann Oberth
Seven Years in Tibet, by Heinrich Harrer
Arno Breker: The Divine Beauty in Art, by B. John Zavrel
Alexander the Great, by Robin Lane Fox
Keep informed - join our newsletter:
Copyright 2001 West-Art
PROMETHEUS, Internet Bulletin for Art, Politics and Science.