---
Alexander Order sends condolances to Queen Beatrix of the Netherlands
Prince Claus died at the age of 76 years--A German-Dutch romance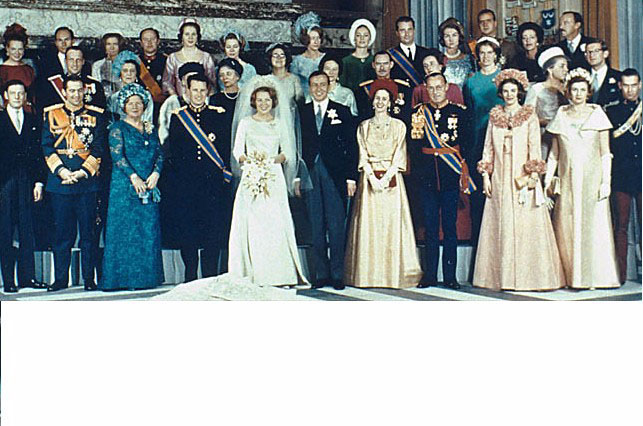 Memories to the wedding in 1966 in Amsterdam. Marriage of Princess Beatrix and Prince Claus after public controversy on her German husband.
" Foto R-Press, Den Haag
Den Haag/New York (pbp) The Alexander Order for Art and Science has sent condolences to Queen Beatrix of the Netherlands on the death of her husband, Prince Claus. He died in the age of 76 on Sunday, October 6, 2002. The German-born prince suffered for years from the Parkinson-disease. It was reported that the Queen and her three sons were with him in the room when he passed away.
The condolence to the Queen was conveyed by Consul B.John Zavrel, Chancellor of the Alexander Order. He wrote: "We share the deep feeling of sadness. Your Majesty and Prince Claus became, during the years of your marriage, a symbol of better understanding between the Netherlands and Germany. By this both of you were and are an ideal for a peaceful Europe after the end of World War II in 1945."
Zavrel has a personal relation to the Queen. He met her when she was awarded the International Karls-Preis (The Charlemagne Award) for European Unity in 1996 in the city of Aachen in Germany. Earlier this year, the Alexander Order expressed the pleasure that the Royal family of the Netherlands has named the Crown Prince Willem-Alexander and has used the famous name of Alexander in memory of this historical hero.
Queen Beatrix of the Netherlands and Consul B.John Zavrel, Chancellor of the Alexander-Order, in historical German city of Aachen 1996.
Foto Copyright Marco-Press, Bonn
Princess Beatrix felt in love with the German Diplomat Claus von Amsbberg in 1965. In the beginning there was public protest in the Netherlands against the German. As a young man, Prince Claus served for some time in Adolf Hitler's German Army in World War II. But by their love, the young couple overcame all problems and got married in 1966. When Prince Claus died in 2002, he was one of the most popular personalities in the Netherlands. He did not interfere in politics, but was engaged in social and cultural affairs.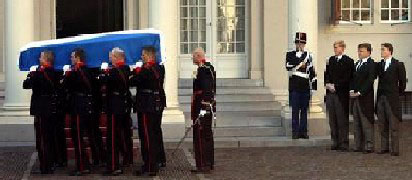 Crown Prince Willem Alexander (first) with his brothers Prince Friso and Prince Constantijn mourning their father, Prince Claus. Royal guards bring the coffin to the palace of Noordeinde.
Foto: R-Press, Den Haag
Keep informed - join our newsletter:
Copyright 2002 West-Art
PROMETHEUS, Internet Bulletin for Art, Politics and Science.
Nr. 84, Autumn 2002