---
Czech Republic suffers severe flooding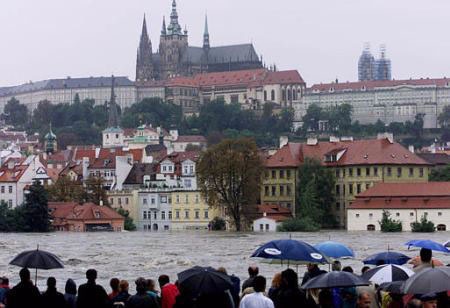 Prague. The biggest flood in more than a century. After a long-lasting heavy rain, six regions of the Czech Republic, including parts of the historic center of the Czech capital city Prague are submerged under water. Fifty thousand people had to be evacuated as the Vltava River flooded some parts of Prague.
Prime Minister Vladimir Spidla declared a state of emergency in Prague and the regions of South Bohemia, Central Bohemia, Plzen, Karlovy Vary and Usti nad Labem, which accounts to almost half the country. The flooding has forced the evacuation of thousands of people from their homes, causing a disruption and huge loss in personal belongings as well as security.
Imminently threatened are such wonders of historic architecture as the Charles Bridge, the Old Town Square, the National Theater and Kampa Island. The Army and Police are helping to fill sandbags in an effort to protect centuries old residences on Kampa Island and elsewhere near the disappearing banks of the river. Books and valuable documents were relocated from the basement of the Waldstejn Palace (seat of the Czech Senate), from the National Library--the Klementinum as well as from the Charles University.
Also flooded and severely damaged are three southern bohemian towns of Ceske Budejovice and Cesky Krumlov--a Renaissance jewel and the second most favorite tourist location in the country--on the Vltava River and the town of Strakonice on the Otava River.
On Wednesday, August 14, President Vaclav Havel cut short his vacation in Portugal and returned to Prague to help his country address the emergency.
So far, eight people, including two firemen, have died from the storms in the Czech Republic during the last ten days.
For those willing to help, an account has been opened by the American Friends of the Czech Republic in co-operation with the Czech Embassy. Tax deductible contributions can be made by writing a check to "AFoCR--Prague-Needs-Help-Flood Relief Fund" and sending it to "AFoCR--Prague-Needs-Help-Flood Relief Fund", Citibank FSB, 1901 Wisconsin Ave. N.W., Washington, DC 20007. The following account number can be used for transfers: 1507-4188, routing No. 254070116.
American Friends of the Czech Republic is a 501 (c) (3) organization.
For more information, please contact Petr Janousek, Press Secretary at the
Czech Embassy at 202-413 7625.
Keep informed - join our newsletter:
Copyright 2002 West-Art
PROMETHEUS, Internet Bulletin for Art, Politics and Science.
Nr. 84, Autumn 2002