---
Gustav Zindel: Sudeten German Farmer Florian Setzer
"Paintings in Exile" of the painter from Erzgebirge Mountains--forgotten suffering of great artists
By B. John Zavrel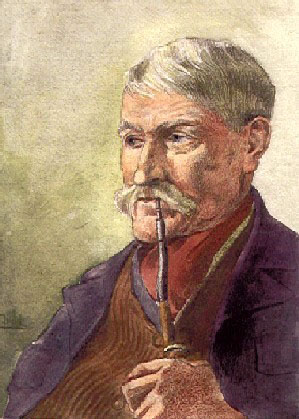 Florian Setzer, Portrait of a Farmer by Gustav Zindel, 1947.
(Copyright Foto: Zindel-Archiv, Marco-VG)
Berlin (bpb) To the 'Paintings in Exile' of the painter Gustav Zindel from the Erzgebirge Mountains in Bohemia (in today's Czech Republic) belongs a masterful portrait drawing from 1947. It depicts Florian Setzer from Strojeditz. He comes from an old German farmer family, which has lived for over 300 years on their family farm, until the expulsion of Germans from Sudetenland in 1945. This continuous achievement of the Setzer farmer family is seldom to see, even in the families of high aristocracy.
The fortunate meeting between the famous painter Gustav Zindel and the righteous, honest farmer from Sudetenland took place in 1947. They were both forced by the expulsion to do forced labor for the Czechs in the village of Pomeisel, in county Podersam. Their pay was bad accomodation and meager food.
Gustav Zindel (August 13, 1883--November 21, 1959) and his family were driven to do unusual, hard field work in the village cleansed of its Germans inhabitants, who had lived there for generations. The only consolation for Zindel was his painting. That way came about portrait drawings of acquaintances and fellow sufferers. To these belonged Florian Setzer, whose youngest daughter Marie-Luise was married to Josef Franz Bodenstein, from the old family 'von Pottenstein-Bodenstein'.
Gustav Zindel was 64 years old when he made this drawing. He lived in poor servant quarters on a large farm, which was confiscated from the German owners during the office of President Eduard Benes (May 28, 1884--September 3, 1948), and handed over to the Czechs. The ailing artist used the only living room as his atelier, when his wife and the six children worked out in the fields.
"Well do sit down', said Zindel to the older Florian Setzer. And so came about an impressive portrait: Florian Setzer with a pipe. "His gentlemanlike face and his fearless look interested me", said Zindel about his work. The time and the sad circumstances, in which it was painted, Zindel described as the "worst time of his life".
The honorable painter of the Erzgebirge Mountains and of the Egerland was, after the end of World War II, like millions of Germans, without any rights. We should remember this forgotten suffering of great artists, in the spirit of reconciliation between the Czechs and Germans, when one speaks about the difficulties that the Jewish and German emigrants had when they emigrated to the United States in the Nazi times. Thomas Mann, Albert Einstein, Marlene Dietrich and many others from cinema, science and art had, in the exile land which they chose of their own free will, much better opportunities than the German expellees had in their own ancestral lands in Bohemia and Moravia after the end of World War II.
Today, after many years of events, the rare color pastel drawing "Portrait Florian Setzer" is an important work by Gustav Zindel. This is especially so due to the fact that Zindel's artistic work has been almost completely destroyed in the chaos and disturbances from 1945 to 1950. Until his death he had no chance at all to receive public commissions in his old homeland.
(Copyright 2002, Prometheus 83/2002, Zindel-Archiv, Marco-GV.)
Keep informed - join our newsletter:
Copyright 2002 West-Art
PROMETHEUS, Internet Bulletin for Art, Politics and Science.
Nr. 83, Summer 2002