Home | Alexander Order | Articles
---
A EUROPEAN PAINTER-PRINCE TURNS 65
By Consul B. John Zavrel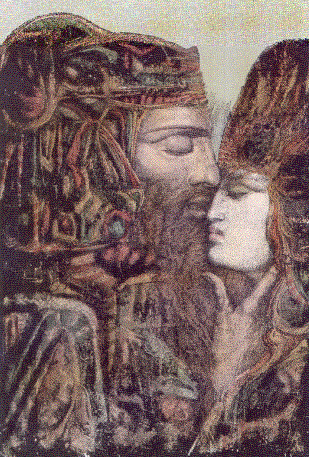 DAVID AND BETHSHEBA, by Ernst Fuchs
Ernst Fuchs preserves the Beautiful in the arts for the new millenium.
His works are included in the Collection of the Museum of European Art in Clarence. B. John Zavrel, director of the Museum, talked to the artist.
"When I stop working, then I become tired," says the painter Ernst Fuchs, who will be 65 years old on February 13, 1995. But even on that day he would stand at his easel, declared Fuchs. The famous representative of the Viennese school of Phantastic Realism has been nicknamed by his admirers "The Painter-Prince," on the account of his unmistakable paintings, aquarels, pastels, etchings, as well as masterful graphics.
Fuchs, who wears as his trademark the beard, long hair, and a cap which he himself designed, has proved himself as a multi-talent. "My main goal remains the total work of art," says the artist with the mysterious look. His themes are erotic human beings after God's creation, the Bible, and mythology. Fuchs also created stage designs to Wagner's operas for August Everding in Munich and Hamburg. Likewise he has worked for the Metropolitan Opera in New York City. The world-wide popularity he also owes to the publisher Richard Hartmann, who has published magnificent art books with and about Fuchs, as well as his graphics. He is for Fuchs, what the German Jew Daniel-Henry Kahnweiler was for Pablo Picasso: the most loyal companion from the very beginnings.

Fuchs was born in 1930. His Jewish father Maximilian was a chamber singer and specialist on Schubert, remembers Fuchs. In 1939 the father escaped the reach of the Nazis by emigrating to Shanghai. He returned in 1949 back to Austria, where he later died. Both his father, as well as his mother who still lives with him, have influenced his artistic development, recounts Fuchs. As a 16-year old he studied at the Viennese Academy. He became enchanted early by the surrealistic paintings, and learned from the works of the visionary artists of all epochs, from Böcklin and Bosch to Salvador Dali, with whom he later became friends. After the study at the Academy he continued his education abroad. For four years he lived in a Benedictine monastery in Jerusalem. Then he completed his student years in Paris and the United States. Fuchs is now married to his third wife, the painter Eva Christina, who often stood model for him. He has eight children.
Fuchs' birthday wish is for a "long creative power," because he still has many ideas to fulfill. One's pursuit of art keeps one "young and fit." This is also true for those people who make themselves receptive to culture. A life without culture means the downfall for men. "But with art one becomes timeless," philosophizes Fuchs. He challenges the creators of culture to "bring about the renaissance of the fundamental European spirit, which in the end gave birth also to Europe as we know it." To this belongs above all also the legacy of the Christian humanism, after which the whole marxistic detours from it did not lead to humanitarianism, but the opposite."

With full-breasted Esther in Dali's footsteps.
As a friend of Dali, Fuchs wandered also in his footsteps in the marketing of his art. Thus, there originated in Austria not only furniture, wallpaper, and objects with Fuchs designs, but also in Germany noble china was produced by Rosenthal, and tiles in white-red-gold for the artistic decoration of bathrooms and living rooms. An artist does not lose anything of his prestige when he creates objects of high value for the daily use. "It corresponds to my understanding of democracy, to enable many people to enjoy beautiful things," says the Master. In this effort, Fuchs has created also sculptures such as "Justitia," "Daphne," or "The Sphinx." To his large bronzes belongs a monumental, full-breasted "Esther." She adorns the hood of Dali's car in his museum in the Spanish town of Figueras. At the unveiling of this biblical personage the "divine Dali" praised it like the King Salomon: "Her breasts are like wells. I thirst for the milk of knowledge."

Fuchs was criticized for combining his ability to make modern designs with his acumen for marketing and business. But this could not keep him from getting on the stage as a stage builder, writer, and componist. An example of a total work of art according to his liking is the Viennese residence of the artist, the Art Nouveau style house on Hüttelbergerstrasse 26. Fuchs turned it into a museum. For years now he has been involved with artists of Eastern and Western Europe to create there a "Garden of the Arts," in which will be also erected also a monument to Dali. When Fuchs is in Vienna, he lives in the Museum. "Visitors to the Museum can also meet me there," says the Master.

Related article: Ernst Fuchs, by Arno Breker
JOIN OUR E-LETTER TO KEEP INFORMED!!!
Copyright 1996 PROMETHEUS
Reprinted with permission