---
THE PAINTER JAN KÜNSTER
By B. John Zavrel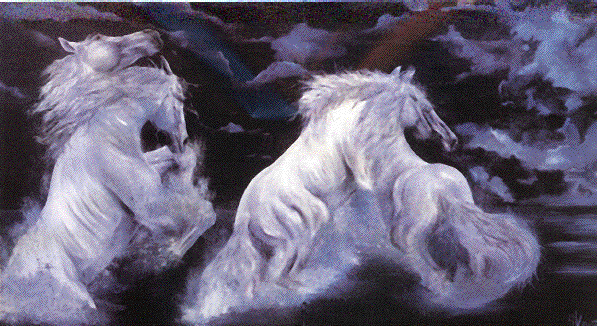 The young German painter Jan Künster was born in Bonn, Germany in 1951. He started painting already in his very young age, starting with portraits of people and animals.
However, very soon he realized what was going to be his main interest for a number of years: the portraits of horses. And more specifically, "horses in motion."
His watercolors stand out from the conventional paintings of horses. They are realistic, but the dynamic representation of his water-color technique gives them a light, effortless quality. The rider is in all his paintings only faintly sketched, in order not to distract the viewer from the main theme -- the horse.

Wherever his paintings have been shown, the response has been terrific. Many riders, horse lovers and owners have had their horses painted by Jan Künster. The clients of the artist come not only from all corners of Europe, but they come from as far away as South America, Canada, Japan, and the United States. His paintings are in the art collections of horse lovers from Queen Elizabeth to Ronald Reagan. Recently, a Japanese breeder of racing horses had his favorite horse flown to Germany, in order for Jan Künster to paint him.
Also our Museum is fortunate to have in our collection an original water-color by Jan Künster, titled BUCEPHALOS, the favorite horse of Alexander the Great. This painting was created by him especially for the collection of our Museum. The artist also wanted to support our work further, and gave us the copyright to make posters of this magnificent animal and use the proceeds to support our work in the future.
Jan Künster paints certain horses by commission alone. Otherwise he dedicates himself to free studies. The motifs are not limited only to dressage and jumping, but also include scenes from racing, show horses and military horses. Only rarely he has the time for large oil paintings, which treat the horse in a fantastic-realistic way.
Several years ago, at an exhibition at the Nörvenich Castle in Germany, more than 1,200 guests and art lovers attended his exhibition "The Dream Horses." I was fortunate to attend the exhibition on the opening day, and had an opportunity to talk to him about his art. "When I start to paint a horse, I start with the eye. If the eye comes out well, then I know that the whole horse will turn out well," told me the artist.
Among the more than 200 original paintings by Jan Künster shown on this occasion were not only his paintings of horses, which gained him world-wide reputation, but also some of his early works, as well works from the most recent area of this artists work -- erotic paintings of the female body.
About two years ago, Jan Künster got involved in a very special project. Every year in February, there is a famous carnival which takes places in the streets of Cologne. The people crowd the streets, and riders in historical costumes ride their horses throughout the city. Every year a different group of riders is in charge of this portion of the parade; each has its own costumes. Jan Künster was enchanted by the idea to create 12 illustrations for a large size calendar with illustrations of the riders from 12 different years. He took more than 1,000 photographs of horses and the riders as preparation for this project, which took him more than a year to complete.
The result was a spectacular calendar, which has since been completely sold out and became a collectors' item. At the conclusion of the program, we will have a chance to watch an interview with the artist, and also see some footage of this festival, and also the illustrations he created for the calendar.
This month there will be a large exhibition of Jan Künsters erotic works, intended as an ode to the woman, at one of the historical towers in the city of Cologne. The Museum of European Art has assumed patronage of this exhibition. Unfortunately, it will not be possible for me to attend the opening of this exhibit and personally deliver the opening address.
Unlike other artists, who try to make their art very exclusive and thus available only to wealthy art collectors, Jan Künster has made a number of his paintings available to the wide public in the form high quality color posters. When I asked for an explanation why he does this, and if he thinks this might unfavorable reflect on his image among the art collectors, he told me: "Not everybody can afford to pay several thousand dollars for an original painting. But we must not forget the young people; they do not have much money, but also they appreciate good art, and they should be able to buy a piece of art they like -- even if it is only an inexpensive poster. So, even they can enjoy to have fine art in their possession, and take the first steps to become art collectors later on."
We have in our gift shop several posters of his horses, as well as two erotic motifs. These are all hand signed by the artist, and when properly framed, these pictures look great. We have several of them also exhibited in the Museum, and you can see how great they look when they are properly framed.
In today's slide show there will be several slides of his erotic motifs, and I thought it would be proper to read for you the address which I have written for this exhibition:
Homage to Eroticism
and an Ode to Creation
From time immemorial, we cannot imagine art without eroticism. This is especially true where representation of the human form is concerned. In an age when attention to the body takes many forms, it is fortunate that art, too, has taken up the wonder and mystery of this creation.
With his erotic paintings Jan Künster adds a new dimension to his hitherto known world of forms. This young master of the palette commands the vitality needed to give form to his visions and lend radiance and fascination to his subjects.
Of course it is nothing new for an artist to dedicate himself to the human form. What is new is that the painter Jan Künster, with these cycles, now joins a tradition which we find in various manifestations in the cultures of all continents. And what kind of talent is better suited to this than that of the painter who, in drawings and pictures, can capture reality and dreams, emotions and illusion.
Admirers of Jan Künster compare his erotic cycles with the works of VARGAS, who became well-known in the United States and has acquired world renown with his depictions of young girls. This is undoubtedly an honor; nevertheless it must be said that Jan Künster has no need to shy away from any such comparisons. On the contrary, through his work he can show the way, and at the very least, inspire and encourage the younger generation of artists.
Erotic art requires no interpretation. Explanations would only diminish, even kill, its charm. What one feels while observing Jan Künster's paintings is better left to individual sensitivity and the secret of the heart.
The new works of Jan Künster are not only a homage to the erotic, but also a tribute to woman, to femininity, and to beauty. When artists glorify the human body in their sculptures and paintings as the masterpiece of creation, the creator is glorified as well. We the friends and collectors of Jan Künster's art can join with happy hearts in this ode to his creation.
Related articles:
Ronald Reagan's Favorite Horse for His Retirement
Jan Künster -- The Horse in Art, by Arnulf Neumann Damerau

Copyright 1996 PROMETHEUS
Reprinted with permission
Join our free newsletter to keep informed!
---
West - Art
Gallery & Publishers
10545 Main Street, Clarence, New York 14031 (U.S.A.)
(716) 759-6078 FAX (716) 759-7925
E-mail: zavrel@meaus.com
---
"Art with Class from Europe"
WEST-ART presents works of art of well-known (and of some young, promising) European artists of the 20th century. Many of these lithographs were produced in low, limited editions in the Paris studio of Fernand Mourlot, the "master printer" of France. It was in Mourlot's studio where many graphic works of Chagall, Dali, Breker and Picasso have been produced. We offer hard to find, quality works of art from the leading European cultural centers -- France, Germany, Spain, Austria, Italy, England, Switzerland and also from Israel.
The works are numbered, or marked E.A. (artist's proof) or H.C. (publisher's proof). Most of the lithographs are hand signed by the artist. All works are sold on "as is" basis. All sales of items in stock are final after 7 days of receipt.
SHIPPING COSTS: for books are $ 5 first book, additional books $ 3 each. Shipping costs and insurance for works of art are on individual basis.
RETURN POLICY: Full refund (excluding shipping) given if returned for any reason within 7 days of receipt.
SPECIAL ORDERS for items which we do not have in stock and have to order for you from Europe are FINAL, and cannot be returned for refund or exchange.
For your convenience, we now accept VISA, MASTER CARD and AMERICAN EXPRESS for telephone, fax and mail orders.
Circle one: ---------Visa ---------Master Card----------American Express
Name on card ______________________________________________
Credit Card number _________________________________________
Expiration date_______________________
WEST-ART Gallery is open Mondays thru Fridays, 9 - 5, and Saturdays, 10 - 4.
E-mail:
zavrel@meaus.com
---
JAN KÜNSTER
about the artist
ART POSTERS
Grünolino ( $ 50)
Maurizio ( $ 50)
Hengst ( $ 50)
Piaffe ( $ 50)
Turandot ( $ 50)
Jaipur ( $50)
Blue Tango ( $50)
Rainbow ( $50)
Classic ( $50)
Traversale ( $ 50)
Laguna ( $ 50)
Cadaques ( $ 100) .......erotic motif
Mascara ( $ 100) .........erotic motif
Chaplin ( $ 65)
The above works of art are reproduced in a flyer, which can be mailed on request; price $ 3.00, postage included.
Art on the Internet:
please visit http://www.amazon.com go to the "zShops"
for our other current offerings on Jan Kunster
---
Order Form
NOTE TO ART LOVERS:
Please contact JOHN ZAVREL at 716 - 759 - 6078 to confirm that the sculpture, lithograph or art poster are still available.
For your convenience, we now accept VISA, MASTER CARD and AMERICAN EXPRESS for telephone, fax and mail orders.
Circle one: ---------Visa ---------Master Card----------American Express
Name on card ______________________________________________
Credit Card number _________________________________________
Expiration date_______________________
Fax: 716 - 759 -7925.
You can also contact us by E-mail at: zavrel@meaus.com
---
Name ___________________________________
Address__________________________________
City_____________________________________
State___________
ZIP____________
Telephone_________________ Fax _____________________ E-mail _________________
---
Items Ordered:

1) _________________________________________________________________

2) _________________________________________________________________

3) _________________________________________________________________

Total Cost of Merchandise ________________________________________________

New York State Sales Tax - 8% _____________________________________________

Shipping of books - see BOOKS section _______________________________________

Shipping of Sculptures and Lithographs

(depending on items ordered; call for quote) ____________________________________

Total Cost _____________________________________________________________

Make checks payable to: West Art Gallery

Mail to: West Art Gallery, 10545 Main Street, Clarence, New York 14031 (USA)
---