---
EKS honors Paul Seimetz as a master of Heraldic Drawings
Exhibition for the chief designer of the Order Alexander the Great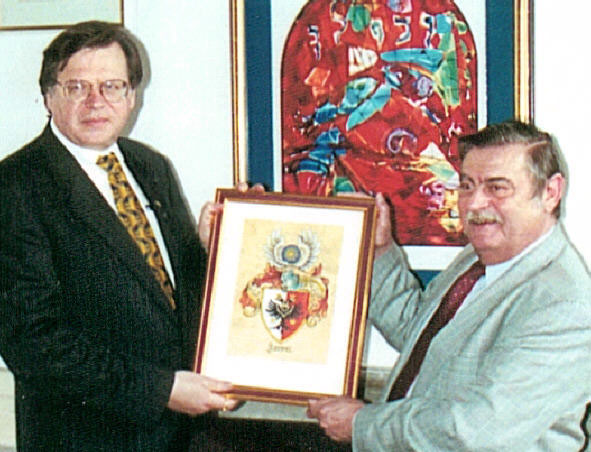 Paul Seimetz (right) hands over the color drawing of a crest to Consul B.John Zavrel, Chancellor of the Alexander Order.
Foto Copyright Marco Bodenstein
Berlin / Noervenich (bpb) The European Art Foundation Berlin (EKS) honors the heraldic-expert and painter Paul Seimetz with an art exhibition in 2003. It will take place next summer at the Noervenich Castle near Cologne, as EKS-President John Gilbert Bodenstein announced.
An interesting selection of his drawings and paintings of landscapes, historical buildings and portraits will be shown. A special feature of the exhibit will be a display of designs of coats of arms. Paul Seimetz, born on August 16, 1934, has become in the last 40 years an master in heraldic drawings. Due to his extraordinary qualifications he became the chief designer of coats-of-arms for the international Order of Alexander the Great for Art and Science. In this position he designs all kinds of crests that the Order bestows on tradition minded persons and their families. More information about commissioning a family crest can be obtained by e-mail: info@europaeische-kultur-stiftung.org
There are many different symbols or images that can appear on a coats-of-arms. The shape of the shield and also the colors that are chosen can have significance for a family. "Also young persons and families can start the tradition of having a crest", says the expert Paul Seimetz. The way a crest is designed is based on clear official regulations. Germany and Europe with the long historical tradition in coats-of-arms is the right place to get a personal crest designed and registered." For many Americans who have their roots in European countries, it should be most appealing to have a personal coat-of-arms to demonstrate the sense of tradition in their family.
Copyright 2002 West-Art, Prometheus 84/2002
Keep informed - join our newsletter:
Copyright 2002 West-Art
PROMETHEUS, Internet Bulletin for Art, Politics and Science.
Nr. 84, Autumn 2002