---
Roger Peyrefitte--recollections on his 95th birthday
A great writer and friend -- The late Grandmaster of the Alexander Order is not forgotten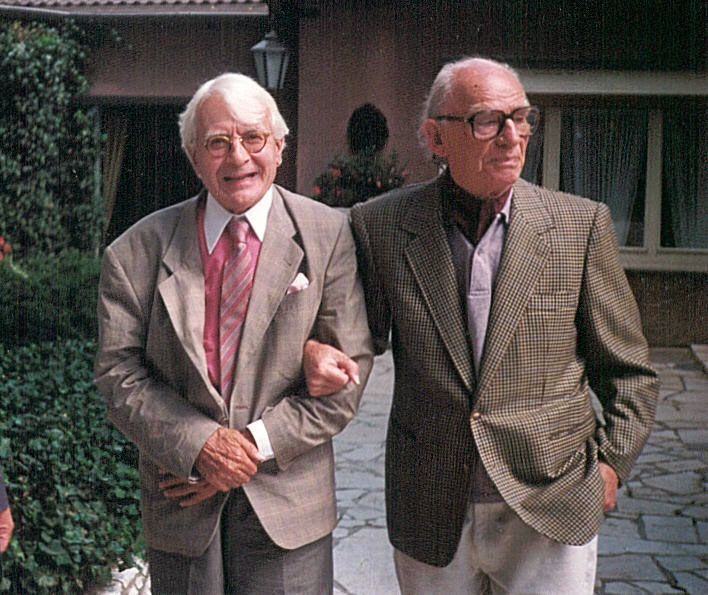 Roger Peyrefitte on his 85th birthday in 1982
Photo Copyright Marco, Bonn
Paris/New York (mea) The late Grandmaster of the Alexander Order for Art and Science, Roger Peyrefitte, would have had his 95 birthday on August 17, 2002. Good memories awake. "He was a great writer and a true friend to those, who had the chance to know him", said B.John Zavrel, Chancellor of the Alexander Order. "It is a great privilege that the Alexander-Order could publish an edition of his novel Secret Friendships in USA." (Published by West-Art Publishers, 10545 Main Street, Clarence, New York 14031; e-mail: zavrel@meaus.com)
Roger Peyrefitte was born on August 17, 1907. He died in his house in Paris on November 5, 2000. He became a witness of war and peace in the 20th century. He was a fascinating personality of the international society, and at the same time a busy author, who criticized Marlene Dietrich, the Pope, reporting on various behind-the-scene scandals and writing a most detailed biography of Alexander the Great. The cultural aspect of those times played an important role in this books.
On the occasion of the 95th birthday, a photograph of Roger Peyrefitte, decorated with flowers and in ivy, was placed in the Hall of Bodenstein Castle at Nörvenich (Schloss Bodenstein). This historical building was used as the residence of the Alexander Order in Europe. Whenever Roger Peyrefitte visited the Chateau Bodenstein, ivy belonged to the table decoration of the Grandmaster. Roger Peyrefitte was the guest of honor from France, when Arno Breker celebrated his 90th birthday in July 1990 in the castle. Over 1,400 guests from all the continents were invited to the party, which was arranged by Joe F. Bodenstein and his family. Peyrefitte was a close friend of the sculptor Arno Breker. Their friendship lasted from 1938 until Breker's death in 1991.
Author Roger Peyrefitte, whose style brought a new kind of poetry to literature, was honored by friends and admirers with a dazzling reception at Nörvenich Castle in Germany. On August 17, 1992, Peyrefitte celebrated his 85th birthday quietly in Paris. He was busy preparing new texts for publication. Shortly beforethat, the master was distinguished with the 1991-92 Prize of the Balzac Academy for his life literary work.
Keep informed - join our newsletter:
Copyright 2002 West-Art
PROMETHEUS, Internet Bulletin for Art, Politics and Science.
Nr. 84, Autumn 2002