---
Speech of Consul John Zavrel
on the occasion of the unveiling of the painting
"President RONALD REAGAN - An American Hero"
by Mary McAndrew
on January 31, 2002
at the Museum of European Art in Clarence
Dear Friends, Ladies and Gentlemen!
Let me welcome you all this evening at our Art Museum. We come together for two reasons:
1. to continues our Social Nights
2. to unveil a new painting by Mary McAndrew.
No doubt, we are still only a small group. But I have a good feeling that we will grow.
Our friends, I like to say this: we must grow! And we should grow fast, to strengthen the foundations in our town, in the Buffalo and Western New York area.
America and Americans are supposed to be the champions in the world when help is needed to protect freedom and to establish democratic systems.
But aside of all this right and good engagement, we the citizens should not forget our own home surroundings, and the needs of our town and county. And by this, I especially mean the cultural work and in our case, the art museum in Clarence. Although it is small, thanks to Internet we can popularize our work worldwide.
And this has brought us support from Europe, especially from Germany. If there are people and organizations in Europe to cooperate with us and help us in a practical way, then it should be also possible for the local people to do so.
Dear friends, let us work together to make our town of Clarence known in the future also as a town of art. We do have already a unique personality in this town: the scientist Wilson Greatbatch, the inventor of the implantable pacemaker. And is it not wonderful, that he belongs to the true friends of this art museum. Today he is with us: let us cordially welcome Dr. Greatbatch.
I am very glad that Mary McAndrew found the interest -- in addition to her personal work as an artist -- to support the art museum's activities and projects. As I have told some of you already, the art museum needs help and donations. It needs every single dollar for its work and also practical support from local business sponsors.
Please feel free to let me know your suggestions and advice. We will find a way to make progress together.
It is a fact that many artists have already been generous in their cooperation with our art museum. Of course, it is also in the interest of the artists to get public attention. And this we can do.
This is also the case in the special event of our meeting tonight: the unveiling of the portrait of Ronald Reagan by Mary McAndrew.
The painting was made on the occasion of the 91st birthday of the former President.
Our partner, the European Art Foundation in Berlin inspired us. This Foundation has a collection of portraits of politicians, artists, and businessmen.
This makes sense. For example, the Adenauer Foundation in Germany has more than 100 different portraits of the first German Chancellor after World War II, Konrad Adenauer. This unique collection is shown every year several times in different cities. The exhibitions are big events, and find great interest from the people.
Now we unveil the painting.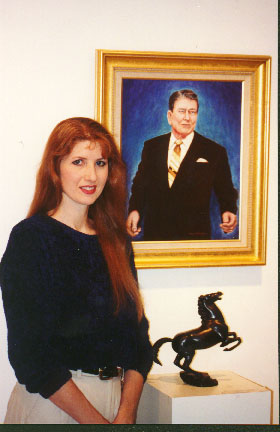 The painter Mary McAndrew with her portrait "President Ronald Reagan: An American Hero".
Dear Mary McAndrew,
Thank you for doing this work. The painting is a homage to a great American.
Dear friends, no matter if we are Republicans, Democrats or independent, we as Americans, should all agree in this view:
Ronald Reagan, the Old Man of Politics belongs to American history. He made the right decisions, in a very difficult time of the East-West confrontation. And under his leadership, America and all Americans shared the success against communism.
Since our Art Museum and I myself have a special relationship with the President, having met him on several occasions, we will send a special congratulation to the President on his 91st birthday.
If you allow me, I will read the letter as follows:
The Order of Alexander the Great
10545 Main Street
Clarence, New York 14031
President Ronald Reagan
Los Angeles, CA
Dear Mr. President,
Please accept our cordial greetings for your upcoming 91st birthday on February 6th, 2002.
Once more, Mr. President, we like to express our admiration and love for you.
All your work as President of the United States, with the First Lady Nancy Reagan by your side, represents a great period of American history.
Without your wise decisions and your cooperation with your most trustful political friend West Germany, the East-West conflict would have never ended in the 20th century in the way it happened.
Not only the reunification of Germany is one of your great merits, but also the freedom of the nations formerly under the Soviet empire. Among all the countries of the East block, the Czech Republic, Poland and Hungary have used their new freedom in the right, positive way.
We will never get tired, Mr. President, of telling above all the young generation again and again what you did for America and the peace in the world.
Many of our friends join us in the good wishes for you and the First Lady, as the Order of Alexander the Great for Art and Science and the Museum of European Art and its new supporters in the United States and Germany.
May God bless you.
Very Sincerely Yours,
Consul B. John Zavrel
Chancellor of the Order ....................January 31, 2002
Ladies and gentlemen, dear friends,
This letter will be sent to the President's office, including a greeting card with the photograph of the painting.
Please join us in signing the card with our good wishes for Ronald Reagan.
Thank you.
Keep informed - join our newsletter:
Copyright 2002 West-Art
PROMETHEUS, Internet Bulletin for Art, Politics and Science.
Nr. 82, Spring 2002