---
Leopold Sedar Senghor--a hero of black Africa
Homage to the late president of Senegal--Statesman and leading poet--Intellectual fight against racism
By B.John Zavrel, Consul of the Czech Republic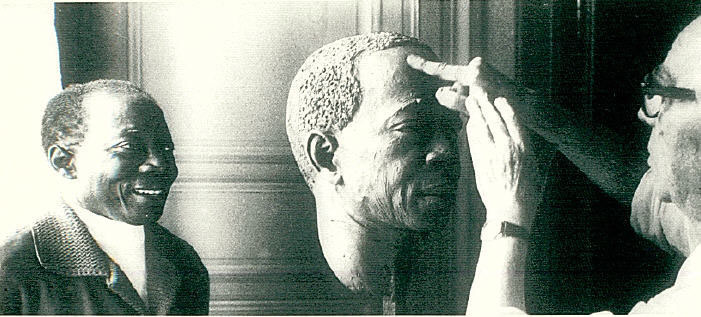 President Leopold Sedar Senghor in 1978, posing for his bust by Arno Breker.
Copyright MARCO/Archive Senghor
New York / Dakar (bpb) Homage to Leopold Sedar Senghor! The Senegalese poet and statesman died on Thursday, December 20, 2001 in France after an heart attack at the age 95 years. He was the founder of the Senegalese Democratic Bloc. Senghor was elected president of Senegal in 1960. He retired from office in 1980. He was the leading representative of the concept of Négritude, defined as the cultural, literary and artistic expression of the black African experience.
In historical context the term has been seen as a reaction against French colonialism and a defence of African culture. It has deeply influenced the strengthening of African identity in the French speaking black world. By his decades-long political power and his great personality up to the end, Senghor made a precious contribution to give more attention and more respect to African culture and tradition. He never understood why the Afro-Americans showed less interest in the Négritude than the white people in general.
Senghor was the first statesman in Africa who was at the same time a well known writer and poet. Years later similar things happened: the famous writer Vaclav Havel became president of the Czech Republic. And in the Republic Estonia the writer Lennart Meri was elected twice for president. These three cases are extraordinary in politics.
Especially the intellectuals in France, Germany, Spain, Italy and the Czech Republic have always considered Senghor as the most illuminating spiritual figure of black Africa in the 20th century. Compared with Nelson Mandela in South-Africa and Martin Luther King in USA, Senghor preferred the fight against racisms on the intellectual level. "Prove what the blacks are able to do, get respect and reach equality", he said.
Leopold Sedar Senghor was born 1906 in Joal-la-Partugaise. It was a small fishing village about 65 miles south of the capital Dakar. His father was a wealthy merchant. His mother came from the nomadic tribe of Peul. Many years later, Senghor remembered his youth: "I grew up in the heartland of Africa, at the crossroads of castes and races and roads."
The first seven years of his life Senghor spend in Djilor with his mother and maternal uncles and aunts. At the age of 12 he attended the Catholic Mission School of Ngazobil. He finished secondary school education in 1928. After getting a state scholarship, Senghor went to Paris and graduated from the Lycée Louis-legrand in 1931.
During these years he showed much interest in literature. He read African-American poets of the Harlem Renaissance and such French poets as Rimbaud, Mallermé, Baudelaire, Verlaine and Valéry.
Amongst his friends were Aimé Cesaiere, with whom he developed later the idea of Negritude, and Georges Pompidou, whowas later elected President of France. In 1932 Senghor was granted French citizenship. He served in a regiment of colonial infantry. Later he was a teacher in France.
At the outbreak of World War II he joined the French army. Soon afterwards he was captured by the Germans, and spent 18 month in a camp as a prisoner of war. During this period he learned German and wrote poems. They where published in HOSTIES NOIRES (1948). As a prisoner he came to know the works of the popular German sculptor Arno Breker, who 33 years later made a bust of the president of Senegal. "As a prisoner of war, I never thought it would be possible to get to meet Breker during my lifetime. And now he is doing my portrait", Senghor said in 1978.
The political carrier began in France
In 1945 and 1946 Senghor was elected to represent Senegal in the French Constituent Assemblies. With Senghor's help Alioune Diop, a Senegalese intellectual living in Paris, created in 1947 the Présence Africaine. This was a cultural journal, which had on the advisory board André Gide, Albert Camus and Jean Paul Sartre. Already in 1948 Senghor became professor at Ecole Nat. de la France d'Autre-Mer. From 1946 to 1958 he belonged continuously to the French National Assembly.
In 1948 Senghor married Ginette Eboué, the daughter of a prominent Guyanese colonial administrator. They had two children. But the marriage ended in divorce. Senghor's second wife Colette had her roots in the Normandy/France.
When Senegal joined with the Sudanese Republic to form the Federation of Mali, Senghor became president of the federal assembly. In August 1960 Senegal separated from the federation. Senghor was elected the first president of Senegal. Since leaving the presidency in 1980, Senghor has shared his time between Paris, Normandy and Dakar. He was the first African statesman ever who left office by his own will and decision.
Senghor has received many international awards as a writer and a major African political opinion leader, among others the Dag Hammerskjoeld Prize (1965). Further he got the "Friedenspreis des deutschen Buchhandels" in Frankfurt/Main. This is a kind of "German Nobel prize" for Literature. In 1983 Senghor was elected to the famous Académie Française in Paris. He was the first Negro to be admitted into this society.
Senghor's poems, written in French, have been translated into many languages: English, German, Russian, Swedish, Italian, Spanish and even in Chinese and Japanese. In his poetry Senghor invites the readers to feel the almost mystical essence of Africa. His non fiction includes writings primarily on linguistics, politics and sociology.
Catholic, Socialist and "the empire of Love"
As a Catholic president of Senegal, Senghor was also known for is tolerance of all other religious groups, including the Muslims. He practisised democracy according to the local needs and possibilities. At the same time, he was a socialist. This brought him help from socialist parties abroad, especially from the German SPD of the late Chancellor Willy Brandt.For years Senghor was the chairmen of the Socialist International in Africa.
In the area of political philosophy, Senghor has examined African socialism. For him, socialism was not new to Africans, where the concept of sharing has been important throughout history.
Senghor saw that scientific socialism expressed in many ways the personal point of view of its inventors, Marx and Engels. He believed that eventually there would be a one world civilization, a unique and universal one. The opposition of Africa and Europe is a central theme in his fiction and non-fiction - the appeal of the humanist ideals of the French civilization and his commitment to the African cause. In order too unite both these halves, Senghor has advocated Civilisation de l'universel.
In a poem of the legendary founder of the ancient empire of Ghana, Senghor wrote in The kaya Magan:
"My empire is that of Love, for I am weak for you, woman,
Foreigner with clear eyes, lips of cinnamon apple,
And a sex like a burning bush
For I am both sides of a double door, the binary rhythm of space
And the third beat, I am the movement of drums,
The strength of future Africa."
Senghor was buried in an official ceremony on Saturday, 29 of December 2001 in Dakar. He rests in the grave of his family. At the funeral service Senegal's president Abdoulaye Wade mentioned the great and unforgettable merits of Senghor. The ceremony was attended by thousands of people and the presidents of Equatorial-Guinea, Mauritania, Mali, Niger and Capverden.
Now uncounted people mourn for Senghor. All those, who wish for a better understanding and cooperation between peoples of different races, pay homage to the statesman. No doubt: he was a great African, a wise writer and a humanist by heart.
(Prometheus/82/2002)
Keep informed - join our newsletter:
Copyright 2002 West-Art
PROMETHEUS, Internet Bulletin for Art, Politics and Science,
Nr. 82, Spring 2002