---
A Few Thoughts about Wilson Greatbatch
By Consul B. John Zavrel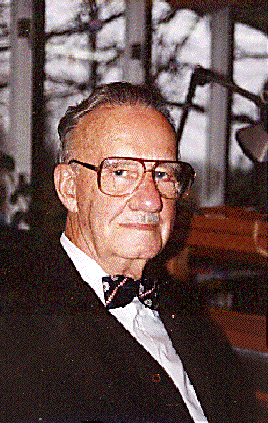 Perhaps in everyone's life there is a fateful moment when something happens that gives one's life a new direction, and which will affect one's whole life.
For me, such a meeting took place in the fall of 1965 in Brno, the second largest city in what used to be the communist Czechoslovakia. As a young, 16-year old student of international trade, I was in a brief internship program at the state-owned travel agency CEDOK (a state monopoly). Among other things, it was the agency through which foreign visitors could book a stay at one of the few hotels in the city.
It was the time when the annual Brno International Trade Fair took place, when the city fills up with thousands of foreign visitors and businessmen showing their products, from planes to industrial machines and equipment, cars, turbines for powerplants, electronics, and everything in between.
This event brought into town also Wilson Greatbatch, then a 46-year old American businessman and the inventor of the implantable heart pacemaker. Arriving in a small Volkswagen Beetle from the nearby Vienna, the capital of Austria, he did not realize the shortage of hotel rooms in the city and he had no reservations.
So, he arrived at the CEDOK office, looking for a hotel room. I asked him, 'Can I help you?' He replied, 'Yes, I need a room for several days.' But all the hotel rooms have been booked a long time ago. I told him, 'All that is available is a bed in a student dormitory' … and then I added, 'or, if you like, you could stay with a Czech family for the few days.'
To understand the situation, what was it like in the communist Czechoslovakia then?
The communists have been in power for the past 20 years. The 'cold-war' was in full swing. Travel to the non-communist countries was restricted. There was little contact with foreigners. Broadcasts by the Radio Free Europe were listened to by thousands of people, young and old, despite the overwhelming jamming by the government. Western newspapers, magazines and books were not available.
So, for the oppressed Czechs, a chance &endash; any chance &endash; to meet somebody from the West was a very, very special event, a rare opportunity to be able to find out something about life behind the 'Iron Curtain.'
Wilson Greatbatch said 'yes' to my suggestion to stay for a few days with a Czech family &endash; my family. I called my parents to let them know I was bringing an American visitor. It was great to be able to meet and to talk to somebody from abroad, from the free world behind the barbed wires marking the country's borders.
And we stayed in contact over the next few years, exchanging letters from time to time.
When the 'Prague Spring' came along in 1968, a thaw in the communist rule was becoming apparent. First slowly, tentatively. Then, people's expectations and hopes for freedom, after 20 years of communist oppression snowballed and the communists were headed to be removed from power, the slogan 'With Soviet Union for ever and ever' lost its meaning and the 'for ever and ever' seemed to be over. Demands from the Czechs were getting stronger by the day that the Soviet soldiers, stationed in the country for decades, should be sent packing home… It was a time of great hopes for freedom.
And when the tanks and bullets of the Soviet Red Army crushed this effort of the Czechs for their independence and freedom, a sense of great hopelessness and deep depression descended on the whole country. There was no end to be seen to the communist oppression. Things were not only going to go back to the old ways, but would get much, much worse.
And for many people, especially the younger people, it became of utmost urgency to find a way to leave the country ruled by the oppressive communist regime. And the oppression, 'ideological examinations' of people's lives, of their thoughts and actions over the past few months have kept increasing and gaining in intensity and harshness.
Many people lost their jobs (in a communist country everybody works for the government, which has the power to hire and fire people at will, put them in jail and keep them there as long as they wish), travel abroad was sharply curtailed, censorship was re-established, and the Russians were back to stay 'for ever and ever'.
In this atmosphere, emigration to freedom became the main goal of thousands of people.
Some would go on a 'vacation' to the neighboring countries and try to escape through them to the West &endash; Austria, Germany, or Italy.
It was at this time when also I, as a 19-year old, was desperately trying to find a way out to the West, to freedom. The chance came with an invitation from Wilson Greatbatch to visit him and his family in Clarence, New York.
At that time, it was becoming very difficult to get permission to travel abroad, since for months thousands of people were leaving the country any way they could. Eventually I was able to convince the authorities that I was really going to be visiting only for four weeks, and they finally gave me the visa to travel to the United States.
Two weeks after I arrived to America, the communists closed the borders for any travel. Even people in trains going to Austria were turned back. For the next several years, it was impossible to travel to the West. The country was back in the grip of the communists.
Thanks to Wilson Greatbatch, I was in freedom. The dream for freedom has become a reality. It is not possible for Americans, who have lived in freedom all their lives, to ever understand the feeling of coming into a free country. Only one who has lived under an oppressive regime can understand the feeling.
I arrived to Wilson Greatbatch's home in the beginning of March, 1969. For the next several months I lived with his family. Surely, the 'cultural shock' was a big one for a 19-year old. Soon, his wife Eleanor took me to a store to buy me a pair of blue jeans. 'Now, you are just like an American,' they joked when I started wearing them.
Since I was not allowed to study at a university in Czechoslovakia for political reasons (I wanted to study international trade at the Charles University in Prague, and later to become a diplomat), it was my dream to study at a university in the United States. With the help of Wilson Greatbatch and his family, this became possible. They signed me up to take the necessary admission tests, and helped me to get accepted as a student at the State University of New York at Buffalo. I shall never forget the schools motto 'Let All Become All They Are Capable Of Being.' For me, coming from a country where I could not study at a university for political reasons, this motto had a very deep meaning.
I completed the four year program in three years, earning a Bachelor's Degree in Business Administration. During those three years I had met my future wife Sandra, who was a nursing student at the time. During these years also my parents and brother succeeded in escaping from Czechoslovakia. Going for 'vacation' to Yugoslavia, they managed to run across the border into the neighboring Italy. They spent two very hard years there in a refugee camp. As I graduated from the university, by brother came to the United States just in time to by my best man at our wedding. My parents could not come here at the time, but went to live and work in Switzerland for two more years, before being allowed to come to join their sons in the United States.
Earlier this year, in March 1999, I celebrated my 30th anniversary of coming to America.
Throughout these thirty years, the friendship and support of Wilson Greatbatch and his wife Eleanor, has continued, and developed in new ways.
In the early years, when I decided to open my own accounting office, Mr. Greatbatch let me use for a year a small building which he owned; at one time in its history was the town library. 'This building brings people good luck,' he joked. Later, he used the building for years as his private research laboratory and office.
With my wife, we first lived in a small apartment in Buffalo. Sandy worked at the Millard Fillmore Hospital as a nurse on the cardiac floor, while I worked in a downtown accounting firm. Our first son Wesley was born in this small apartment above a bank. Then, when I opened my office, we moved to Snyder, a suburb east of Buffalo. We bought a small house on Bernhardt Drive, in an area of small, older houses with many families with young children. Here, our next two sons, Christopher and Thomas, were born.
As the boys were getting growing up, we started to look for a bigger house and eventually found one in Clarence, the town to which I first came as a 19-year old. The boys went to school there, and some of them had the two teachers whom I first met on my arrival to Clarence in 1969, when I gave a few talks to the school children.
Working professionally as a certified public accountant, at some point in my life I became interested in art and developed contacts with artists and art patrons in Europe. From this interest I came to meet and become friends with a number of European artists, scientists, writers, and statesmen, and published several books by or about some of them.
Later on, our idea to establish an art museum in Clarence, dedicated to European art of the classical tradition, became reality with the support of several European artists and an art museum in Germany. Wilson Greatbatch and his wife Eleanor have also shown interest in this new engagement of mine, and supported my efforts.
The result was that in 1994, the Museum of European Art in Clarence was established in a renovated building near the Clarence Town Park. Originally built in 1834, it is one of the oldest buildings in the town of Clarence. The Museum's art collection has a selection of realistic art of the classical tradition: limited edition bronze and marble sculptures, portrait busts, lithographs, etchings, and woodcuts. To the artists represented in the museum belong, among others, Salvador Dali, Arno Breker, Ernst Fuchs, Kurt Arentz, Renate Stendar, Henry Moore, Pablo Picasso Marc Chagall, Paul Belmondo, Peter Hohberger, Helga Tiemann, Alessandra Della Valentina, and others. The standard comment from visitors is, 'We never expected to find such a fine collection in Buffalo … you should be in New York City!'
The long-term plans for the future development of the museum envision the establishment of a Sculpture Garden behind the museum's present building. The land will be landscaped into a peaceful, pleasing garden with large bronze sculptures by European artists. Although the concept has been developed and a number of European artists have made commitments to support the project with donations of their works, due to insufficient financing it still remains only on paper. But eventually we hope to be able to make this significant expansion of the museum's collection a reality.
For his achievements in science, for his life-long engagement to help others and for his support of international understanding, Wilson Greatbatch was several years ago admitted as an honorary member of the Order of Alexander the Great for Art and Science. Later, he was appointed its Vice-Grandmaster. It was in this capacity that he joined a delegation from the Museum of European Art to make a presentation of a bust to President George Bush in Kennebunkport. Accompanied by the artist, the German sculptor Kurt Arentz and his wife Therese, the Italian painter Alessandra Della Valentina, myself and my wife Sandy, we had an unforgettable meeting with the former president.
On September 6, 1999 Wilson Greatbatch celebrated his 80th birthday. At this high age, most other people have spent years in retirement; but Wilson Greatbatch shows no signs of slowing down. He continues to work on new projects, still attends scientific meetings, takes part in the life and developments of his town, and still sings in the choir of his church every Wednesday evening. He is still interested in other people around him, and whenever he sees a possibility to help anyone &endash; with advice, with a recommendation, or in other ways &endash; he is always there. Often, one wonders where this man finds the strength and inspiration for all he does.
No doubt, his deep religious belief plays a significant part in his life. His philosophy of life reminds one of the philosophy of the Bhagavad Gita. 'I let myself be guided by this: What can I do to help others? And then, I do the best I can; but I never worry about the outcome. I don't worry whether the effort will be successful or not. I leave it up to the Lord,' says the 80-year old inventor.
In my own life, I have been blessed with opportunities to meet a number of the greatest men of this century. The sculptor Arno Breker, called the 'Michelangelo of the 20th century. Hermann Oberth, the 'father of space flight,' whose early pioneering scientific calculations and writings made the space travel possible. Ronald Reagan, whose unshakeable determination to preserve liberty and peace in the face of the Soviet threat has brought freedom for millions of people in the former Eastern Europe, and removed the spectre of mutual nuclear annihilation. The yogi, scientist, writer and humanitarian Swami Rama of the Himalayas, who in his work combined the ancient wisdom of the East with the technological know-how of the West. Ernst Jünger, the most distinguished writer in Germany, and in Paris, the Grandmaster of the Alexander Order Roger Peyrefitte, the most prominent French writer of our time. Besides their genius, what did all these people have in common? Humility, truthfulness, modesty, faith in God, unselfish service to others, love.
Only men and women with these qualities are able to inspire others by their examples. Only such persons can bring about a change in the course of other people's lives, in science, in culture, in politics. And Wilson Greatbatch belongs in this line of men and women.
By his quiet and modest life, by his unselfish work for the benefit of others, by his ingenuity and his inquiring mind, and by his devotion to God, the story of the life and work of Wilson Greatbatch will be an inspiration for the young generation, a bright start in the cloudy sky of our time.
Keep informed - join our newsletter:
Copyright 2001 West-Art
PROMETHEUS, Internet Bulletin for Art, Politics and Science.