Home | Alexander Order | Latest News
---
German Theater Artist Honored in Tehran: Roberto Ciulli
By B. John Zavrel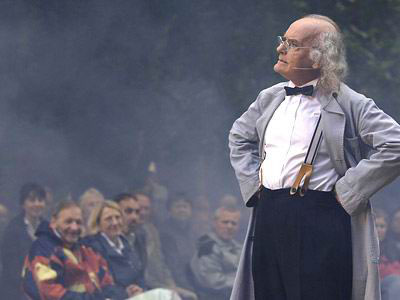 Roberto Ciulli was honored during a ceremony at the Tehran University.
Tehran/New York (meaus) The Italian born, German-based theater expert Roberto Ciulli was honored during a ceremony at the Tehran University's Art Faculty on January 28, 2009.
Ciulli was honored for his efforts to connect different cultures via the art of theater. The Persian version of "On Improvisation: Nine Conversations with Roberto Ciulli," translated by Khosro Mahmoudi, was unveiled during the ceremony. The book was written by Robert Ciulli, Malgorzata Bartula and Stefan Schroer.
At the ceremony, Roberto Ciulli, the founder of the "Theater an der Ruhr," lamented over the inclination of Iranian stage directors towards a Western style of theater. "It threatens the originality of their work", he emphasized.
"Iran's theater is diverse, and different groups of people can enjoy it. Although Iranian theater has not reached perfection in its visual form, it has a poetic language deeply rooted in Persian culture," he noted.
"I have invited to Germany about 50 Iranian theater troupes that are active in various fields including passion plays, street theater, traditional and modern theaters."
Ciulli is a regular participant of the ongoing Fajr International Theater Festival.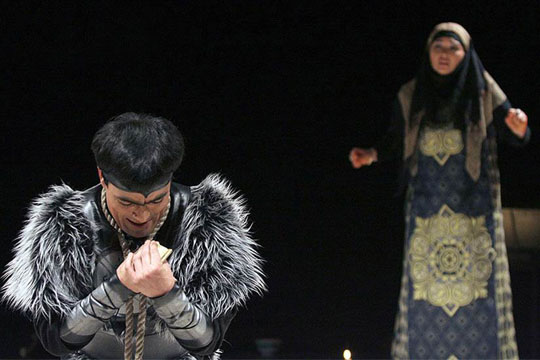 The Tajik play 'Rostam and Sohrab', directed by Sultan Osmanoff, was staged at Tehran's Molavi Hall in January, 2009.The play is among the entries to the 27th Fajr International Theater Festival.
Photo: Mohammad Ali Golkhah
The festival was held in 12 sections, including review of Iranian theater, competition, radio and TV dramas, street theater and nations' theater.
Retrospectives of prominent Iranian theater artists Homa Rousta, Parviz Pourhosseini, Reza Saberi and Mansour Ebrahimi were held at the festival's closing ceremony.
© PROMETHEUS 140/2009
PROMETHEUS, Internet Bulletin - News, Politics, Art and Science. Nr. 140, February, 2009