---
Painter Birgit Sewekow created a 'Faust Series' for Goethe's anniversary in 2007
The first exhibition takes place at the Noervenich Castle near Cologne
By B.John Zavrel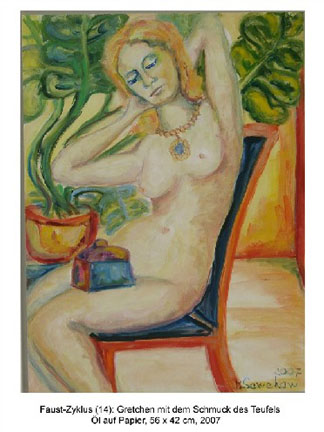 An illustration to Faust by Birgit Sewekow: The beautiful Gretchen, sitting in a chair.
© Foto BS-Archive/Marco-VG
Berlin/Leverkusen (bpb) The painter Birgit Sewekow has created a 'Faust Series' on the occasion of the Goethe anniversary in 2007. It will be shown for the first time ever in Germany, at a reading of the poet's work on June 24, 2007 at the museum of the Noervenich Castle near Cologne. In honor of the 175th anniversary of the death of the poet, the actor Wolfgang Stendar (from Hamburg and Zürich) will read from Faust.
The host of this public reading of poetry is the President of the European Art Foundation, John G. Bodenstein. The event starts at 2:30 pm at the Castle, 52388 Nörvenich near Cologne. For more details about the program and to make reservations, send an e-mail to: info@europaeische-kultur-stiftung.org
The series of pictures by Birgit Sewekow as illustrations to Faust contains sketches, pencil and ink drawings as well as oil paintings. It was created in 2007.
"The series is the result of the artistic encounter with the great genius of drama in the world literature", says the painter. The artistic expression is concentrated above all on the main characters: Faust, Mephisto and the beautiful Gretchen. This theme fascinated also Salvador Dalí. He illustrated an edition of Faust, with original etchings. They are shown also in this exhibition, to enhance the works of the painter Birgit Sewekow.
Birgit Sewekow writes about her series of pictures: "Goethe's 2-part drama Faust is the result of the poet's life-long preoccupation with the Faust materials. The despair about one's limited knowledge, guilt and love were the themes of his writings in his young years.
Later on, he became much interested in the classical beauty of Helen and the general picture of an old man.
The drama deals with materials from the German literature of the 16th century. It deals with the life story of a man who cannot be satisfied with the worldly science, and who strives for real knowledge. The urge for real knowledge is motivated spiritually, and cannot be satisfied. For that reason, Faust devotes his energies to the practice magic, and finally makes a pact with the devil, who promises to give him real knowledge.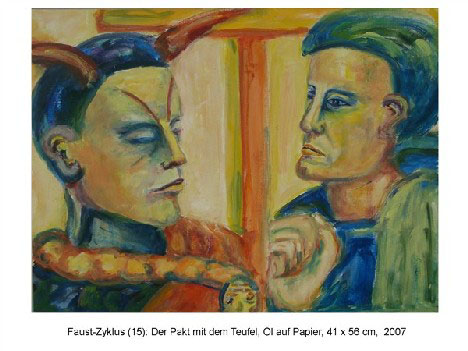 Mephisto and Faust: the two main characters of the poem by Goethe. The painter Sewekow depicts the two in conversation.
© BS-Archiv/Marco-VG, Bonn
The 'Faust Series' as a traveling exhibition
From the 'Faust Series', three oil paintings and 12 pencil and pen and ink drawings are on exhibition. They depict scenes from the 1st and 2nd parts of the drama.
The Museum has in its possession the entire 'Faust Series' of Birgit Sewekow's pictures, and they could be make available for a traveling exhibition. The Museum arranges exhibits of these works, as well as of other artworks by contemporary artists associated with the European Art Foundation. For more information, galleries, public institutions and theaters can contact museum@europaeische-kultur-stiftung.org
© PROMETHEUS 120/2007
PROMETHEUS, Internet Bulletin - News, Politics, Art and Science. Nr. 120, June 2007